Taipei, Taiwan – AAEON has introduced the RBX-I2000, its first autonomous robot controller. The RBX-I2000 utilizes hardware-integrated time synchronization to obtain a substantial improvement on existing outdoor autonomous mobile robot technology, being the first of its kind to do so.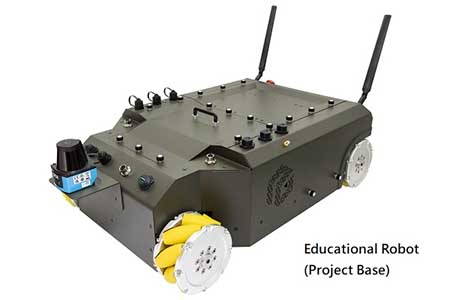 Powering its sophisticated mechanism is the 11th Generation Intel Core i7/i5/i3/Celeron Processor SoC, which boasts 4 cores and 8 threads for accurate algorithmic processing. Such an advanced processing unit means the RBX-I2000 is equipped with the power necessary for hardware-based time synchronization, which is channeled via an I/O featuring four 1PPS and ToD output ports to improve sensor fusion on two connectors.
The largest improvements offered by the RBX-I2000 are its speed and positional accuracy. By moving away from solely software-based time synchronization, the RBX-I2000's latency is reduced from the standard 100 ~ 200 microseconds to approximately 20 nanoseconds.
Further to this, its 4-channel sync ports enhance connectivity options and facilitate multiple sensor synchronization, with each port supporting two channels of 9600bps and 115200bps. As a result, the combination of T-BOX time synchronization and built-in Xsens MTi-670 9-axis IMU support allows the RBX-I2000 to use Movella™ Xsens RTK to produce centimeter-level positional data.
AAEON expects that with such an increase in processing speed and positional accuracy, the RBX-I2000 will provide an exceptional foundation for smart agriculture and mining applications, and expand the range of options available to pioneers in the Industry 4.0 sphere.
For more information, visit: https://www.aaeon.com/en/