1. Panasonic Life Solutions India Pvt Ltd
NPM DX – Best-in-class placement solutions
High placement quality and high throughput are the characteristics of Panasonic's NPM-DX, the next generation of smart pick and place equipment.
The NPM-DX provides a greater line throughput, better quality and lower production cost featuring an autonomous line control, which guaranties a stable operation based on automatic functionality. This functionality in combination with the machine set up offers a labor-saving production with improved utilization.
In combination with the Panasonic software environment and embedded into an Industry 4.0 philosophy, the user can expect a modern shop floor management system including various remote operation options, feeder setup navigation, component supply navigation etc.
In total, the NPM-DX reduces downtimes and increase the line throughput.
With 184,800 cph and a feeder capacity for up to 136 reels, the NPM-DX is the ideal solution to meet the expectation of an evolving electronics assembly industry.
The NPM-DX can process PCB sizes of up to 510 x 590 mm and place large connectors (up to 150 x 25mm) and other components (up to 120 x 90mm).
This and other features make the NPM-DX the best solution for high volume-mix manufacturing.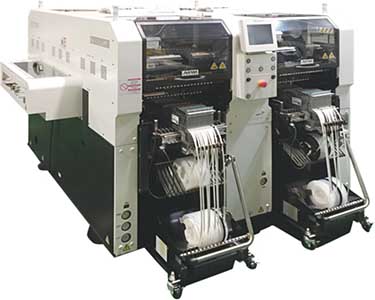 184,800 CPH and feeding with up to 136 reels
Ready for line automatization
Available APC system
Automatic recovery options
Remote operation option
Lowest total cost of ownership (TCO) with
maintenance services
Advanced feeder setup and component supply
navigation
Integrated floor management
2. Nmtronics (India) Pvt. Ltd.
NXTR – Smart Factory Platform
High savings potential through optimization of existing feeders In order to minimize the gap between plan and reality while maintaining efficient production schedules that include flow of materials needs to be implemented and met in actual production.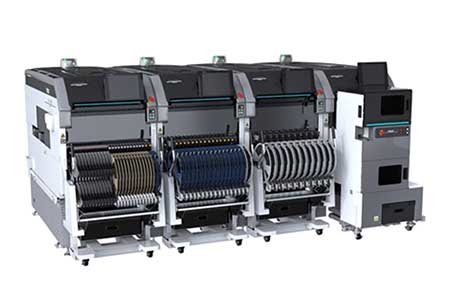 The NXTR-S is the newly built platform to support FUJI Smart Factory Concept with Automatic Feeder exchange using Smart Loader.
Newly developed head designRH20, RH08 & RH02 records 50,000Cph, 24,000Cph, & 8,000Cph respectively.
NXTR achives world class placement speeds using Fuji's inique rotary head technology.
Reliable & stable Placement can be performed with the help of sensing technology in NXTR.
Can load abundance of parts using specialized Feeders and base buffers.
Supports both single lane and Dual Lane production in single machine [750 x 610mm- single lane and 750 x
280mm – Dual lane mode in One (1) module base, 370 x 610mm – Single lane and 370x 280mm – Dual mode in Two (2) module base].
Industry's best placement Accuracy of + 25um @ 3 sigma Cpk >1.00 is supported.
In addition to the unique features that mark the FUJI products NXTR-S and also NXTIII – such as the one-side operation, exchangeable heads and much more – the following features in particular tipped the scales in favor of the NXTR-S:
Increase in productivity due to better exchangeable MFU 52.
Number of feeder slots on NXTR-S is higher than on NXTIII Larger PCB size.
Compatibility of existing NXTIII feeder.
Part presence control and touchdown sensor.
Expectation of higher quality and more productivity on NXTR-S compared to NXTIII.
LCU features (remote control, self-diagnostic function, response to network problems, and more)
3. Trans Technology
Premium High-efficiency Modular YRM20 Overview –
Model- YRM20 (Needs no head replacement! 0201mm to large-size components) – An all-around surface mounter delivering both overwhelming productivity and flexibility.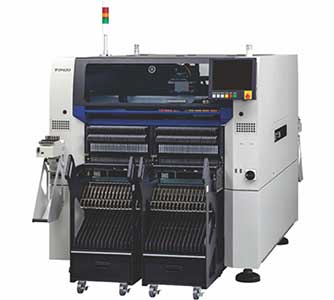 2-beams – 2-head (Super High speed RM (rotaryhead) with highest speed level in its class 115,000CPH.
Needs no head replacement! 0201mm to large-size components.
Component height ~ 30mm (max.).
Low impact nozzle gives high-quality mounting.
ZSR feeder (latest).
4. Bergen Associates Pvt. Ltd.
With its high placement speeds, huge capacity, impressive flexibility and extensive range of options, the atom platform is all about maximizing productivity
Atom is the first Europlacer platform to feature a new intelligent conveyor system. This patented technology eliminates mechanical board stops. Instead, atom machines can stop the board at any position under software control. It delivers another incremental step in placement performance by automatically optimising head travel paths during pick and place cycles. It also enables a long board handling mode, allowing atom to accommodate boards over 2 meters in length.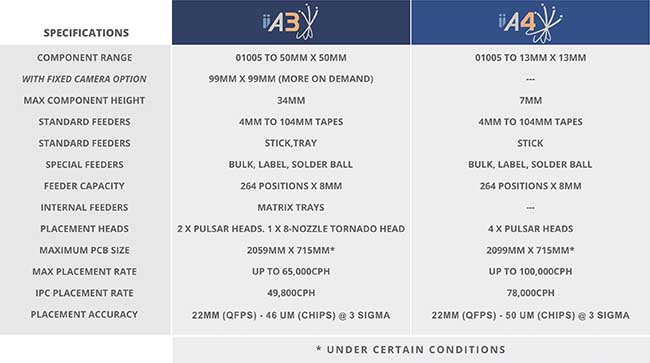 5. Juki India Pvt. Ltd.
RS-1R
Next Generation Smart Fast Modular Mounter.
The consistent further development of the tried-and-tested technologies from the RS-1 opens up new, outstanding possibilities: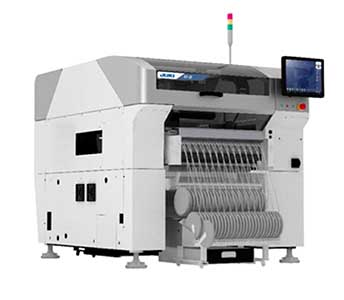 The RS-1 family has the unique TAKUMI (Japanese for "master") head. This lowers for small components down to a distance of 1 mm down to the PCB. This minimizes the travel distance of the individual placement axes (8 units) and enables the decisive speed advantage in placing the smallest components which are usually represented in the largest number on the PCB.
Faster assembly of smallest chips (0201 metric) up to large components of 50 x 150 mm or 74 mm edge length for
square components.
RFID integration in the nozzles, these can be traced back completely together with the components and boards.
The machine combines the features of a chip shooter with a mounter for large components.
Vision Teaching supports the visual learning of new components on the machine within a few minutes. You decide which component properties are important.
There is even more space in the magazine for a wide variety of nozzles, and nozzles can be optionally accommodated up to a size of 7x28mm.
For even more comfort and ease of use, the feeder trolleys have been redesigned and an on-screen keyboard has been integrated.