Hyderabad, Cyient has signed a Letter of Intent (LoI) with Thales, a global technology leader in areas of defence and security, aeronautics, space, and digital identity, during a signing ceremony organised on the sidelines of 70th anniversary of Thales in India. As part of the LoI, both parties committed to working together to tackle climate change across their business value chains.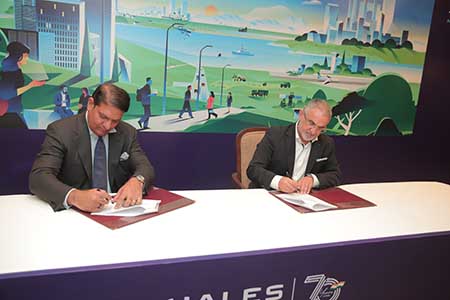 Cyient Ltd., committed to a path of shared and sustainable long-term value, has forged a dynamic partnership with Thales, uniting its strengths in a shared commitment to a low-carbon future. This collaborative effort underscores their dedication to environmental stewardship and a more sustainable tomorrow.
Thales is working with its strategic suppliers to achieve its CO2 emissions reduction targets for 2030, which have been validated by the SBTi and are compatible with the objectives of the Paris Agreement:
a 50% reduction in absolute CO2 emissions related to its operational processes (Scope 1) and energy consumption (Scope 2)
a 15% reduction in absolute CO2 emissions related to its supply chain and the use of its products by customers (Scope 3)
Thales aims to achieve net zero operations-related CO2 emissions (Scopes 1 and 2) by 2040.
"Thales is committed to a proactive and responsible approach to environmental protection in India and globally. As part of our strategy for a Low-Carbon Future, procurement teams across Thales are working diligently with growing numbers of key suppliers to reduce the carbon footprint of our respective value chains. We will only meet our ambitious objectives by working together with our suppliers to promote energy efficiency and the use of renewable energy sources, optimize our processes and logistics operations, and adopt the principles of eco-design for our new products. We are proud to join hands with Cyient Ltd in line with our strategy," said Roque Carmona, Chief Procurement Officer, Thales.
"Cyient has partnered with Thales in a shared commitment to lead the way towards a low-carbon future. Together, we are working to build a world where innovation and environmental responsibility come together to build a brighter and more sustainable future. Cyient continues to invest in its ESG roadmap, collaborating with clients and suppliers across the ecosystem," said Krishna Bodanapu, Executive Vice Chairman and MD, Cyient Ltd.
These milestones are poised to be realized through dedicated initiatives at Cyient Ltd. focusing on all Cyient facilities, including key manufacturing facilities in Hyderabad, Mysore, and Bangalore.
Cyient has consistently maintained a leadership position in eco-friendly practices, which include the elimination of plastic usage within factory premises, continuous tree plantation drives to preserve green surroundings, efficient waste management, and the implementation of rainwater harvesting systems. These initiatives firmly underscore the company's fundamental belief in "One Earth, One Home".
Thales has reviewed and approved the action plans of more than 150 of its most emissive suppliers, which include measurable goals and timelines for reducing carbon emissions. More than 100 suppliers have signed letters of intent to act in support of Thales's carbon footprint trajectory.