Thanks to robust, intrinsically safe smart devices, employees benefit from data harvesting, smart maintenance and remote assistance even in hazardous areas. At SPS – Smart Production Solutions from 8. to 10. November in Nuremberg, the Pepperl+Fuchs brand ECOM Instruments will be demonstrating a multi- faceted ecosystem as the link between mobile workers and the hazardous areas of a smart factory in hall 7A at booth 411. Smartphones, tablets and smart glasses provide mobile workers with almost unlimited flexibility in every application scenario.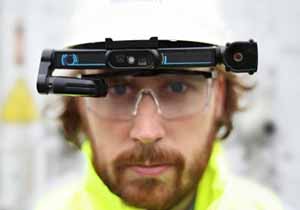 With the Visor-Ex 01 smart glasses from ECOM Instruments, mobile workers get a high-performance companion for all tasks that require hands-free use as well as continuous communication
Whether documentation, digital work orders, viewing of construction drawings, smart operations or real-time "see what I see" communication with remote support: For these current and future application scenarios, ECOM Instruments already offers a comprehensive portfolio consisting of intrinsically safe smart devices, peripheral devices, consulting and support by its own application engineers as well as digital services.
ECOM's portfolio combines high performance, reliable communication and ease of use into a holistic concept. The intelligent solutions open up a new dimension of digital collaboration in hazardous areas – location-independent, fast and safe. Intelligent, intrinsically safe devices, state-of-the-art software and digital services enable mobile workers to share know-how digitally in real time or to bring an expert virtually live to the scene of the action. The result are better predictable, controllable, lean processes, cost savings through fewer downtimes, as well as higher productivity and sustainable knowledge management. At SPS – Smart Production Solutions from 8 to 10 November 2022 in Nuremberg, Germany, fair visitors can find out more about ECOM Instruments' comprehensive range of services for the hazardous area in hall 7A, booth 411.
Digital support also hands-free: Visor-Ex 01
A highlight of the ECOM Instruments trade fair presentation is Visor-Ex 01, at 180 grams currently the lightest intrinsically safe smart glasses on the market. Visor-Ex® 01 is the first device of its kind to be certified according to ATEX and IECEx. A unique feature is the new concept of distributing various functions of the smart glasses to individual components to minimize weight. The modular system of smart glasses with integrated camera and microphone, the smartphone Smart-Ex 02 and an external battery unit offers mobile workers the greatest possible flexibility as well as new remote ways of working on their assignments – e. g. by keeping their hands free for various tasks. The OLED display of the Visor-Ex 01 displays the information needed for the job. The mobile worker's undivided attention on the current task reduces the risk of errors or interruptions in the workflow.
Using the proven Smart-Ex 02 smartphone from ECOM Instruments, mobile workers can view mission- relevant documents such as checklists and then switch to hands-free mode with the Visor-Ex 01 smart glasses. The modular design of the system gives mobile workers the greatest possible flexibility in their assignments
Now also available for use in zone 1/21: Tab-Ex 03
For demanding digital workflows, such as working with detailed plans or extensive checklists, the intrinsically safe Tab-Ex 03 tablet with a generous 8-inch display proves to be a convenient tool. Since the end of October 2022, the Tab-Ex 03 has been available not only in the DZ2 version (Zone 2/22) but also in the DZ1 variant for use in Zone 1/21. It thus brings the performance and ease of use of a Samsung Galaxy Tab Active3 to plant areas where an explosive mixture of air with flammable substances can occur. For mobile workers, this means increased productivity in their daily work. Thanks to a 13-megapixel camera on the back and a 5-megapixel front camera, they can, for example, enrich their real-time documentation with high- resolution photos and videos. The new Enterprise Edition of Samsung Knox ensures uncompromising data and device security.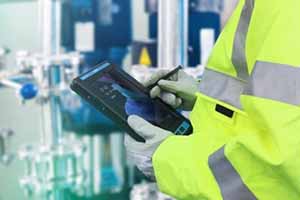 ECOM Instruments continues the success story of its 8-inch Tab-Ex series in use internationally with the intrinsically safe Tab-Ex 03 tablet in the DZ1 variant (for Zone 1/21 and Division 1)
Smart communication to go: Smart-Ex 02
Like the Tab-Ex and Visor-Ex, the intrinsically safe Smart-Ex 02 smartphone closes the digitalization gap in hazardous areas: Here, only mobile devices certified for the corresponding hazardous area may be used. As a source of information and documentation tool, the Smart-Ex 02 makes routine tasks relating to the diagnosis, maintenance and servicing of devices and machines in hazardous areas easier for mobile workers. Digital documentation via smartphone ensures seamless knowledge management in real time. The ergonomic smartphone can be operated intuitively even with gloves. Push-to-talk and alarm buttons not only ensure maximum ease of use, but also the safety of the mobile worker. With an extended temperature range of -20 to +60 °C, a robust display made of Gorilla Glass and a battery with 24 hours of runtime, the Smart- Ex 02 is optimized for use in harsh industrial environments.
Digital products and services such as automated pre-configuration and comprehensive mobile device management and device analytics from ECOM Instruments ensure that the smart devices adapt to new challenges in no time at all – for example, through over-the-air updates.