India has seen massive growth in its electric vehicle industry over the last few years, particularly in the 2-wheeler and 3-wheeler segments. The growth in 3-wheelers has been phenomenal, with 46% of all vehicles sold in the segment in India in FY 21-22 being electric. Growth, and projections for growth, are only on the upward swing. The government is targeting EV penetration to be 80% of all 3-wheeler sales by 2030, and it's a target that is easily reachable seeing recent numbers. EVs have become the preferred vehicle choice for a range of customers due to several reasons – low operating cost, reduced maintenance, and easy handling. It is important that we nurture this growth.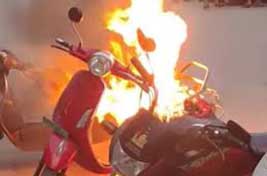 However, one issue that has cast a cloud over the industry in the recent past is that of EV fires. Across cities, we have seen many incidents where vehicles have caught on fire, sometimes posing a threat to people's lives. This is an alarming development which has to be addressed at the earliest. Batteries are the most important component of an EV, and they decide what an EV is capable of. But batteries have physical limits that need to be handled well. India's harsh summers impact the battery within an EV and affect its thermal management. It is something that has to be worked on during the testing of the battery.
Unfortunately, some of the batteries which ended up in the market did not adhere to the high standards needed for Indian conditions. It is thus important that the Ministry of Road Transport and Highways has brought in additional requirements on battery cells, BMS, on-board chargers, design of the battery packs, and thermal propagation due to internal cell short-circuiting that leads to fire. Each of these critical areas can result in safety issues, and it is important to look at the battery as a whole to ensure safety is ensured in all the areas.
More stringent norms would have a higher safety threshold that needs to be met, and it also moves the industry forward on the aspect of safety. Regulations are sometimes needed, especially for an industry in its early stages, to set minimum standards that have to be adhered to by everyone. And these new requirements would ensure that the batteries that now come to the market meet at least those standards.
For any category of product, it is essential for customers to be assured of its safety before they go ahead and buy it. It's all the more important when it's a new industry and when customers are transitioning to it. Safety incidents like what we've witnessed thus have a long-term impact on the industry and adversely affect everyone, from customers to the general public and the industry. It is against this backdrop that we feel that the norms introduced by the ministry can help address this issue by trying to ensure that such incidents come to a stop.