From phones, watches and TVs, to lights, locks and doors – Everything you own has been termed 'smart' due to its innovative, efficient and automated features. We are constantly looking for technologies that will help us create smart homes and live a hassle-free life.
But here's a question – do you still use water cans or traditional water purifiers at home?
While most industries have been launching smart versions of their products/services, the 30-year-old water purifier industry seems to be stuck in its old, traditional ways by only innovating its hardware components. They still follow a one-size-fits-all approach. Here's another challenge – the majority of people are not aware of the benefits of having a smart water purifier. If you are, then you'll appreciate the fact that we at DrinkPrime have been disrupting the water purifier industry in India with our IoT-enabled customized water purifiers on subscription.
Drinking water is one of the basic necessities and we believe that a water purifier that provides you with it should be treated like a utility rather than another appliance in the kitchen. The experience of handling a water purifier needs to be as seamless as getting electricity. You should not have to worry about changing water quality or replacing filters for it.
This is why DrinkPrime is a drinking water company – a company that aims to provide access to clean, safe and healthy drinking water to all. We have spent time researching to bring about several innovations to make this possible effortlessly. Introducing the industry to IoT – Internet of things, we have given India one of its first smart water purifiers.
What makes DrinkPrime water purifiers smart?
Unlike traditional water purifiers, the IoT-enabled customized water purifier is in sync with your DrinkPrime mobile app via Bluetooth or WiFi. You have complete control over your DrinkPrime with the mobile app – track your drinking water consumption, monitor your water purifier health, recharge DrinkPrime, reach out to support and refer others to DrinkPrime.
There's more. The use of IoT enables the device to consider the water quality changes, adapt to its environment to ensure the perfect water quality for you. Our water quality mapping across the cities we are present in has shown us that every area has different water quality and that the quality fluctuates often. With our IoT-enabled water purifiers, we monitor the water purifier health and track the water quality every subscriber receives helping us to proactively schedule maintenance checks.
This is how we do it – Our IoT sensors gather real-time details on fluctuating water quality. The data recorded is then sent to DrinkPrime's servers enabling them to stay updated. We utilize artificial intelligence (AI) to schedule maintenance checks based on the data. Thus, we provide every subscriber with a unique, tailor-made experience. This is very different from the traditional water purifier approach, where the device fails to give good quality output water as they do not consider the input water quality.
The best part – a DrinkPrime subscriber does not have to pay anything other than the subscription charges! Unlike traditional water purifiers that cost between ₹15,000-₹20,000 and a maintenance cost of ₹4000-₹5000, a DrinkPrime subscription plan starts at ₹339/month*. Along with a DrinkPrime subscription, you get free lifetime maintenance, filter replacements, relocation, delivery and installation.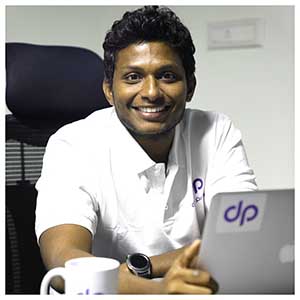 With time, we get smarter and so does everything around us. Your home is upgraded with a TV that responds to your voice, lights that change colors with a click and watches that help you call! With DrinkPrime, here's what we want you to do – Don't worry about your drinking water. We'll take care of it.