The hand tools made by KNIPEX are considered to be one of the best on the market. The company's beginnings date back to 1882. KNIPEX specialises in the production of all kinds of pliers: from universal to special pliers. In recent years, the company has focused on developing innovative tools for crimping connectors and terminals. Knipex 973302 MultiCrimp®, Crimping Pliers with changer magazine, the product we would like to present to our customers today, can serve as an example.
They are designed for comfortable crimping of wire ferrules during installation and electrical work. Crimp connectors are used as signal connectors in small electronics. They are also used in communication and power supply systems: crimped wire ferrules for stranded wires provide a safe, large contact area when securing the strands within a screw terminal. Typically, crimping tools are sized according to the wire gauge they can accept.
Meanwhile, the KNP.973302 crimping pliers can be used with a wide range of wire diameters and ring terminals. The set includes interchangeable dies in a round magazine. This way, the user can quickly adapt the tool to work with clamping elements such as tubular ring terminals, insulated and non-insulated sleeves, or cable connectors. This speeds up your work and saves space in your tool bag. The set is not heavy – its weight does not exceed 1 kg.
KNP.973302
Crimping tool: KNP.973302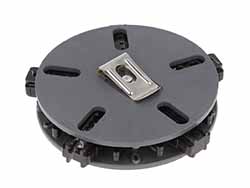 The magazine is equipped with a belt clip, so that it can be held behind the belt, further improving the ergonomics. For 23-3 AWG wires. In metric format, the following compatibility of the dies can be specified:
insulated and non-insulated end sleeves (ferrules): 0.25…6 mm2 and 10, 16, 25 mm2;
insulated and non-insulated terminals and connectors: 0.5…6 mm2;
tubular ring terminals and non-insulated butt splices: 0.5…10 mm2.

KNP.973302_2d
The locking mechanism ensures protected storage of the interchangeable dies.
The pliers are made of oil-hardened chrome vanadium electric steel, while the magazine is made of fiberglass-reinforced plastic.