Even though LED lighting sources outperform other technologies in nearly every aspect, their power supply is quite a complicated issue. The quality of lighting (continuity, intensity) and lifespan of the entire system depend on the choice of the driver. That is why Mean Well solutions are so popular – they offer LED drivers that are not only easy-to-use but also universal and safe.
Over the past several years, Mean Well products have become one of the global standards in the electric industry. Installers and designers are well aware of the quality of solutions offered by this manufacturer, while owners and investors appreciate their durability and attractive prices. Below, we present some of Mean Well universal LED drivers: HLG and HVG series. These devices offer impressive parameters, high IP ratings, and a wide scope of applications. That is the reason why they belong to the most popular products offered by the manufacturer.
HLG series drivers
The HLG series drivers was designed to meet the requirements of the majority of typical applications. First and foremost, this group of components can be powered with a wide spectrum of voltages, which for most of the models ranges from 90 V to 305 V AC and from 127 V to 431 V DC. The bodies of the drivers are made of metal, which ensures good heat dissipation, so that the devices can operate in temperatures ranging from -40°C to 70°C (for selected models, it is even up to 90°C). As they are IP65 and IP67 rated, they can be used outdoors, e.g. for lighting gardens and car parks, creating external illumination of buildings and other architectural structures.
HLG-100H-20AB
Sealed drivers are equipped with glands and setting potentiometer caps.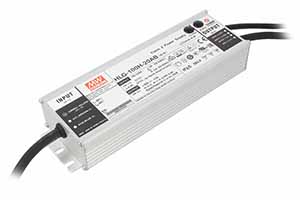 The HLG products are adapted to a variety of applications. They are available in variants from 40 W to 600 W and have the efficiency of up to 93%. Moreover, there are both constant current (CC, up to 3.5 A) and constant voltage (CV, up to 430 V DC) drivers. This way, they can serve their function in serial circuits (usually used to illuminate vast spaces) as well as in parallel circuits (e.g. using LED strips). Depending on the product, the output parameters are factory-set or adjustable (regulated with built-in potentiometers, 1-10 V DC voltage signal or PWM signal). The rated or set voltage value (VO) is maintained until the maximum current (IO) flows from the driver. At that moment, the driver starts to operate in the constant current mode: it automatically adapts the difference of output potentials, to maintain the circuit voltage at 100% of the maximum value (here, too: factory-set or, in the case of adjustable units, set by the installer).
Another significant design feature is the option of choosing between three methods of regulating the receiver's brightness, i.e. controlling the current dimmer (that does not cause flickering). The design engineer/installer plugs one of the following controllers into the leads (DIM-, DIM+):
voltage (1…10 V DC),
resistance (potentiometer)
PWM signal (with a frequency of 0.1…3 kHz).
It should be added here that the HLG drivers are equipped with a power factor correction system and a number of protections which not only extend the devices' lifespan, but also improve the safety of installing and using them. These protections include: short-circuit protection (SCP), overcurrent protection (OCP), overvoltage protection (OVP) and overtemperature protection (OTP). Additionally, selected models support the DALI interface (Digital Addressable Lighting Interface) used in complex installations for selective controlling of illumination elements.
HVG drivers
HVGC-320-1400B
Drivers without a built-in potentiometer have the highest IP rating, i.e. IP67.
HVG is a series of constant current LED drivers. It is characterised by a wider range of input and output voltages, which makes it more suitable for large installations, e.g. outdoor, road illumination (usually designed as a serial circuit). This group of devices may be powered by voltages from 180 V to 528 V AC or from 254 to 747 V DC. The units' output ranges give the designers and installers a lot of freedom in constructing the system – for example, in the case of the HVGC-150-700AB model, VO reaches from 21 V to 215 V DC. This not only makes it easier to choose a driver, but also facilitates free scaling of the installation without the need to modify its power supply system.
Apart from these features, the units in the HVG series have the same strong points as the HLG series. Their design provides the IP67/IP65 rating (depending on the model), they are equipped with an active power factor correction system, and electrical protections, limiting the risk of damage caused by overheating and short-circuits and preventing overcurrent generation in the powered circuit.
The way the products are labelled is also similar to the HLG series –the last letters in the symbol indicate the driver function:
"A" indicates IP65 rated models with a built-in current limit potentiometer;
"B" units are IP67 rated and have a dimmer output;
"AB" units combine the above-described options and are IP65 rated.
The parameters are, of course, also listed in our catalogue, so you can filter the products by indicating your desired specification.
Other Mean Well solutions
Mean Well has one of the broadest ranges of products in the TME catalogue. The scope of the LED drivers alone comprises way more options than those described above. Two other series that are worth mentioning are ELG and XLG.
We have already mentioned the ELG group in a dedicated article. Their functionality is similar to that of the products described here – they are constant current and constant voltage drivers. The ELG-C models are constant current only. They are equipped with a current dimmer and have a high IP rating. The XLG drivers have a little different purpose (we have already described their specifications when we added them to our offer). They are smaller in size and have lower power rating (up to 240 W), as they are dedicated primarily to illuminating buildings and interiors. They can be used in difficult environmental conditions, but not in extensive systems. They will serve their purpose perfectly in households as well as in offices – they are adapted to a wide range of mains power supply (AC only), so they can be used with power sources of 110 V and 220 V AC. These are constant drivers, and all the models are IP67 rated.