LITEON company is one of the best recognised brands in the field of optoelectronics. In TME's catalogue, you can find LITEON LEDs and LED displays – and also high quality components designed for optoelectronic isolation of the circuits. These components are made, first and foremost, for galvanic isolation between two electric circuits of different electric potentials (defined as isolation voltage), which can go as high as kilovolts. It is done by enclosing a transmitting LED and a phototransistor in one package – the signal between them is transmitted optically. They are one of the basic elements of drivers and communication devices – where they allow for the galvanic separation of circuits of controllers, receivers/transmitters, etc. from other circuits of different power supply voltage (e.g. adjusting to the TTL level), of high potential differences, or subject to interferences, voltage spikes, and other unwanted occurrences that can occur on the mains supply, telecommunication line, or inductive loads. The durability and quality of specialist optocouplers and optotriacs of many various parameters makes LITEON's offer a perfect choice for those who build circuits for both industrial and consumer (audio-video and white goods) devices.
Transistor output optocouplers
LTV-844S
4-channel optocoupler in a "gull wing" package designed for SMD mounting.
Conventional LITEON optocouplers with a transistor output mainly serve as signal switches and are characterised by a rise time that is not higher than 4µs and a fall time of 3µs (data for most of the available models). Depending on the chosen product, the CTR (current transfer ratio) in this group can reach from 7% to 600% – this means that in TME's offer you can find products that will meet the requirements of most of the typical applications – from sensors to drivers. Isolation voltage of these elements ranges from 0.5kV to 5kV. We offer 4-, 2-, as well as 1-channel optocouplers. The devices are available in DIP4, DIP6, DIP8, DIP16 packages (THT mounting) and in "gull wing" packages designed for SMT (surface-mount technology). You can also find optocouplers that can withstand collector-emitter voltage (VCEO) from 20V to 300V among those available from TME.
Darlington output optocouplers
Darlington transistor output optocouplers are characterised by higher current amplification (CTR as high as 2000%), so very little current is needed to control them, often less than 1mA, however, this reduces their switching frequency (rise time: 60µs). These parameters can be adjusted thanks to the base terminal connected to the base of output transistor (VB). This base terminal can be also used as a feedback loop. One limitation of this group of products is the tolerance of collector-emitter potential difference (VCEO), which doesn't exceed 35V in this case. Isolation voltage ranges from 2.5kV to 5kV.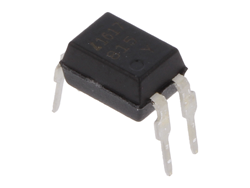 LTV-815
Standard optocoupler package: DIP4 (here with Darlington output).
High-speed optocouplers
6N139-L
LITEON high-speed optocouplers are available only in DIP8 packages.
Optocoupler's response time is especially important in the applications from the field of communication, where these components are used, e.g. for galvanic isolation of the transmission line (where interferences, voltage spikes, etc. may occur) from the receiver/transmitter circuit. That is why LITEON has prepared a special group of short response time products. The exact response time is determined by factors such as voltage and temperature, but usually the propagation delay for transistor optocouplers equals 0.09µs (high to low) and 0.8µs (low to high) – which means transmission with a speed of up to 1MBd. In the case of high-speed components with a Darlington output, these values amount to (respectively): 1.6µs, 10µs, and 100kBd. All High-Speed type components are available in a DIP8 package.
Drive optocouplers for IGBTs
Thanks to the good isolation of circuits, short response time, and high output current, the optocouplers can be also used to control IGBT/MOSFET type power transistors in AC motor drivers, switched-mode power supplies (and similar converters), and also inverters (both industrial and UPS inverters). At TME, you can find components of the two series of LITEON drive optocouplers: LTV-3120 (with max. output current 2.5A) and LTV-340 (faster components, but with the current reduced to 1A). These products are designed for direct control of power transistors (they are compatible with most 1200V/100A IGBTs).
LTV-3120S
Selected drive optocouplers in an SMD package can withstand output currents of up to 2.5A.
Optotriacs
MOC3063M-LIT
Selected LITEON optotriacs with zero-cross circuit.
Optotriacs are commonly used in circuits that control the AC flow – from dimmers, through heaters (e.g. in household devices), to industrial drivers. Just like optocouplers, they allow for (control and controlled) circuit isolation. LITEON optotriacs were adapted for output voltage equal to 400V or 600V AC. The trigger current ranges from 5mA to 50mA (depending on the model). The elements are available in THT and SMD packages, exclusively with single output, and they provide isolation that is compliant with the UL1577 standard (i.e. for VRMS = 5kV AC). Selected elements have a zero-cross circuit: if a nominal voltage at the input was given, the triac will trigger whenever the potential difference at the output disappears (that's how the interference emission is reduced).