Matrix joined hands with their channel partner Onyx Electrotech, and participated in the recently concluded SSSA Business Expo'22 organized by the Saurashtra Security and Surveillance Association. In the two-day long event, Matrix put forth its wide-ranging products and solutions in the domains of IP Video Surveillance, Access Control, and Time-Attendance alongside its set of established Telecom products.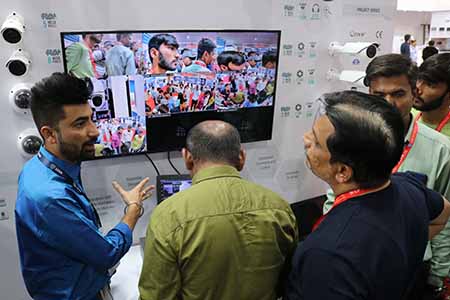 IP Video Surveillance has become the top priority of businesses all over the world. A sound video Surveillance system not only protects the assets of the company from potential thefts but also helps in boosting its brand image.
In this event, Visitors witnessed Matrix's range of professional and project series Dome, Bullet, and Turret cameras, alongside its range of PTZ cameras. Powered by Intelligent Video Analytics (IVA), Matrix IP cameras detect intruders and burglaries while immediately sending you SMS alerts, ensuring the full-proof security of your business.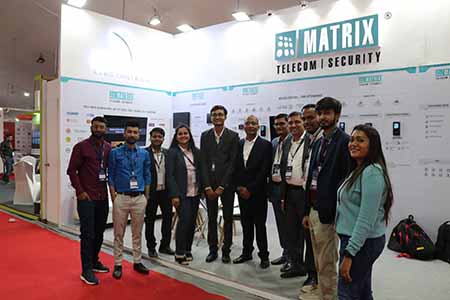 Matrix's Network Video Recorders (NVRs) come equipped with an in-built Video Management Software (VMS), so you never have to worry about buying it externally. Having ingenious technologies like cascading, one Master NVR of Matrix can be connected to 20 different NVRs, thereby eliminating the need for a server. With H.256 compression technology and adaptive recording capabilities, Matrix brings down storage costs drastically. All in all, Matrix's range of IPVS solutions cater to the security concerns of any modern-day organization.
Matrix is the only OEM that manufactures all of the components for Access Control and Time-Attendance, including panels, door controllers, and readers, as well as software. In the Time-Attendance segment, Matrix will present COSEC VEGA FAXQ, an Aadhaar Enabled Biometric Attendance Device (AEBAS) engineered specifically for government organizations. This device assists government officials in accurately marking attendance by using Aadhaar information from the UIDAI server.
Additionally, Matrix showcased its top-of-the-line face recognition-based door controller, Matrix COSEC ARGO FACE, which boasts high accuracy, a recognition speed of fewer than 0.5seconds, and a whopping capacity of 50,000 users. This high-speed face recognition device is purposely built to improve employees' experience, while also reducing the need for multiple devices in any organization.
In the telecom domain, Matrix exhibited ETERNITY NENX – a unified communication platform that is advantageous to small and medium organizations aiming to migrate toward IP Telephony. SPARSH VP210, a sturdy desk phone which is compatible with any third-party IP system, was also displayed at the event. SPARSH VP210 can help in reducing an organization's existing investments in the field of communication.
With an entire range of business communication products and solutions, Matrix presented PBXs, Hybrid PBXs, IP-PBXs, softphones, and desk phones that can help in improving the overall efficiency of employees while also boosting their efficiency. 
Anil Mehra, Senior Vice President – Sales and Marketing, at Matrix Comsec, comments, "At Business Expo 2022, we look forward to interact with system integrators and professionals who can give us a clear picture of the present market needs. This shall help us in crafting new products and solutions, thereby expanding our business further."

FOR MORE VISIT : WEBSITE