In industrial environments, especially on production lines and in production workshops, elements that are responsible for the safety of the workers are extremely important. Among these components are sensors (detecting hazards, such as human presence in a danger zone), as well as relays for emergency stopping of the machines. Of course, such components should be characterised by reliability and efficiency and at the same time conform to the international norms and domestic OHS regulations. From the point of view of the units responsible for maintenance in automated factories, standardisation and wide functionality of the products used is important, too – so that the protection elements can be used in diverse, complex areas of application, protecting both the workers and the continuity of processes (machines, materials). In such cases, the best solution is to implement elements and whole systems designed by one, reliable producer. Mutual compatibility of safeguards, ability to connect them, as well as the availability of extension modules shorten the installation and maintenance times and reduces downtime.
Below, we present the two product families of safety relays and a series of magnetic sensors by PILZ. PILZ is a German company with over 70 years of experience, it is one of the global leaders in protection of automation systems. Presented products can be used to build new, complex systems, but also to modernise and carry out maintenance of the existing machine installations.
PNOZ X series
PNOZ X safety relays are specialist, DIN-rail mounted modules. Their functions include monitoring emergency, limit and pressure-sensitive switches, doors and shutters, light barriers, pressure-sensitive mats and other components of automated protection used in workplaces. They have from 2 to 6 inputs and from 2 to 11 outputs (NO). Each of them is equipped with 2 electromechanical, potential-free contacts. Depending on the model, the relays are adapted to the supply voltage of 12V DC, 24V AC or DC, and to ranges from 24…240V to 100…240V AC/DC. They can work in temperatures varying from -10°C to 55°C. However, there are also versions whose thermal tolerance allows for operating temperatures as low as -35°C, which makes it possible to use these products in harsh conditions of chemical and refrigeration industries. Selected products feature additional relay connectors (from 1 to 4 NC outputs). In the TME catalogue, there are also compatible extension modules which allow to increase the number of connections for each output – these components work with relays in a feedback loop mode. Some of the variants of the PNOZ X series components are equipped with outputs with a programable delay (up to 30 seconds).
PZ-774540
DIN-rail mounted module with 5 outputs.
PNOZsigma series
PZ-750101
12.5mm wide module – model equipped with a transistor output.
The PNOZ Sigma safety relays were developed with compact design, diverse functionality and fast mounting without the use of professional tools in mind. The width of the DIN-rail mounted modules varies from 12.5mm to 45mm. The front panel is equipped with LED indicators. Electrical connections are made using spring-loaded terminals that allow for a push-in installation of wiring which makes the process much easier. You can set the parameters with the knobs placed behind the transparent, lockable covers.
The modules are equipped with expansion connectors on the upper part of the body – it's yet another way to shorten the mounting time. It also reduces the necessary wiring (by even 20%, according to the manufacturer) to a minimum required by the specific application. Core and expansion modules have from 3 to 9 outputs (in selected models these are transistor signal outputs) and 1, 2 or 3 control inputs. Supply voltage for the products of this series varies from 24V DC to the range of 48…240V AC/DC.
Some models of the PNOZsigma series are intended for emergency stop systems, controlling gates and barriers, monitoring two-hand control (protection of the machine operator's limbs). PILZ also offers variants for monitoring of simultaneity and rotational speed.
PSENmag series
PSENmag sensors are characterised by their long service life and robustness. They meet the requirements of ISO 13849-1 (for safety-related parts of machines) and EN 62061 (safety integrity level) norms. These sensors are used to monitor the position of guards, doors, and barriers. They are adjusted to work in harsh, industrial environments – selected models are characterised by IP69 rating and thermal tolerance of -25°C to 70°C. Moreover, the manufacturer also designed variants that are safe to use in explosive environments (ATEX certified).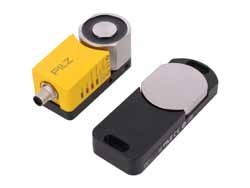 PZ-570500
Magnetic safety switch set.
The sensors are equipped with M8 or M12 connectors and 10m connection cables. The components are available in versions with an operating distance ranging from 3mm to 12mm and switched voltage of up to 24V DC. This series includes sensors with 2 or 3 NO switches or a pair of NO and NC switches. The sensors are in rectangular enclosures with mounting slots or in cylindrical, threaded enclosures (M12 or M30). Thanks to this diversified offer, the customers will surely find products that are perfectly suited for their specific applications.