AC/DC converters are used to supply power to industrial, office or consumer devices that are powered from the mains. Often, they are not made by electrical equipment manufacturers, because many ready-made modular solutions offering a wide range of parameters are available on the market. One of suppliers of such components is Cincon.
Cincon is a Taiwanese manufacturer of power supply devices, which has been on the market for 30 years. The range of products from this supplier has been available from TME for some time now, and it is constantly growing. Below, we present small sample, i.e. products designed to develop mains supply circuits. These are AC/DC converters designed to be installed in industrial devices, household appliances and other related applications. Using them will allow you to simplify and streamline production processes.
In this article, you will learn more about:
• Applications for PCB-mounted AC/DC converters
• Switched-mode converters for installation inside the devices
PCB-mounted AC/DC converters
The PCB-mounted converters (intended for through-hole mounting (THT)) are made in a wide range of parameters. These types of components are often used in devices equipped with mains-powered components, but controlled electronically (e.g. household appliances or automation controllers). They are used to provide relatively small currents (in this case: from 0.166 A to 6 A) in order to supply power to electrical circuits or small DC loads (displays, HMI components). As for Cincon products, customers can choose between 4 W, 20 W or 36 W versions that supply voltages from 3.3 V to 48 V DC. These products are characterized by a wide range of input voltages: even up to 85–305 V AC and 120–431 V DC. They are available in open-frame or enclosed variants. Their main advantage is low power consumption at no load (below 105 mW or 75 mW), as well as small dimensions (from 39.5×19.4×18.3 mm to 78.8×40.7×28.8 mm).
CFM36SB150-E
Enclosed converters are characterised by an isolation voltage of 4 kV.
Open-frame switched-mode power supplies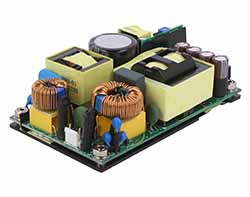 CFM400S540
Cincon open-frame converters are made in the form of a compact circuit.
Open-frame power supplies are designed for installation inside the devices whose bodies provide adequate protection for users. Typically, these are industrial automation components, office and electronic equipment (also consumer devices– audio-video equipment and household appliances). Such power supply units are larger than those mounted directly on a PCB, but are available in significantly more powerful versions (up to 400 W), capable of supplying currents up to 33.3 A and voltages up to 54 V DC (depending on the model). They are based on switched-mode converters operating at a frequency of 43 kHz or 65 kHz. Their range of power supply voltages is similar to the above described products, and the input is connected by a latch pin-header. It is worth noting here that some converters are equipped with additional outputs with special features, e.g. 12 V DC or a stable supply of 5 V DC in a stand-by mode (to support the operation of components responsible for waking up the device). Additionally, the manufacturer fitted these products with overvoltage, short-circuit and thermal protections (for the majority of models, the operating temperature ranges from -40°C to 85°C). Selected Cincon power supply models offer the active Power Factor Correction (PFC) feature. What is more, they are compliant with a number of international standards, such as IEC/EN/UL 62368 (safety of electrical and electronic equipment, multimedia devices), EN 55032 (emissions of electromagnetic interference), EN 61000 (proper power supply to industrial equipment), IEC/EN 60335 (safety of products for household use).