In today's rapidly evolving world, the concept of smart cities has emerged as a beacon of hope for urban areas struggling with the challenges of population growth, environmental sustainability, and efficient service delivery. At the heart of this transformation lies the integration of technology and data-driven solutions, which have paved the way for innovative advancements in urban transportation and mobility. The intersection of smart cities and mobility holds immense potential to improve the quality of life, promote sustainability, and enhance efficiency in our urban landscapes.
One of the most pressing challenges facing modern cities is striking a delicate balance between the ever-increasing demand for transportation and the detrimentalenvironmental and social impacts that accompany it. Congestion, pollution, and accidents have long plagued urban areas, posing significant obstacles to a thriving and liveable urban environment. However, thanks to the power of technology, numerous solutions have been proposed and implemented to tackle these challenges head-on.
Integrated public transport systems have emerged as a cornerstone of smart mobility. By offering reliable, affordable, and accessible options for different modesof travel, cities can promote a seamless and efficient transportation experience.
Buses, trains, metros, trams, bikes, and e-scooters are interconnected within these systems, enabling commuters to choose the most appropriate mode for their journey. Such integrated systems not only alleviate congestion but also reduce the carbon footprint associated with individual car usage, ultimately contributing to a more sustainable urban ecosystem.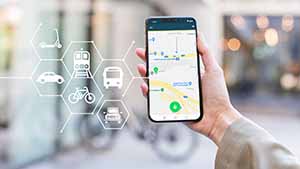 Furthermore, mobility-as-a-service (MaaS) platforms have gained traction as a means to simplify and streamline transportation options for city dwellers. Through a single app or interface, users can plan, book, and pay for various transport services, eliminating the need for multiple applications or physical tickets. MaaS empowers individuals to make informed decisions about their journeys, taking into account factors such as cost, time, and environmental impact. By providing comprehensive and personalized mobility solutions, MaaS platforms contribute to efficient resource allocation and promote sustainable transportation choices.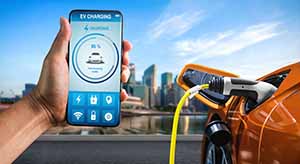 The electrification of vehicles is another key aspect of smart mobility. The adoption of electric vehicles (EVs) and other low-emission technologies presents a significantopportunity to reduce greenhouse gas emissions and improve air quality in urban areas. Governments and private enterprises alike are actively incentivizing the transition to EVs through subsidies, infrastructure development, and awareness campaigns. As EV charging stations become more prevalent, range anxiety diminishes, and battery technology improves, the shift toward sustainable transportation gains momentum.
Advances in autonomous vehicles (AVs) and connected vehicles (CVs) have the potential to revolutionize urban transportation. AVs can navigate roads without human intervention, leveraging sensors, cameras, and AI algorithms to interpret their surroundings. These vehicles can optimize traffic flow, reduce accidents, and enhance safety by communicating with each other and with the infrastructure. Additionally, CVs enable real-time data exchange between vehicles and the surrounding environment, allowing for dynamic route optimization, traffic management, and improved travel experiences. While there are still technical and regulatory challenges to overcome, the integration of AVs and CVs into urban landscapes holds immense promise for the future of smart mobility.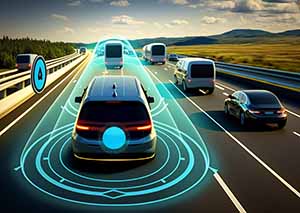 To effectively manage transportation in smart cities, robust smart traffic management systems are essential. By harnessing the power of sensors, cameras, and AI, cities can monitor and control traffic signals, speed limits, parking spaces, and tolls. These systems enable real-time adjustments, responding to changing traffic patterns and improving overall flow. With advanced algorithms and predictive analytics, smart traffic management systems can anticipate congestion, reroute traffic, and reduce travel times. By maximizing existing infrastructure and reducing delays, cities can optimize their transportation networks and enhance the overall mobility experience.
Smart infrastructure plays a crucial role in facilitating the transformation of urban transportation. Dynamic lanes, for instance, can adapt to changing traffic patterns and demands, optimizing the allocation of road space for different modes of transport. Smart street lights not only provide efficient lighting but also incorporatesensors and connectivity to enhance safety and energy conservation. Wireless charging stations for EVs eliminate the need for physical cables and enable convenient charging experiences. Additionally, digital signage provides real-time information to travellers, guiding them to their destinations efficiently. These intelligent infrastructure elements contribute to the overall efficiency, safety, and sustainability of urban transportation systems.
While technology has opened up vast possibilities for reshaping urban transportation, several challenges and barriers need to be addressed. One of the primary concerns is ensuring the security and privacy of the data and systems that underpin smart mobility solutions. Robust cybersecurity measures must be implemented to protect critical infrastructure and personal information from malicious attacks.
The social and ethical implications of new mobility services must also be carefully considered. As cities embrace smart mobility, it is crucial to ensure accessibility, equity, affordability, and inclusion for all members of society. The impact on vulnerable communities, the availability of affordable transportation options, and the potential displacement of traditional modes of transport need to be thoroughly evaluated.
To realize the full potential of smart mobility, coordination among various stakeholders and levels of government is paramount. There are some policies and regulations that harmonize to ensure a cohesive and integrated approach to urban transportation such as the Launch of the FAME (Faster Adoption and Manufacturing of Electric and Hybrid Vehicles) Scheme, Phase-II, which provides fiscal incentives for electric vehicles (EVs) and supports the development of charging infrastructure, Collaborating with private sector partners such as Hitachi to develop innovative solutions for e-mobility, such as grid-to-plug EV charging systems, intelligent transport systems, and smart city dashboards, and Implementation of the Smart Cities Mission by the government, which aims to transform 100 cities into smart citiesby harnessing technology and enabling local development. Some of the componentsof the mission include smart mobility, smart governance, smart environment, and smart living. Collaboration between public and private entities, along with effective governance models, is crucial to navigating the complex landscape of smart cities and mobility.
Furthermore, managing the transition from traditional to smart mobility models requires careful planning and consideration. Interoperability and compatibility between different systems and services are vital to enable seamless travel experiences. Standardization efforts and interoperability frameworks can help address these challenges and facilitate the integration of diverse mobility solutions.
Lastly, the costs and benefits of smart mobility solutions must be thoroughly evaluated. While the initial investment in technology and infrastructure may seem substantial, the long- term benefits, such as reduced congestion, improved air quality,and enhanced efficiency, can yield significant returns. It is essential to ensure the financial viability and sustainability of smart mobility initiatives to secure long-term success. In conclusion, the integration of technology and data-driven solutions is reshaping urban transportation in the context of smart cities. By embracing integrated public transport systems, MaaS platforms, electrification, AVs, CVs, smart traffic management, and intelligent infrastructure, cities can enhance mobility, promote sustainability, and improve quality of life. However, to overcome the challenges associated with security, social implications, policy coordination, system interoperability, and financial viability, a comprehensive and collaborative approach is required. As cities embrace the transformative power of smart mobility, the potential for innovation, efficiency, and livability in urban transportation is truly boundless.