GOODRAM company is a brand with over 30 years of tradition. It specializes in manufacturing digital data storage devices – from RAM modules, through Flash cards to solid-state drives (SSD), which has become a standard in the computer industry. Over time, GOODRAM, as a manufacturer, has launched the GOODRAM INDUSTRIAL brand, which now offers a wide range of memories for professional use, i.e. adjusted to the rigors of work in the industrial applications.
It is worth mentioning right from the start that GOODRAM INDUSTRIAL products are available in TME's offer and can be ordered directly from our warehouse.
New symbols of the GOODRAM INDUSTRIAL cards
The first three characters stand for the product group. Those can be, for example microSD (SDU) or SD (SDC) cards. The following two characters describe the speed class (or the interface), e.g. "C1" means a card in a Class 10 standard, while "V9" stands for a UHS I V90 data carrier which, in turn, designates Ultra High Speed with a maximum transfer speed of 90 MB/s. Next three alphanumeric characters stand for the nominal card capacity. If those are 3 numbers, only a number of available gigabytes has been provided: "032" means 32GB, "256" is 256GB etc. Further stated is the memory technology. All the popular types have been included. S stands for SLC, which means single-level cell, while M refers to "MLC", i.e. multi-level cell. Number "3", on the other hand, stands for 3D TLC, a popular method consisting in memory cells being stacked vertically. The penultimate letter in the symbol is connected with the temperature range in which the card can operate. In the labelling of the most durable products we can find a letter D, which means that the data carrier tolerates temperatures from -40°C to 85°C. The last character defines how the product was packed.
We remind you that currently on our offer we have SD cards labelled with both the new and old symbols. While searching for a replacement for a used data carrier, our Customers can use the search engine on our website. Simply type in the old symbol of a given product, which GOODRAM always provides on the memory card casing.
What distinguishes industrial memory cards?
Industrial memory cards are not always distinguished by high capacity. It results from the fact that they are produced, above all, with a view to ensure reliability. They are designed to store data even in difficult conditions of the industrial applications. This is why technologies that have been tested and proven throughout the years (not necessarily the most compact ones) are used for their production, along with a range of methods aiming to ensure error-free and durable data storage. That is why in the characteristics of these products we will find names of various storage methods, compression or verification. The latter are known under the acronym ECC, i.e. error correction code. By implementing LDPC or BCH algorithms in the memory card driver, GOODRAM INDUSTRIAL provides the Customers with protection from data corruption and loss of information stored in the damaged memory areas. The job of these algorithms is to detect and correct potential errors which might have been caused by signal interferences, disturbance caused by the work of a machine or a malfunction of single memory cells.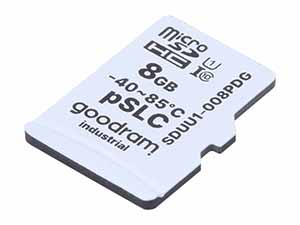 As NAND Flash memories are subject to wear, GOODRAM INDUSTRIAL has implemented two additional methods of data protection in their products. The first of them are the algorithms that evenly disperse data in memory blocks. Thanks to this, cells in every block are subjected to a write/read cycle (i.e. subject to wear) with the same intensity, which prolongs the service life of the whole device. The second method is the constant control of damaged memory areas. Cells which are no longer able to store data durably, given their age or as a result of damage, are monitored by an internal controller and will not be used to store new data.
SDUU1-008PDG
SDUU1-008PDG
memory card