Over the last decade, the consumer electronics industry has witnessed a remarkable and transformative evolution, with one key catalyst driving this revolution: Artificial Intelligence (AI). This game-changing technology has found its way into everything from smartphones to smart home devices, significantly enhancing our daily experiences and streamlining tasks like never before. Among India's top home entertainment brands, innovation remains constant, and they continuously deliver state-of-the-art technology. As AI continues to be integrated into consumer electronics, it holds the potential to completely reshape our interactions with devices and, more significantly, revolutionise how we experience entertainment.
Understanding the AI Revolution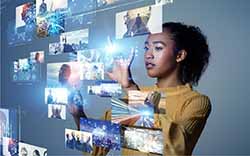 Artificial Intelligence, in simple terms, refers to the simulation of human intelligence in machines. This enables devices to learn, reason, adapt, and adjust according to user preferences, ultimately improving their performance and capabilities. In consumer electronics, AI is revolutionising how we interact with technology, providing personalised and intuitive experiences that seamlessly blend with our human interactions.
Empowering Entertainment Experiences
With AI-powered consumer electronics, the very concept of entertainment is taking on a whole new dimension. Picture this: your LED TV not only showcases breathtaking visuals but also analyses your viewing habits, tailoring content suggestions precisely to your preferences. With the help of AI algorithms, your entertainment devices can anticipate your needs and provide an immersive viewing experience that feels intuitive and seamless.
This level of personalisation goes beyond simple content recommendations. AI-driven smart TVs can also adjust their display settings, audio output, and even lighting conditions based on the viewer's preferences and the type of content being watched. This creates an unparalleled immersive experience, drawing us deeper into the world of our favourite movies, TV shows, or games.
Seamless Integration with Smart Homes
AI is the driving force behind the ever-expanding ecosystem of smart home devices. The interconnectedness of devices, also known as the Internet of Things (IoT), allows for seamless communication and integration between various consumer electronics products.
Think about this scenario: After a long day, you return home to the embrace of your AI-powered home entertainment system. Like clockwork, it detects your presence and springs into action. The lights shift to your preferred mood, the temperature adjusts to your liking, and a gentle, soothing background melody fills the air—all magically orchestrated without you having to lift a finger.
As you settle in for your favourite movie, the AI-enhanced system takes it up a notch. It deftly dims the lights to create the perfect cinematic ambience and optimises the sound for an immersive experience, right in the comfort of your living room.
This seamless integration of AI ensures a harmonious and interconnected living environment, where you effortlessly control your entertainment system through simple voice commands or smartphone apps. The AI serves as the unifying element, elevating the overall smart home experience and bringing a sense of convenience and joy to your everyday life.
Enhanced User Interfaces
Consumer electronics brands are currently prioritising the development of more intuitive and user-friendly interfaces, and this can largely be attributed to the capabilities of AI. Gone are the days of complex remotes and menus that required multiple steps to access various functions. AI-driven interfaces employ natural language processing and gesture recognition, making interactions more conversational and gestures more intuitive. For instance, instead of going through a series of menus to find your favourite show, you can simply ask your AI-powered TV, "Play the latest episode of my favourite series." The TV promptly responds and displays the desired content, eliminating the need for cumbersome navigation.
Furthermore, voice commands are not limited to TV controls alone. AI-driven smart home speakers equipped with virtual assistants can perform a wide range of tasks, from answering general knowledge questions to controlling other smart devices in your home. This seamless level of interaction with consumer electronics brings about a sense of convenience and accessibility for users of all ages.
Empowering Creativity and Content Curation
AI is not only shaping how we consume content but also how it is created and curated. In the world of home entertainment, AI algorithms are being used to analyse vast amounts of data to generate personalised content recommendations. Creators and content providers can leverage AI to gain insights into audience preferences and tailor their offerings accordingly, leading to a more diverse and engaging content landscape.
Furthermore, cutting-edge AI algorithms have the capability to produce lifelike visuals and immersive soundscapes, unlocking novel opportunities for interactive storytelling and gaming encounters. This heightened level of creativity empowers content creators to surpass conventional limits in their artistry and mesmerise audiences in unprecedented and captivating manners.
Revolutionising Customer Support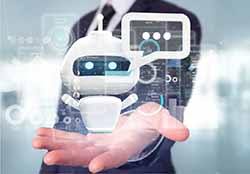 The influence of AI in consumer electronics goes beyond just entertainment, extending its reach to customer support. AI-powered chatbots and virtual assistants now efficiently handle customer queries and troubleshooting, offering swift and effective solutions 24/7. This revolution in customer service elevates satisfaction levels, reduces response times, and fosters greater consumer trust and loyalty.
Moreover, AI-driven customer support enables brands to gather invaluable data on common issues and user feedback, continuously identifying areas for improvement and enhancing their products and services. For example, if you encounter a problem with your smart TV, an AI-driven chatbot can expertly guide you through troubleshooting steps, resolving the issue without the need for human support. This not only saves time but also empowers consumers to independently address minor problems.
AI's Impact on Privacy and Security
As AI continues to play a central role in consumer electronics, concerns about privacy and security have come to the forefront. The increasing interconnection of devices and reliance on data necessitate the utmost protection of user information. To maintain consumer trust and foster a secure digital environment, responsible AI implementation and robust data protection measures are paramount.
Consumer electronics brands must make data encryption, user consent, and transparent data usage policies their top priorities to safeguard personal information. Moreover, AI algorithms should be designed with a strong focus on user privacy, ensuring that sensitive data remains well-protected and inaccessible to unauthorised parties.
Furthermore, staying informed about privacy settings, opting for secure connections, and regularly updating passwords are crucial steps to protect personal information while using AI-powered devices.
Looking Ahead
With the driving force of AI, we now inhabit an era characterized by remarkably personalized and intuitive interactions with our devices. Home entertainment products have seamlessly integrated AI, creating a harmonious blend of technology and human experiences. As India's home entertainment brands embrace AI, they are spearheading a future where entertainment becomes more immersive, personalised, and interconnected than ever before.
The potential of AI in consumer electronics knows no bounds, and as technology relentlessly advances, we can eagerly anticipate even more groundbreaking applications that will revolutionise how we engage with our devices and content. Nevertheless, amidst this exciting progress, it is paramount to uphold ethical principles, placing user privacy and security at the forefront of this evolutionary journey.
In conclusion, the integration of AI in consumer electronics holds the promise of a more enriching and seamless entertainment experience. As we embark on this journey, it is essential to remain mindful of the responsibility that comes with harnessing the power of AI, always placing the needs and preferences of consumers at the forefront of technological advancement. So, as we anticipate the next wave of AI-driven innovations in consumer electronics, let us embrace this transformation with curiosity and vigilance, for it is a path that leads us towards a future where technology enhances our lives and entertains us like never before. As AI continues to reshape the consumer electronics landscape, we are witnessing a technological revolution that intertwines our digital experiences with our everyday lives in ways previously unimaginable.