MORNSUN launches 500W wide-input DC/DC converter VRF24_HB-500WR3-N series to meet the increasing demand for high-power DC/DC power supply in industrial control, electricity, and railway applications.
The 500W 1/2 brick DC/DC converter VRF24_HB-500WR3-N series feature a high efficiency up to 94%, a ultra-wide operating temperature range of -40ºC to +100ºC, a high isolation voltage, complete protections and support paralleled current-sharing.
Advantages
Excellent temperature derating curve
The performance of a power supply in terms of temperature greatly impacts system stability. The operating temperature requirement for most switching power supplies generally ranges from -40ºC to +70ºC.
VRF24_HB-500WR3 offers full power with a baseplate temperature up to 80ºC without derating, and a baseplate operating temperature up to +100ºC, effectively simplifying the thermal design of the whole system.
Its temperature derating curve is shown in the following figure.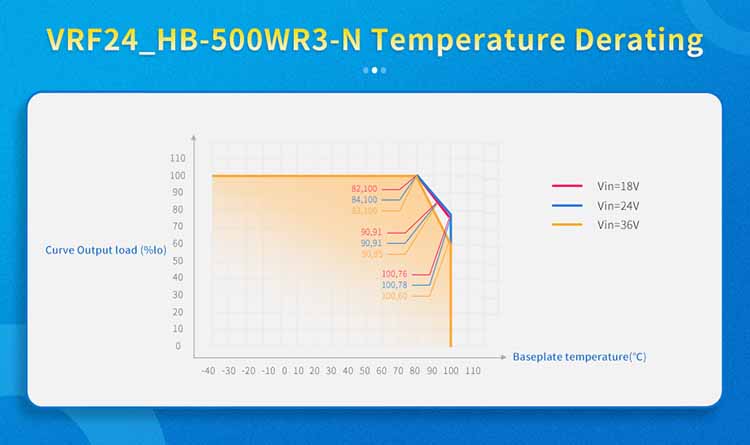 Outstanding comprehensive performance
VRF24_HB-500WR3 features a paralleled current-sharing function, the maximum number of parallel connections is 4, the power in parallel can reach up to 2000w, and the paralleled output voltage still meets the accuracy of ±1% (typ.)
In addition, VRF24_HB-500WR3 also has the advantages of 2250VDC high isolation voltage, output efficiency of 94%, ripple and noise as low as 220mV (Max), etc. At the same time, it has input under-voltage, over-voltage, over-current, over-temperature, and short-circuit protections, which can effectively reduce the risk of loss caused by abnormal operation of the system or equipment.
Applications
VRF24_HB-500WR3 is suitable for high-power applications with high-reliability requirements, such as industrial control, communication, electric power, rail transit, and other fields. MORNSUN provides high-quality power supplies with high stability, high performance, and high reliability for these industries.
Features
Wide 2:1 input voltage range
High efficiency up to 94%
Isolation voltage 2250 VDC
Input under-voltage protection, output short-circuit, over-current, over-voltage, over-temperature protections
Paralleled current-sharing function
Baseplate temperature range: -40 ºC to +100 ºC
Industry-standard 1/2 brick
Selection Guide