What is Wi-Fi- An introduction
Today's life is expecting – all time connected experience be at home or office or on the move. The internet has become an integral part of living. Wi-Fi has emerged as one of the best options in many applications and popular internet access mechanism.
Wi-Fi stands for Wireless Fidelity. Wi-Fi is Radio based internet access medium and based on IEEE802.11 protocols/ standards. Now a days Wi-Fi is used in Smartphones, Tablet , Computers, Test & Measurement Instruments, Data Loggers , Air Conditioners, Refrigerators , Toys, Smart Light and many more devices we use in day to day life.
In 1999, the Wi-Fi Alliance formed as a trade association to hold the Wi-Fi trademark under which most products are sold. Wi-Fi alliance is non-profit organization and helps to develop an strong WLAN eco system. Wi-Fi alliance have more than 800 members . Wi-Fi alliance supports establish and enforce standards for interoperability and backward compatibility of Wi-Fi devices.
IEEE 802.11 Evolution
The WLAN standard is evolving continuously as summarized in the following table.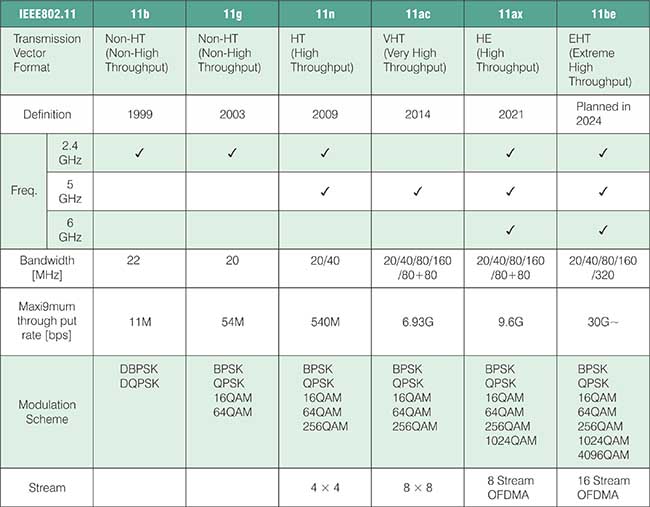 IEEE 802.11be (Wi-Fi 7) Outline
The IEEE 802.11be (Wi-Fi 7) standard aims to implement wireless communications at much faster speeds and larger capacities than the previous 802.11ax. Wi-Fi 7 will continue to support the 802.11ax 6GHz band and extend the channel width up to 320 MHz. It will also use 4096QAM symbols and 16 spatial streams. It is expected that Wi-Fi 7's high data throughput beyond 30 Gbps with low latency will be a key technology supporting new applications and services, including higher definition video streaming over 4K, augmented reality (AR), and virtual reality (VR).
New technologies, such as Multi-link device (MLD) and Multi-Access Point Coordination, not implemented in the 11ax and previous standards are introduced by IEEE 802.11be to secure efficient frequency usage and stable throughput.
Below table shows difference in WiFi 6/6E and Wi-Fi- 7.
Table 1: Major Differences Between 802.11ax and 802.11be
New feature (On the table) Not supported New feature (On the table) Not supported New feature (On the table) PHY Single RU Multiple RU 160 MHz 320 MHz 1024QAM 4096QAM 8 streams 16 stream
6GHz Band in Wi-Fi:
The 2.4/5 GHz band conventionally used by WLAN is very crowded due to the spread of Bluetooth® and WLAN devices, making the 6 GHz band very useful because it avoids crowding and supports easy communications.
2020 marked a revolution in WLAN history. On April 23, the U.S. FCC decided to permit unlicensed use of the 6 GHz band (5925 to 7125 MHz), and other regions and countries are expected to follow soon. New applications and services are expected to be developed using high-speed and large-capacity data communications based on the extremely wide frequency band of 1200 MHz. WLAN was the first unlicensed wireless communications technology to support the 6 GHz band.
The 6 GHz band, that is based on the ITU guidelines, is used in many countries for fixed and satellite communication, as well as for broadcasting services. These existing licensed systems are given priority for using 6 GHz band frequencies, and license-free use is permitted only to the extent that it does not interfere with these operations, while coexistence guidelines are still being established.
Advantages & Challenges of WLAN 6 GHz Band Advantages:
The opening of the 6 GHz band as an unlicensed band solved many of the problems of the 2.4/5 GHz bands.
Wide frequency band of up to 1.2 GHz solves congestion
Operation using 160 MHz channels finally practical
Supports high-speed, high-efficiency networks configured only of devices supporting IEEE 802.11ax
Supports secure networks protected by latest WPA3 technology.
Challenges:
6GHz band Wi-Fi system have its own advantages as listed above and at same time this system have certain challenges as we see them today.
Rules to protect existing systems.
Licensed systems in the 6 GHz band are used for communication services that require high reliability. Therefore, in order not to interfere with them, WLAN devices have AFC (Automated Frequency Coordination) functions to limit Tx power and suppress interference. Since the permitted frequency, Tx power, and power density differ according to the device role (AP/base station) and location (indoors/outdoors), development of 6 GHz band WLAN products requires adequate evaluation of whether the product can meet the rules according to the product classification.
Immature RF components
The 6 GHz band has been used previously by wireless communications, but only specific businesses were licensed and the number of wireless products was limited. The majority do not communicate while moving, but due to usage for communication between two fixed points, the wireless equipment is large and used with a stabilized power supply. Additionally, one communications device in the pair uses part of the frequencies but not the entire 1200 MHz band.
Since smartphones are very different in terms of size, mass, power supply, and other characteristics, parts used by the limited 6 GHz area cannot be diverted. Despite the need for size reduction, weight reduction, and power saving, the licensing system must implement equal, consistent communications performance across an entire 1200 MHz, which has never been done previously. Additionally, this performance must be offered to consumers at an acceptable, reasonable price.
The process of solving this issue has just started, and many developers may face previously unknown challenges
Anritsu Test Solutions for 6 GHz Band WLAN Device
Anritsu has been contributing to ecosystem by providing most technical -commercial suitable test solutions for Wi-Fi technologies. Below are top Test & Measurement solutions for Wi-Fi devices Development and Manufacturing.
WLAN Device Development
The Wireless Connectivity Test Set MT8862A (WLAN Tester) is for measuring the RF TRx characteristics of WLAN IEEE802.11a/b/g/n/ac/ax (2.4 GHz, 5 GHz and 6 GHz bands) devices. The MT8862A has standard WLAN protocol messages (WLAN Signalling) to connect with the device under test (DUT) for measuring each TRx performance item as Network Mode, and features built-in Direct Mode to support flexible test environment

WLAN Production Lines:
Anritsu offers Universal Wireless Test Set MT8870A for production testing of WLAN devices.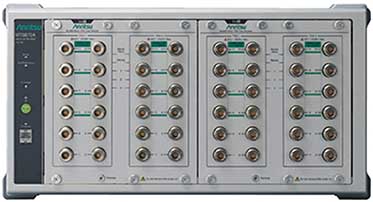 This test set is for measuring Direct and Non-Signaling Mode RF Performance of 6 GHz WLAN products to support efficient mass-production of smartphones, automotive equipment, IoT devices, etc.
AUTHOR: