Defence  electronics-based devices offer dependable, high-performance electronic detection, protection, and assault capabilities to assist missions succeed while reducing casualties. To produce these electrical solutions, multi disciplinary engineering teams cooperate with commercial and academic partners. Defence  electronics development is frequently supported by national or allied Defence  research and development programs, while it may also result in related dual-use commercial advances. Many of these components are particularly engineered for use in military applications with strong temperature and vibration demands. These advanced systems may be deployed on a wide range of military platforms, including big and small planes, ships, submarines, satellites, portable devices, and ground vehicles.
All three of the world's top military firms are American corporations. Three titans of American industry, Lockheed Martin, Northrop Grumman, and Boeing, had combined revenues of $100 billion in 2001 and employed 400,000 people. One percent of the $10 trillion GDP of the United. States is made up of their aggregate income. Every firm is included on the Fortune lists for the Fortune 500, Global 500, Fortune's 500, and America's Most Admired Companies. The top three armaments manufacturers in the world are also Lockheed Martin, Northrop Grumman, and Boeing. 
Defence Electronic Market will exceed USD 231. 6 Billion by 2030, up from USD 105 Billion in 2019, at a CAGR of 6. 4% during the next five years, 2021-30. Overview of the Product Defence electronics are electronic components and systems built primarily for technical dominance in national Defence .
Make-in-India in Defence  Electronics:
Now let's talk in the Indian perspective. India has the world's seventh largest Aerospace and Defence (A&D) market. India must lessen its reliance on imported goods while simultaneously modernizing its A&D capital equipment base. India's Defence electronics sector is estimated to be worth more than $70 billion.
Defence  electronics expenditure in China, Russia, and India is rapidly increasing, and by 2022, all three countries might command a 5% market share. By 2025, India would be the world leader in electronic system design and manufacture. Every manufactured product has electronics, and it is present everywhere.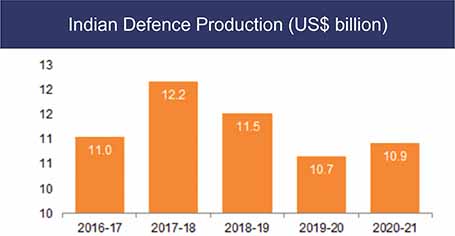 In terms of Defence electronics, there is a perceived need to scale up existing technologies and systems to meet the future demands of military applications. Trade associations have banded together to provide avenues for the aerospace and Defence industries to exploit information technology (IT).
The Defence industry has a Defence offset program in place, through which India purchases large amounts of Defence equipment from foreign countries. These large-ticket acquisitions exceed Rs 300 crore [INR3 billion, £32 million, or $46 million], and more than 30% of them are outsourced. This percentage has been rising since there do not appear to be enough providers in the country to supply the demand.
To fully appreciate the potential of Defence electronics, we must first grasp how the various components of the supply chain function. In India, the Defence landscape consists of armed forces, Defence public sector enterprises (DPSUs), and ordnance companies that produce bulletproof jackets and firearms.
DPSUs supply equipment to the armed forces. Suppliers provide various portions of the equipment to the DPSUs. A further look into the industry reveals that suppliers are divided into two groups, the first of which are the large ones capable of handling orders totaling thousands of crores. These providers outsource product parts before assembling all of the components in their unit. Small and medium-sized companies (SMEs) are the second kind of provider, focusing on system integration and hardware development.
The Government of India (GoI) has previously established a Technology Development Fund to provide grants and funding to SMEs. To take it a step further, IESA has recommended to the GoI the establishment of an electronics testing measurement and certification facility enabling SMEs to test, verify, and satisfy the standards in an inexpensive manner.
A facility of this size is necessary because it will support the local economy and enhance the system. In India, the market opportunity for Defence electronics is expected to reach $70-72 billion during the next 10–12 years. In order to fulfill the demands of the military applications in the coming ten years, this would lead to the next frontier of technology, which would comprise plasma-based rocket technology, stealth technology, and deep technology.
[The 11th annual BGOV200, a list of the top government contractors, has been released by Bloomberg Government].
In fiscal 2021, defence contract expenditure totaled $408.4 billion, a $40.3 billion reduction from the previous year. Pentagon expenditure is still more than $404.6 billion more than in fiscal 2019.
According to data, the Defence Department spent $29 billion less in the fourth quarter of fiscal 2021 than the previous year, accounting for a sizable portion of the government's $28.4 billion net year-over-year reduction. According to Bloomberg Government statistics, the quarter's proportion of total yearly procurement fell to a five-year low of 27.5%, 3.5 percentage points below its annual average for fiscal 2017-21.
Spending declines in important Defence  markets like research and development (-$9.8 billion, -55%), aircraft manufacturing (-$6.7 billion, -65%), and construction and renovation (-5.9 billion, -39%) could not be made up for by a $12 billion year-over-year increase in Pentagon purchases of Covid-related drugs and biologicals in the fourth quarter. The yearly dip in spending for the aircraft included a 54% decrease in Q4 spending on the F-35 Joint Strike Fighter. The India Defence Market is growing at a CAGR of >4% over the next 5 years.
Market Overview
The Indian Defence market is anticipated to register a CAGR of over 4% during the forecast period.
• The COVID-19 epidemic had an influence on the Indian economy, but not on the nation's Defence  budget. However, India's conflict with China at the same time compelled the government to act quickly to update its military hardware while also lowering its reliance on imports, encouraging the market's expansion.
•      The government has been compelled to strengthen its perimeter security, naval, and aerial capabilities as a result of the geopolitical tensions between India and its surrounding countries and the danger of terrorism. Over the years, the nation has consistently increased its Defence  spending. The Defence  budget had the biggest rise in recent years with a 10% increase in 2022, estimated at USD 70.6 billion (INR 5.25 trillion), compared to the previous year's allotment. During the projected period, market growth is anticipated to be fueled by the rising Defence  budget.
•      India promotes the "Make in India" strategy through targeted, long-lasting, and advanced indigenization projects in an effort to achieve self-sufficiency in a variety of sectors, including military. For market participants, this can present fresh prospects for growth.
•      Of all the segments, the airforce segment has the largest market share as of 2021. The projected deliveries of numerous aircraft, including the Dassault Rafale, Ilyushin Il-76 (A50E) (AEW), HAL Tejas LCA Mk 1, Dornier 228, HAL Dhruv ALH/Rudra, and HAL Light Combat Helicopter during the forecast period, are expected to contribute to the increased focus on the modernization of aircraft capabilities and support the segment's growth. Regional suppliers will have a lot of chances as a result of India's growing attempts to achieve operational and industrial independence. At the moment, India is working on its AMCA project. The maiden flight of the aircraft is scheduled for 2025-26, with full production beginning in 2030. The Indian Multi-role Helicopter is a new 13-ton-class helicopter being developed by HAL for the Indian Armed Forces. For the military forces, the domestic medium-lift helicopter might replace all imports in the class. Given the magnitude of the capital required, this endeavor may be India's greatest helicopter design attempt to date.
•      The Tejas Mk 2, a development of the HAL Tejas, is anticipated to debut in 2023 and go into series production by 2026. The IAF is putting up preparations to move through with the long-delayed order for 114 Medium Multi-role Combat Aircraft (MMRCA) 2.0, which is expected to cost between USD 18 and 20 billion. The IAF has invested in the development of relevant capabilities by purchasing both domestically and internationally produced systems. The IAF is also concentrating on improving its air Defence  capabilities. During the projected period, prominent ongoing initiatives such as Akash SAM, S-400, and IAI MRSAM are anticipated to fuel the segment's growth.
'Make in India' Initiative Promoting Indigenous Manufacturing Capabilities in India
•      The Indian Military Ministry is undertaking a number of measures to encourage Make in India in the Defence  manufacturing industry. The Defence  budget for 2022-2023 stated that 68% of the Defence  capital procurement budget will be devoted to domestic industry procurement. The Indian government has set a target of USD 25 billion in Defence  manufacturing by 2025. (Including USD 5 billion from exports by 2025). Through Defence  Public Sector Undertakings (DPSUs) and Ordnance Factories, the Department of Defence  Industrial (DDP) has built a wide range of production facilities to produce diverse Defence  equipment. Heavy vehicles, guns and ammunition, tanks, armored vehicles, helicopters, fighter planes, warships, submarines, missiles, electronic equipment, earth moving equipment, special alloys, and special purpose steels are among the items made. The IAF's goal is to achieve self-sufficiency through encouraging.
•      Promote Indian manufacturing through targeted, ongoing, and evolving indigenousization activities. At the moment, it is concentrating on lessening the reliance on importing Defence  equipment. In the recent past, it introduced light combat aircraft, the Akash Missile, and advanced light helicopters (ALH). In the future, it also intends to introduce LCA Mk-IA and Mk-2 derivatives that are more powerful and capable. It is also closely collaborating with DRDO to create a variety of cutting-edge weaponry while aggressively supporting DoD LCH, RPAs, medium power radars, low-level tracking radars, and other systems. The Make in India program is also supported by the production of Ka-226 T helicopters, close-range missile systems, and single-engine fighter aircraft under the Strategic Partner model. India is also developing a fifth-generation fighter aircraft under the HAL Advanced Medium Combat Aircraft (AMCA) program.
•     Hindustan Aeronautics Limited (HAL) is in charge of the assembly, while the Aeronautical Development Agency (ADA) is in charge of the design. By 2025–2026, the maiden flight is anticipated, and serial manufacturing might start by 2030. The Make in India Program has been implemented with great success by the Indian Shipyards. The Cochin Shipyard Limited's Indigenous Aircraft Carrier (IAC) 1 is India's largest and most intricate warship. It was undergoing sea testing as of January 2022 and will be known as INS Vikrant after it joins the Indian Navy. In addition, India is currently building submarines, destroyers, frigates, fleet replenishment oilers, survey vessels, diving support vessels, diving support craft, and tugboats. Such breakthroughs might, in the near future, increase India's domestic development and production of numerous Defence  technology.
Major Players
1. Hindustan Aeronautics Limited (HAL)
2. Rostec
3. Airbus SE
4. Defence Research and Development Organisation (DRDO)
5. Bharat Electronics Limited (BEL)
Aatmnirbhar Bharat
•      Over the last year, the Indian government has announced a number of significant efforts aimed at improving our Defence  manufacturing capabilities, weapons export objectives, and missile industries by 2025. In 2020-21, India sold Defence  equipment worth Rs. 8,434.84 crore, up from Rs. 1,940.64 crore in 2014-15.
•       The Indian government is concentrating on creative solutions to boost the country's Defence  and security through "Innovations for Defence  Excellence" (IDEX), a forum for start-ups to cooperate with industrial organizations and create new Defence  technology and products over the next five years. (2021-2026). IDEX was successful in getting the startup community to take part in the Defence  India Startup Challenge (DISC) program by collaborating with partner incubators. It is advantageous for those working in the industry as the Department of Defence  has set a goal of 70% weapon self-sufficiency by 2027. To promote and support private sector investment in the Defence  industry, the ministry has established the Green Channel Status (GCS) program.
•      On February 14, 2021, the Prime Minister presented the Indian Army with the MBT "Arjun" Mk1A. On that same day, the Ministry of Defence  (MoD) made an order with the Heavy Vehicles Factory, Avadi, Chennai, for the delivery of 118 Main Battle (MBT) tanks.
•      The Indian Army will get the Arjun Mk1A on September 23,2021. On November 19, 2021, Prime Minister Shri Narendra Modi unveiled and presented the Indian Navy with the "Shakti" electronic warfare system, which had been created and constructed by the Defence  Electronics Research Laboratory (DERL) Hyderabad, a facility under the DRDO.
•       On October 28, 2021, Mazagon Dock Limited in Mumbai delivered the first vessel of Project 15B to the Indian Navy. On November 21, 2021, Raksha Mantri commissioned the vessel.
The Road Ahead…
The opportunities for India are immense. Besides creating jobs in cutting-edge technologies, India is all set to emerge as a major nation in defence R&D, as both the public and private sector companies move up the technological chain, in first absorbing and then creating new technologies.
The opening up of the defence production to private sector companies will now open up new vistas for some of the best young creative minds from the IITs and other leading institutions, to come forward and participate in innovation and development of emerging technologies, in areas like Defence and Space. India never really had an ecosystem for R&D and this was mainly restricted to government funded institutions under CSIR, DRDO, etc.
As revenues grow, the private sector must be encouraged to invest heavily on R&D, along with the government. The coming decade will unravel India's ability to innovate and produce at costs that will make it one of the cheapest production centers.
Private sector companies and business houses like the Tatas, Mahindras, L&T, Kalyani Group, etc have been on the periphery of defence production for some time. This is now set to change with government clearly encouraging the Indian private sector to form joint ventures with leading international companies and become major contributors to defence production
The Indian government is focusing on innovative solutions to empower the country's defence and security via 'Innovations for Defence Excellence (iDEX)', which has provided a platform for start-ups to connect to the defence establishments and develop new technologies/products in the next five years (2021-2026). Working through partner incubators, iDEX has been able to attract the start-up community to participate in the Defence India Start-up Challenge (DISC) programme.
The Defence Ministry has set a target of 70% self-reliance in weaponry by 2027, creating huge prospects for industry players. Green Channel Status Policy (GCS) has been introduced to promote and encourage private sector investments in defence production to promote the role of private sector in defence production.
That's All Folks!
India is pursuing measures to enhance the proportion of defence equipment made domestically. We've traveled a long way. But for India to attain Defence self-sufficiency in the near future, greater funding and a quicker approach are required. In a push towards 'Make in India', Raksha Mantri's Defence Acquisition Council accepted bids totaling $7,965 crore for the modernization of the Indian Armed Forces under the "Make in India" initiative. Twelve Light Utility Helicopters from HAL, a Lynx U2 Fire Control System from BEL, and Mid Life Dornier Aircraft Upgrades from HAL are all included in the proposal.
The national defence industry in India is being supported by the Indian government, although the investments made are insufficient to ensure complete self-sufficiency. In order to expand its export market, India should concentrate on showcasing its machinery at international weapons exhibitions.