Taipei, Taiwan– AAEON, a market leader in embedded computing solutions, will be showcasing an array of its newest and most innovative products at AI Expo Japan, held from 26-28 October, 2022 at the Makuhari Messe Convention Center in Chiba City.
Japan's largest AI trade show, AI Expo Japan is held biannually under NexTech Week TOKYO, which gives industry leaders an opportunity to introduce new and exciting technologies across artificial intelligence, quantum computing, and blockchain. AAEON can be found at booth 11-62 located in Hall 3 of the exhibition, hosted at the Makuhari Messe Convention Center.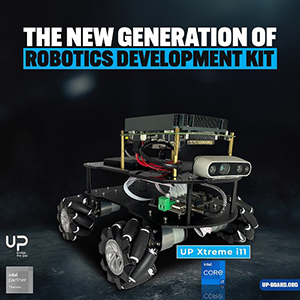 AAEON will illustrate the strides they have made in the robotics space with a live autonomous mobile robot demonstration utilizing the UP Squared 6000 as the robot's controller, highlighting key features such as 3D mapping, real-time object detection, and localization.
Further to this, AAEON will showcase live demonstrations of two products from its renowned edge AI Box PC range featuring the NVIDIA® Jetson™ line of SoMs. These are the much-anticipated BOXER-8640AI and BOXER-8641AI, AAEON's first products powered by the groundbreaking NVIDIA® Jetson AGX Orin™.
In conjunction with live demonstrations, AAEON will also display the most recent and advanced offerings from across their extensive product lines, such as the UP Xtreme i12 Edge system, built with the new Intel® NUC 12 Compute Element, and the de next-TGU8, the world's smallest board featuring an on-board Intel® Core™ i-level processor.
Visitors are encouraged to join AAEON at booth 11-62, Hall 3 of the Makuhari Messe. Tickets are available here, while further information about AAEON's exhibition can be found on the Exhibitor Directory page. 
For more information, visit: www.aaeon.com