Taipei, Taiwan – Leveraging its experience in producing innovative IoT solutions, AAEON has announced the newest addition to its IoT Gateway product line with the launch of the SRG-IMX8P.
Powered by Arm® NXP i.MX8M Plus Quad-Core Cortex®-A53 and Cortex®-M7 processors, the SRG-IMX8P harnesses the benefits of an integrated neural processing unit capable of producing 2.3 TOPS. Further, the inclusion of the Arm® Cortex®-M7 processor offers real-time calculation functionality to enhance machine learning, drastically reducing visual inferencing time for object detection to just 13ms.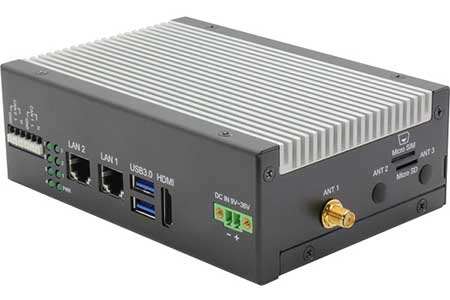 The SRG-IMX8P is also equipped with an industry-leading onboard DDR4L system memory of up to 8GB, 16GB eMMC storage and a Micro SD slot for further system storage expansion.
Differentiating the SRG-IMX8P from its competitors is the inclusion of two USB 3.0, two RJ-45 GbE, and two CAN-FD ports. These features produce the ideal configuration for advanced edge gateway solutions in Industry 4.0 settings such as vehicle assembly and factory automation applications. The USB 3.0 and RJ-45 LAN ports support more sophisticated camera and sensor peripherals, while the CAN-FD slots enable users to transmit and receive sensor data via the SRG-IMX8P's I/O directly, negating the need for USB-to-CANBus conversion.
To ensure reliable operation across vertical markets, the SRG-IMX8P has a wide operating temperature range of -4 °F ~ 158 °F (-20 °C ~ 70 °C), while also boasting a wide power input range of 9~36V. The system's wide temperature range makes it deployable in any industrial setting, and its power input range opens the door to in-vehicle application use by allowing for stable operation in environments with fluctuating power supply sources.
The SRG-IMX8P has already entered mass production, and is available for purchase, with pricing dependent on SKU.
For more information about the SRG-IMX8P, please visit our product page or contact an AAEON representative directly.