ASMPT the world's market and technology leader in the SMT sector, provides complete in-line solutions for all key steps needed in the manufacturing process to set up optimal production lines of the future. Open Automation allows the integration of compatible third-party equipment in order to deliver the highest possible degree of freedom.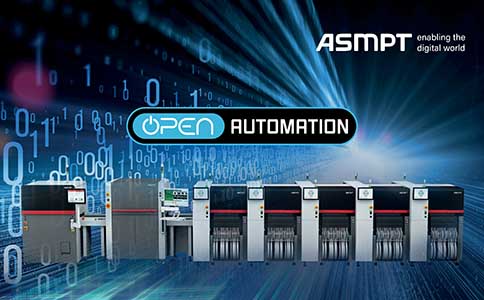 Electronics Era: Let's start with the short Introduction of ASMPT in India?
Electronics manufacturing industry is growing rapidly, especially since the government has been strongly promoting its "Made in India" initiative with the production linked incentive (PLI) scheme. Electronic products are increasingly in demand not only on the domestic market but also internationally – especially in the segments that are important for ASMPT, such as smartphones, telecommunications, automotive modules, smart devices, and home automation. So, it is no wonder that the trend toward factory automation, process optimization and computerization with smart software is also gaining momentum in India.
ASMPT stands for market- and technology-leading manufacturing solutions that deliver the maximum in flexibility, quality, and productivity, which is why we have traditionally been particularly strong in the EMS sector. Since customer proximity is of utmost importance to ASMPT, we have three locations in India that provide the full range of services: pre-sales, after-sales and repair services, technical and development support by experienced specialists on-site and remotely, consumables and spare parts, knowledge transfer through training and education, and much more.
Electronics Era: What are the latest products that ASMPT has introduced to the global market?
In addition to being the market and technology leader in the SMT sector, ASMPT is also a leading maker of equipment for the semiconductor manufacturing industry. We are the only manufacturer in the world that can combine the best of both worlds. With the brand-new SIPLACE CA2, for example, we combine the processing of SMDs and dies directly from the sawn wafer in a single machine – and with the highest speed and precision. Up to 40,000 flip chips, 50,000 die-attach components or 75,000 SMDs can be processed per hour with a precision of up to 10 μ @ 3 σ. Integrating the complex die-bonding process directly into the SMT line eliminates the need for many slow and expensive special machines, significantly accelerates the production of SiPs, and saves a lot of valuable space on the shop floor. In addition, not having to tape the dies delivers cost savings in the millions and avoids mountains of waste. With the extension of the PLI scheme to the semiconductor manufacturing industry, we believe our customers will be able to further leverage our solutions.
In the software field, ASMPT has opened another door to the integrated smart factory for its customers with its new WORKS Material Demand Calculation application, which is part of the company's smart shop floor management suite WORKS. The software recalculates the material requirements for ongoing production operations dynamically and in definable intervals. In this way, timely demand notifications can be issued to central and intermediate storage locations along with time-driven transport orders to make sure that the right quantities of material get delivered at the right time to the right production line and the right machine. This creates transparency in the warehouse and on the line, avoids cost-intensive machine downtimes due to late or incorrect manual material reorders, and eliminates the classic emergency stocks associated with static planning. It eliminates unnecessary travel times and makes the production much more resilient to unforeseen events.
Electronics Era: Automation & digitalization are important for achieving a smart factory. What is ASMPT doing to approach an integrated and connected factory? How would you support manufacturers in their digital transformation?
ASMPT offers an easy transition to the integrated smart factory with its flexible, vendor-independent and retrofittable Open Automation concept, which provides the option to start automation at any level, completely individually. The basis for smart and successful automation is the seamless exchange of data between machines, systems and people from the shop floor to the enterprise level – ASMPT makes this possible with its comprehensive support of the industry's leading IPC-CFX open communication standard. ASMPT machines can be automated step-by-step, always in accordance with the individual production requirements. In addition, Open Automation allows the integration of compatible third-party equipment in order to deliver the highest possible degree of freedom. Software automation with our systems, such as with the smart shop floor management suite WORKS functioning as a control and management center for production operations, helps teams to organize and automize processes and optimize workflows. It opens new ways of thinking and promotes new skills for more productiveness, effectiveness and resilience.
There is also ASMPT's comprehensive service, consulting, training, and qualification offering. For example, the ASMPT Academy digital learning platform with location- and time-independent interactive courses for maintenance, operation, application and technology and even 2D or 3D virtual reality training courses on our machines. Our remote support guarantees direct connections between our service teams, the technicians at the customer's site and the machines on site via a highly secure IT infrastructure. Service 4.0 is playing an increasingly important role in India. We are convinced that every technical innovation must also be accompanied by a qualification offensive. We take this personally in the best sense of the word: Our specialists are always available for an individual consultation.
Electronics Era: What are your recommendations when integrating or synchronizing all production processes to achieve Industry 4.0?
Automation must never be an end in itself – it usually makes sense only up to a certain point. From ASMPT's point of view, concepts such as the "dark factory" are not very effective because they usually are highly proprietary and force users into rigid corsets that leave little room for maneuvering when situations change. Openness, retrofittability and the ability to choose the ideal degree of automation are basic prerequisites for automation projects that make financial sense. Only if the right software solutions from the machine and shop floor to the factory and enterprise level fully support this approach can users implement the integrated smart factory that works best for them.
An example of this is our Process Lens high-end SPI system. It can be upgraded in several steps to the world's only self-learning inline SPI expert system that uses our WORKS Process Expert AI software to optimize and control the printing process completely autonomously if desired. The openness of its communication capabilities even allows data from third-party systems, such as AOI machines at the end of the line, to be integrated using the IPC CFX (Connected Factory Exchange) open standard.
Electronics Era: Constantly growing demands on component manufacturing require preventative, integrated strategies for zero-defect production. What do they look like at ASMPT?
Zero-defect production is becoming increasingly important as more and more customers prohibit reworking, for example in the automotive and aerospace sectors. With best-in-class hardware for solder paste printing and assembly, ASMPT already provides its customers with the basic requirements for zero-defect production – but that's still not enough, as errors can have a broad range of causes. Allow me to list a few examples of the innovations and technologies with which ASMPT can support its customers in such applications:
By automating the material ordering process with the WORKS Material Demand Calculation, we eliminate the human factor and thus faulty orders or placements.
As far as paste printing is concerned, good stencil design is a critical prerequisite. With DFM HealthCheck, which is part of our WORKS Process Expert, the complete stencil design can be checked and optimized via virtual prints before the stencil is ordered or produced.
Another prerequisite for zero-default production is, of course, a powerful SPI system. ASMPT's Process Lens is a high-performance 5D system that reliably detects even the smallest details with a resolution of up to 10 μm and special algorithms, and it does it up to 70 percent faster than conventional systems.
The Measuring Feeder X is a simple but highly efficient tool for component verification. Installed in an 8-mm slot, it checks the electrical properties of components in freely definable intervals, which enables it to reliably detect faulty or defective components as well as fake components.
The camera systems in the placement machines of the SIPLACE series also contribute to error-free production. With their high resolutions and speedy linear drives, they check each component already during the pickup process for its correct position on the nozzle and for any damage or flaws. After the placement process, the correct position of each component can also be reliably ensured – from the smallest 0201m element to snap-in verification for large OSCs.
Last but not least, the ability to communicate also plays an enormously important role. With their open interface standards such as IPC-HERMES 9852, ASMPT machines ensure seamless data communication and thus the transfer of all relevant information from start to finish.
Electronics Era: Where do you and the company see the future trends in manufacturing, and how does ASMPT move toward its vision of "Enabling the digital world"?
We consider the automotive sector to be especially important. CMOS/LIDAR modules, power modules, assistance systems for autonomous driving and many more are becoming increasingly complex and miniaturized. For quality assurance reasons, seamless traceability will also play an increasingly important role.
Trends like these require the convergence of hardware and software on the highest level.
Software already plays the same role as hardware at ASMPT, and we are constantly expanding our portfolio with new best-in-class solutions in order to be able to comprehensively support our customers in the realization of their integrated smart factory. And let's not forget that being a market and technology leader also in the software sector will make ASMPT more resilient for the long term.
In addition to the applications in the WORKS smart shop floor management suite that allow manufacturing managers and operators to control and optimize the eight major workflows (planning, programming, integration, optimization, monitoring, operations, preparations, and logistics), ASMPT will increasingly develop and provide intelligent solutions based on state-of-the-art software technology that can be used across manufacturers and divisions to increase the performance of the entire SMT factory.
Electronics Era: As a global SMT player, what are the opportunities that ASMPT is looking at in India in 2023?
With very competitive wages, a large labor force and a growing population, India provides a good foundation and makes a good choice for electronics manufacturers to set up their manufacturing facility. Driven by global trends in electric vehicles and digitalization, India continues to grow at rapid pace in the Automotive & Industrial Electronics segments. Along with the demand for miniaturisation of components, robust consumer demand and supportive government policies, the telecommunications sector is forecasted to grow exponentially. We are confident that with ASMPT's large portfolio of hardware and software solutions, and our end-to-end back-end SMT assembly offerings, we are poised to serve these market segments in a broad manner.
A map showing the ASMPT SMT Solutions' India Team and their extensive coverage in India
An Integrated Smart Factory is the seamless exchange of data between machines, systems and people from the shop floor to the enterprise level – made possible with its comprehensive support of the industry's leading IPC-CFX open communication standard