Electronics Era : What's the purpose of Anritsu Telecom Symposium?
Madhukar Tripathi : Anritsu is global leader in telecom test and measurement technology instrument. We work very closely with telecom giants and contribute to sustainable telecom eco system growth Every year we organize Anritsu Technology Day or Anritsu Telecom Symposium to introduce our latest test and measurement solutions to our customers in India. This year we organized Anritsu Telecom Symposium at Radisson Blu Hotel in NCR on 30th Nov 2022 and 2nd Dec 2022 at Chennai. Anritsu Telecom Symposium at Radisson Blu Hotel in NCR focused on ORAN, IoT, Mobile Manufacturing & Regulatory Testing, TEC MTCTE while Chennai's program focus on Automotive with other telecom technologies as mentioned above.
We have speakers from Anritsu UK and Anritsu Corporation Japan to cover latest technology and how Anritsu test solution support testing of these technologies.
Electronics Era : How do you see Telecom Market in India?
Madhukar Tripathi : 2022 had been a milestone in Indian telecom history. Government completed 5G spectrum auction and operators such as Jio and Airtel launched 5G services in many cities. Government is monitoring 5G roll out and TRAI is working on new Telecom Bill- draft is already out and under discussion. BSNL to be allotted Rs 62,000-crore spectrum for its 5G rollout. All these factors show a growing telecom market in India.
We can expect expansion of 5G network coverage in India, more use cases of 5G, Private 5G, Cloud computing, Edge computing, Cybersecurity, Artificial Intelligence (AI), telecom production, enhancement of IIoT, IoT use cases , Digital Transformation, during 2023.
Electronics Era : What is current expansion plan for Anritsu India?
Madhukar Tripathi : India is growing market for us. We see India market as global R&D hub and Government policies are making India as favorite destination for R&D and electronics manufacturing. We are committed to serve Indian customer and recruiting in sales, service, repair, technical support verticals while R&D expansion is top priority since Anritsu India works as global R&D center.
Electronics Era : What is being displayed at Anritsu Telecom Symposium and how this is relevance to Indian market?
Madhukar Tripathi : As said India telecom marketing is growing and we wish to be part of this journey with our customers. We have four demo stations at Anritsu Telecom Symposium. Here we tried to cover R&D, Production test solutions for 5G and other technologies.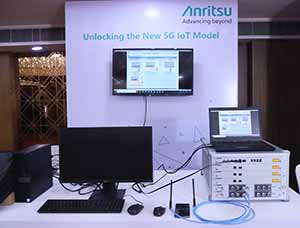 Demo Station-1: MT8000A- Radio Communication Test Station is our flagship 5G R&D test solution covering FR1 and FR2. This is used by chipset companies and BTS R&D customers. Radio Communication Test Station MT8000A is a new platform for developing 5G communications terminals, chipsets and devices. With support for both signaling and RF tests, this all-in-one platform can be configured easily for various tests, including RF, protocol, and use-case tests matching the module construction.
This demo station have relevance for 5G UE -chipset R&D companies and extensively used in India.
Demo Station-2: This is 5G Base station testing set up using Anritsu MS2850A (Signal Analyser +MG3710E (Signal Generator). This is used by test labs and BTS R&D and production companies. The MS2850A and MG3710E support the fundamental RF parametric tests for O-RU specified in 3GPP TS38.141 Chapters 6 and 7.
Many TEC designated test houses are using this test set up and in demand by Indian customer working in 5G base station /NR testing & other wireless devices certification.
Demo Station-3: This is production line testing solution using Anritsu Universal Wireless Test Set MT8870-02A. The Universal Wireless Test Set MT8870A is a tester for mass production lines for wireless communication devices / modules that support various wireless communication standards such as 5G NR Sub-6 GHz and IEEE 802.11ax. Up to four high-performance test units can be installed enabling highly efficient tests even in high density production lines.
Due to government Atmanirbhar / Make in India focus , many companies are expanding production capabilities or establishing new production plants. This test solution is used by many Mobile handset manufacturing companies in India.
Demo Station-4: Demo station 4 is targeting for device testing and have Bluetooth & WLAN 6E testing solution- MT8852B & MT8862A.
MT8852B Bluetooth Test Set with Basic Rate, EDR and low energy measurement capability. The MT8852B Bluetooth Test Set adds Bluetooth v2.1 Enhanced Data Rate (EDR) measurements, Bluetooth low energy measurements and latest Bluetooth v5.1 measurements.
MT8862A is covered in question 6.
Electronics Era : What is Wi-Fi outlook for India?
Madhukar Tripathi : The rapid rise in the adoption of digital solutions has paved the way for the growth of the Wi-Fi market. Wi-Fi has the capability to combine the best of fixed and mobile broadband technologies to offer reliable, high speed mobile connectivity at cost-effective rates.
Smart Homes Security Camera, Smart TV, Smart Speaker, and Gaming Console, Refrigerator etc appliances, Industry 4.0, Smart Cities, IIoT, IoT, AR,VR etc are contributing to demand of robust Wi-Fi system.
Wi-Fi6 and Wi-Fi 6E is currently at centre of market traction while R&D, trials for Wi-Fi7 is already on way. HFCL launched Wi-Fi 7 devices already. It is expected that commercial availability of equipment supporting Wi-Fi 7 will begin in 2025, with Wi-Fi 6/6E and Wi-Fi 7 coexisting as complementary technologies for several years.
Given the various benefits of the technology, the Wi-Fi solutions market in India is expected to grow at an impressive rate over the coming years.
Electronics Era : Explain Anritsu Wi-Fi & Test Solutions?
Madhukar Tripathi : Anritsu provides cutting-edge solutions for telecommunications technologies ranging from indoor coverage mapping in small wireless systems to spectrum analysis and over the air testing in large wireless networks. Our complete solutions are designed to meet your ever-changing market needs. In this line Wireless Connectivity Test Set MT8862A (WLAN Tester) is for measuring the RF TRx characteristics of WLAN IEEE802.11a/b/g/n/ac/ax (2.4 GHz, 5 GHz and 6 GHz bands) devices. The MT8862A has standard WLAN protocol messages (WLAN Signalling) to connect with the device under test (DUT) for measuring each TRx performance item as Network Mode, and features built-in Direct Mode to support flexible test environment.
We are displaying The Wireless Connectivity Test Set MT8862A (WLAN Tester) at Anritsu Telecom Symposium.
Electronics Era : Highlight Anritsu participation & Involvement in ORAN Technology?
Madhukar Tripathi : Anritsu is actively participating different Open RAN projects, alliances, plugfests etc.: During Feb' 21 Anritsu joined O-RAN Alliance later during Nov'21 Joined Telecom Infra Project and contributing to Open Source automation. Then during Dec'21 Anritsu joined O-RAN Alliance 3rd Plugfest in US and Madrid.
Anritsu provides the following test solutions for O-RAN fronthaul (O-RAN FH) equipment configured as an O-DU (O-RAN Distributed Unit) and O-RU (O-RAN Radio Unit) with a lower functional "Split 7-2x". – Network Master Pro MT1000A – Signal Analyzer MS2850A – Vector Signal Generator MG3710E The Network Master Pro MT1000A is an all-in-one transport network tester for speeds from 1.5 Mbps to 100 Gbps using various technologies and supports PTP/SyncE tests in the Synchronization plane (S-plane). The Signal Analyzer MS2850A covering 9 kHz to 32 or 44.5 GHz is a high-performance RF signal analyzer supporting an analysis bandwidth up to 1 GHz with excellent flatness and spurious-free dynamic range. The Vector Signal Generator MG3710E is a standard signal source with dual-RF port and dual arbitrary waveform memory options. The MS2850A and MG3710E support the fundamental RF parametric tests for O-RU specified in 3GPP TS38.141 Chapters 6 and 7.