NMTronics India Pvt. Ltd.
FUJI NXTIII / AIMEXIII, IIIc

FUJI Placement Machines are highly Accurate, Productive, Multi-functional, Modular placement machine and are Flexible & Expandable by architecture. Built for speed, it offers Highest Area Productivity which features a faster XY robot & Tape Feeder as well as a new H24s Placement head that achieves 43,000 CPH, with smallest component handling capability of 0201 (008004") at placement accuracy of ±25µm. FUJI Machines are only machine of the industry which can deliver ±15µm with same placement machine, without any additional option. Some key features of FUJI Machines are :
Possibility of Reconfigurability of Machine to suit current requirement, throughout the life of the machine
Self-Calibrating machine with Self Diagnostics functionslike – Auto and Hybrid Calibrations to ensure Higher Placement Accuracy
Can Support Parts from 0201 (008004") to 102 x 102mm (32x180mm) and Height upto 38.1mm using varieties of Heads
100% Electronic Intelligent Feeders with Fiducial mark to ensure higher pickup success rate
Specialized Nozzles with Barcode and Color Code to ensure operator independent Operation
Support special applications like PoP, Glue Dispensing, Pressure Insertion Function, Multi Job Line Balancing,
Low Impact Placement Head Replacement Function, etc.
Supports Automatic Vision Data Generation, On Machine editing Function & NPI Tools to suit best of the customer requirement
Supports up to 48 Tray Handling Unit to suit customer
Common accessories amongst different platform of the machine, hence can rationalize investment
Can Handle PCB Size as large as 1500mm using Extended Conveyor option
Panasonic Life Solutions India Pvt. Ltd.
SPG 2 – Best-in-class Printer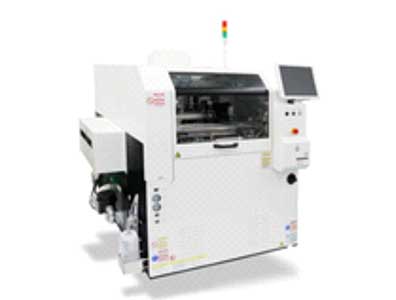 Panasonic's SPG2 high-speed screen printing machine is tailored to SMT manufacturing. Equipped with multi-stage board handling improves productive time. SPG2's hybrid printing method delivers the right amount of solder with high-speed snap-off and reduced solder waste.
The intuitive interface and changeover wizard helps the operator efficiently navigate the NPI changeover process. Once established, the parameters are stored for fast retrieval.
Panasonic mounters and printers use the same offline programming software, which further reduces setup time. Advanced M2M communication with the AOI/SPI and patented feedforward communication to the mounter delivers overall productivity and quality.
The inherent SPG2 print capability supports 0201mm (008004") components, as well as bump printing.

KEY FEATURES
510 x 510 PCB (optional 650mm long board kit) and auto pin setup for high mix environments
14s processing time including all required functions (transfer, fiducials, print, clean) to ensure fast and quality printing
Print capability to process microchip, to bumping, to pin-in-paste applications
Full MES & M2M capabilities to minimize labor and process expertise staffing
Advanced features of auto stencil, auto paste removal/deposit paperless cleaning and auto paste dispense options for
Factory of the Future capabilities
Bergen Associates Pvt. Ltd.
Perfect Smart Manufacturing witha AXI Solutions
The Smart Choice for Your SMT Line

• A complete solution for large form factor board up to 52″ X 52″.
• Rapid programming and high throughput to cater low mix high volume and high mix low volume production environment.
• Comprehensive defect detection and superior image quality.
• Superior imaging technology in cooperating digital tomosynthesis and proprietary autofocus technic.
• Industry 4.0 ready through V-ON E and M2M communication with other SMT equipment.
• 1st choice inline AX I solution used by Tier 1 CM and OEM.
• Expanded global sales and support coverage
Juki India Pvt. Ltd.
JUKI'S Multi-Functional Inspection Machine 2D SPI/AOI, 3D SPI/AOI, Conformal Coating, THT and material surface inspection.
One Machine done all….Inspector of ultimate flexibility…… at an affordable price
Special Features
1.Overwhelming Speed
1,200 The use of a high-pixel camera with all pixels has expanded the camera field of view by 192% compared to the previous model. This resulted in the fastest inspection speed in the world in the class, 61.8cm²/sec. by speeding up inspection speeds, we can further accelerate production lines.In addition, by enlarging the angle of the image, the inspection was realized with a minimum number of blocks.
2. Remarkable Accuracy
The use of a 5 µm (optional) high-resolution lens enables more accurate inspection of microminiature parts such as 0201 parts. This system achieves high-precision inspections even in the production of ultra-small parts and high-precision products, such as smartphones and precision equipment that require high-density production.
3. Ease of use of Rating
The "Template Mode" is a simple, quick, and high performance inspection that automatically generates packages by only selecting test part types with a pre-prepared template. In addition, adjusting black and white and color parameters and adjusting the 3D threshold allow you to customize the inspection standards freely, making it easy for less experienced operators to create the test data. In addition, a unique process mode can be mounted as a standard, making it more flexible.

4. Visual Inspection Automation
It is possible to automation visual inspections that have been performed manually, such as planarity inspections, clearance checks, hole diameters, pitch checks, geometry checks, color checks, and dirt checks of processed parts, press parts, ASSY parts, etc.It is ideal for measuring important precision components such as automotive, medical, and electronic devices. In addition, labor shortages and in-line inspection processes are realized.
5. Improving the Efficiency of the Entire Plant
We also action to the JaNets that connects the entire manufacturing process through networks. We will not only improve quality and productivity, but also visualize management information. In addition, in addition to integrated control of various types of data for each line, the external output function (OP) enables system linkage with the MES customers own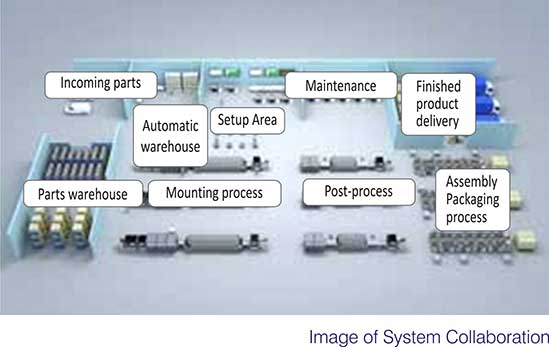 Trans-Technology (I) Pvt Ltd.
YAMAHA -YSM40R MOUNTER
Overwhelming productivity specialized for LED/ Chip components mounting.
Ultra-high-speed rotary head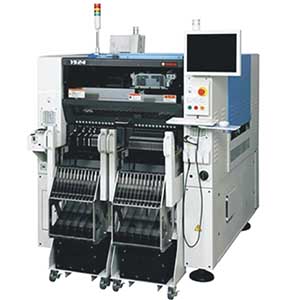 Delivers revolutionary productivity by employing our unique simultaneous component pickup technology, newly developed rotary control technology, and heads are lighter than previous high-speed heads.
High tech to support high mounting quality & a high machine operating rate Nozzle health care function Automatically diagnoses the nozzle function and appearance and replaces any problem nozzle with a spare nozzle as needed.
Extremely short line configuration, machine width is a mere 1 meter and yet produces 200,000CPH, and connecting as a pair achieves 400,000CPH in 2-meter length
Employs a high-speed multi-camera and recognizes components in the shortest travelling course
Highly stable & reliable pickup system
This system automatically maintains highly reliable component pickup by employing a high-performance vacuum pump, pickup position auto-correction function, and pickup height auto-teach function.