Automation devices are one of TME's specializations. We have a wide range of products in stock; Eaton Electric products are among our most popular products with the widest range. These elements are characterized by high-quality workmanship and a comprehensive approach to automation. They can be used in any place where there is a need to introduce or improve automatic production, processing, storage or data storage. The following is an overview of Eaton Electric's versatile products that allow you to create advanced automation systems. These include programmable relays, contactors, motor protective circuit breakers, switches, indicators and control stations.
easyE4 control relays
The small programmable relay itself can be the heart of an automation system, even for complex devices. The simple easyE4 relays allow you to implement complex controlling and monitoring of automated systems. Thanks to their modular structure, the easyE4 control relays, in combination with other Eaton products, are well suited for controlling the operation of machines, parts of the production line and lightning automation.
The basic unit, i.e. the control relay itself, can be equipped with (depending on the specific model): up to 8 digital inputs or up to 4 analogue inputs with 12-bit resolution; from 4 to 8 transistor or relay outputs; various display options; a keypad, the SD card for storing the relay software and data logging, the RJ-45 connector for communication with a local Ethernet network, and an easyConnect connector set for data transfer between the basic unit and expansion modules. Up to 11 additional modules can be connected directly to one easyE4 control relay, giving a maximum number of 188 inputs/outputs. UC models are universal, they can be powered by any voltage: 12V DC, 24V DC or 24V AC. The AC version supports voltages from 100V to 240V AC or DC.
EASY-BOX-E4-DC1
Compact easyE4 control relay with display.
easyE4 control relays programming languages
The easyE4 devices can be programmed using four different easySoft programming languages. The first is the classic method known to most installers specializing in automation, i.e. ladder logic. The second method is structured text, i.e. code that can easily be mastered by any user who knows the basics of programming in one of the basic text-based languages (C++, Java, Python, etc.). The other two methods are EDP schemes and block diagram. Thanks to this diversity, every installer will find the right solution for himself and his team. It is worth mentioning here that easyE4 devices are backwards compatible: they can run programs written for earlier versions of control relays: Eaton easy500/700/800/MFD.
The easyE4 control relays allow you not only to control the operation of devices, but also to monitor the system operating status. The monitored information can be transmitted to the user via a built-in display, but also transmitted via the local area network (LAN) to the server. The information collected in this way enables real-time monitoring of the connected devices. This is done, for example, by the proprietary EATON solution, the Galileo environment (which allows you, among other things, to create HTML5-based web visualizations, which are compatible with regular web browsers). This solution allows you to create customized visualizations and control the operation of the entire system.
Comprehensive automation with Eaton components
Although control relays can be seen as the "brains of the operation", they are useless without high-quality supplementary devices to control the target devices. Eaton Electric, through TME, offers a number of solutions for the development of complex automation systems – regardless of their purpose.
DILM contactors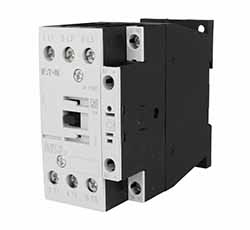 DILM contactors (also known by the designation "DIL M") from Eaton are available in many variants. The TME catalogue includes devices with a maximum current of 170A. These are 3- and 4-pole devices mounted on a mounting plate or DIN rail. It is worth noting that the contactors intended for direct current applications have the same dimensions as those intended for operation with AC current. Accessories such as auxiliary contacts or suppressors and surge arresters are also available for DILM contactors. When looking for the right item, it is best to go directly to the TME catalogue and filter the right product from our offer:
DILM17-10-24VDC
Eaton DILM 3-pole panel-mount contactor.
PKZ motor-protective circuit breakers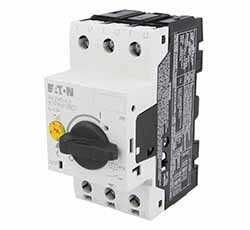 PKZ motor-protective circuit breakers (in a range of different variants) can be used to protect e.g. transformers, but their main purpose is the protection of motors. Trip currents for PKZ models range from 0.1A to 63A (the range depends on the specific model), covering a wide range of applications – up to 34kW. They protect motors from overloads, phase decay and are fitted with additional short circuit trips. They are designed to work with DILM contactors, with which they can be combined on a DIN rail. They are available in variants equipped with push buttons (up to 25A) and rotary handles (above 63A) – they can also be used as emergency stop buttons. Additionally, TME also offers auxiliary and signalling contacts and shunt and undervoltage trips.
PKZM0-6.3
An example of a motor circuit breaker mounted on a DIN rail.
RMQ-Titan pushbuttons and indicators
Each automation system provides for operator supervision, as well as control over automatic processes – even if only in terms of their start-up and emergency shutdown. Eaton's pushbuttons and pilot devices include the RMQ -Titan and RMQ -16 devices. These include not only pushbuttons and signal towers, but also potentiometers, USB and RJ45 panels, I/O (ON/OFF) switches, rotary switches and illuminated emergency power-off buttons. The TME catalogue also includes joysticks and control stations, and even small accessories, such as spare keys, data sheets and button lenses in various colours (also marked with inscriptions). The TME catalogue includes a wide range of products from the RMQ series, which are necessary in any automation system.
M22-PV/KC02/IY
RMQ-Titan emergency stop pushbutton control station.