The electronic manufacturing services (EMS) market in India has seen significant growth in recent years, driven by the country's focus on digitalization, favorable government policies, and the availability of a skilled workforce. As a EMS provider in India, our company offers a wide range of services, including design, manufacturing, testing, distribution, and repair services for electronic components and assemblies for original equipment manufacturers (OEMs).
India's electronic manufacturing service (EMS) market is growing rapidly, driven by factors such as government initiatives to promote local manufacturing, the increasing demand for electronic products, and the availability of a skilled workforce.
The Indian government's flagship initiative, Make in India, aimed to boost domestic manufacturing and promote India as a global manufacturing hub. The government also announced several policies and incentives to encourage foreign investment in the sector, such as the Production Linked Incentive (PLI) scheme for electronics manufacturing.
Global demand is also predicted to expand sharply with the advent of the Internet of Things (IoT) and 5G services. Manufacturing process and material advancements have also aided the expansion of this business. With significant infrastructure growth and a concentration on trained labour, India's EMS business has a bright future.
Our state-of-the-art manufacturing facility spans over 30,000 sq. ft. and is ISO 9001:2015 certified, with other product-specific certifications. We leverage IoT-based automated operations to ensure error-free execution, and we have various product certifications such as TQM, BIS, ARAI, and MNRE for various product ranges. Our QMS is based on lean manufacturing principles and quality tools and techniques, and we follow 6S practices to ensure smooth and organized functioning.
Battery Packs Manufacturing
It is one of our core services, and we are a full-service custom battery manufacturer with
In-house design and engineering capabilities.
Our facility has a capacity of 120 MW per annum for Li-ion battery power packs.
Capacity of 80 lacs cells per year for 40k complex and small-range battery packs.
We can handle all types of lithium chemistries, including Li-ion and LiFePo4,
A mission of increasing the capacity to 100 lac cells per year in the next two years. We set up capabilities ranging from smaller packs of single cells to multi-layer cell packs for industrial as well as other industrial applications across sectors.
Our automated spot-welding process is done with programmable robotic machines, and we plan to install a fully automated battery pack line.
Our Surface-Mount Technology (SMT) services are also best in class, with
 A capacity of 1,20,000 CPH.
Equipped with automatic stencil printer,
Dual pick and place,
Automated optical inspection (AOI),
Automatic reflow,
X-ray inspection & BGA rework.
 We can handle the most complex assemblies with components like 0201, BGA, and Micro BGA, ensuring the automation of processes that are controlled with ERP and SAP accounting systems for the most effective execution.
Box Building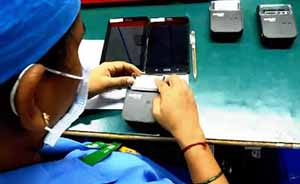 We are ISO 9001:2015 & Mastercard TQM Certified for our facility and processes, authorizing us in the manufacturing of complex payment terminals and micro-ATMs.
Our skilled EMS team can integrate assembly and box-build capabilities to manufacture custom products as per client needs and specifications.
We are fully equipped with a test setup for functional tests of payment terminals and handheld devices that serve as an enabler of financial inclusion.
With our mission to Tech powering the World®, we have a capacity and vision of producing over 3 lacs devices per annum, including complex fintech devices, and empower the unbanked population with access to technology and grab growth opportunities.
We have been certified by Mastercard TQM for our facility as well as processes to authorize us in manufacturing of complex payment terminals & micro-ATMs.
Our Other Offerings Include–
Turnkey projects – End to End product manufacturing i.e from the procurement of the raw material to design and development and delivery of the final product.
Prototype to volume manufacturing support – Providing Prototypes and also generating volume manufacturing product if required, we also support with product engineering, jigs fixtures, testing, certification.
TQM (Terminal quality control) certified facility suitable for financial inclusion products like payment terminals.
Job work activity – The customers provide all raw materials and components required we offer them our work service to assemble the same by taking only labour charges. Job work of complex PCBAs with higher per-joint rate. For high volume requirements.
Repairs services for different kinds of products.
Service support activity – We provide full after-sales-service support.
Customized Battery Pack Manufacturing
India's EMS market is evolving, and we are committed to meeting the growing demand for electronic manufacturing services. Our state-of-the-art facility, skilled workforce, and advanced capabilities enable us to deliver high-quality products and services to our clients. With a focus on innovation and continuous improvement, we strive to remain at the forefront of the EMS industry in India and beyond. Overall, the EMS market in India is seen as a promising sector with significant growth potential, and is expected to continue to grow in the coming years.