Electromechanical components, most importantly switches, are the basic elements of control panels, dashboards, and numerous interfaces. They are used in consumer and industrial devices, as well as in public spaces. Despite the omnipresence of touchscreens, their popularity remains unchanged. They are also more durable mechanically, can be operated without removing workwear and – what is most important in certain situations – operating them comes naturally to users (something that cannot be said about tapping touchscreens).
The range of products by ONPOW comprises mainly switches. In this portfolio, much of which we supply directly from TME warehouses, you can find various types of components, both highly specialised ones, for example very durable vandal-resistant switches, as well as universal switches that can be used for various purposes in projects and devices all around the world.
The range of ONPOW products being very broad, we present its general overview below – highlighting the most important product groups and their areas of application. ONPOW components are characterised by excellent quality-to-price ratio – therefore, this overview should be of interest to technicians, service professionals, maintenance staff, maintenance specialists – as well as designers and manufacturers of electrical/electromechanical devices (especially the ones with control panels).
Universal pushbutton switches
ONPOW pushbutton switches have been adapted and certified so that they can be used in the widest possible range of devices – from consumer products to heavy machinery, to industrial control devices. Thanks to the wide choice of variants (over 200 models), the manufacturer's offer will meet the needs of many applications.
Switches are available in three different shapes – square button, round button, a round button placed in a cylinder that makes the face of the button protrude from the surface of the panel on which it is mounted. They can be mounted in a hole with a diameter of 8mm, 10mm, 12mm or 16mm (depending on the selected size). The components are equipped with illumination that is connected using separate leads for independent control, for example for signalling purposes. Colour variants include the following colours: white, red, blue, orange, green, and yellow.
Switches are available in different versions for mounting in holes from Ø8mm to Ø16mm.
The contacts of the elements are arranged in SPDT configuration (a single pole is connected to one of two independent leads). Almost every switch model comes in monostable and bistable variant. The products are available in three current-carrying capacities: 0.5A for 220V AC, 3A for 220V AC and 3A for 250V AC, and therefore they can be used, e.g. as circuit breakers for mains-powered low-power devices. Electrical connection is made by soldering wires directly to the leads of the component.
For 16mm models, the manufacturer prepared terminal lids, which act as a socket for all switch leads – thanks to that, it is easier to replace components for maintenance and upgrade purposes. The lid is also available in a THT version, i.e. to be mounted directly on the PCB. At TME, you can also purchase lockable, transparent button covers to prevent accidental switching. It should be mentioned here that it is worth considering the use of lead protective covers – without additional protection, the switches are IP40-rated.
Electromechanical components for industry
While the switches described above can be used in a wide range of applications, ONPOW also delivers products with typically industrial characteristics and functionality. The design of these products is adapted – both mechanically and electrically – to the harsh conditions of machine parks and other technological spaces.
Panel-mount safety switches
The arrows indicate the activating direction of the button rotation.
Safety switches have a very important role – they are mainly used to cut power from the machine in case of danger. Therefore, they must be intuitive to operate, reliable, and highly durable. The ONPOW safety switches have IP65 rating, withstand 50000 electrical and 200000 mechanical cycles, and can operate in the temperature range of -25°C to 55°C. Their design requires the button to be rotated in order to activate the circuit – this provides additional protection, as it eliminates the risk of accidental power activation. The circuit is disconnected by pressing/hitting the button. If necessary, you can choose one of the backlit variants of this product (the symbol on the front surface of the button is illuminated) that are adapted to the typical industrial voltage of 24V AC/DC. The button diameter is 33mm or 40mm, while the body is placed in a smaller hole, Ø22mm, which makes it difficult for contaminants to get behind the panel. Electrical connection is made, depending on the model, by 2.5×0.5mm connectors or with pre-installed wires with a length of 300mm.
Joystick switches
Moreover, ONPOW offers joystick switches. They have binary leads, i.e., the signals on their terminals allow you to determine only the direction of the lever push, but not its exact angle. These products are available in two-way and four-way versions – monostable (returning to the central/vertical position) and bi- and 4-stable (moved manipulator remains in position). Such switches are used for instance in transport system controllers, storage systems, specialised vehicles such as forklifts. Because ONPOW joysticks offer an IP67 rating (they are fully dustproof and waterproof), as well as good electrical parameters (0.6A for 220V DC and 3A for 220V AC), they can be used in the construction of controllers exposed to difficult environmental conditions, including off-road conditions. Switch output leads were made as screw terminals, which makes the installation easier and faster.
As the manipulator is fully built-up, joysticks offer an IP67 rating.
Key lock switches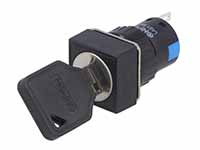 Depending on the lock type, symmetrical or asymmetrical keys are used.
Another type of popular security devices offered by ONPOW are key lock switches, i.e. switches secured with a lock. They come in the following contact configurations:SPDT and 3PST. They will provide great protection for circuits in the case of which user access is restricted and only qualified persons are authorised to operate them. These include dangerous devices (crushers, shredders), access points (automatic doors), and devices that require regular maintenance (elevator cabs, transportation lines). From the TME catalogue, you can also purchase 3-position key lock switches, which expand the range of options available to design engineers – depending on the model, the key can be removed in every switch position or in just one position. ONPOW also manufactures monostable products, i.e. those equipped with a spring and returning to the starting position. If necessary, you can also use variants equipped with LED backlight. These elements are adapted to 24V,110V DC and 220V AC. Key lock switches are mounted in a 16mm, 19mm or 30mm hole, and they ensure IP40 protection. It is important to note that their bodies are made of stainless steel, and their contacts are made of silver alloy, so they are highly resistant to corrosive agents.
Rotary switches
An effective method of protecting the circuit from accidental switching is the use of rotary switches, which are designed in such a way that they require intentional manipulation to change their position (for selected models, a force of 4N has to be applied). Similarly to the key lock switches mentioned above, TME clients can choose from among 2- and 3-positions (1-, 2- and 3-stable) ONPOW elements, equipped with optional LED backlight (12V or 24V AC/DC). The product body (on the panel) can be round or rectangular. In the set with the switch, you will also find a gasket and a profiled shim to block the rotary movement of the body of the product. Switches are available in green and red colour, and they can operate currents up to 3A AC (220V) and 2A DC (24V). The insulation of the product was tested at 2kV.
Green-backlit panel switch with a retainer shim.
Indicators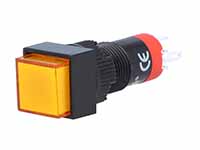 ONPOW indicators match the manufacturer's durable switches.
Indicators from ONPOW belong to the components related to high-durability switches described below. They are shock, vibration, impact resistant, and they have wide thermal tolerance (-20…55°C) and the highest ingress protection rating, i.e. IP67, which provides full protection of the contacts against dust and flooding. They can be installed on 1mm to 10mm thick panels, in Ø8mm or Ø12mm holes. The product body is made of nickel-plated brass (shiny surface, silver colour) – it has a transparent plastic-filled LED window (3mm or 5mm). Clients can choose from white, red, blue, orange, green or yellowcolours. Control leads are designed for soldering power wires (12V or 24V DC).
Vandal-resistant switches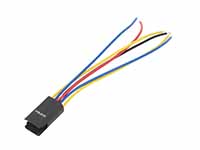 Vandal-resistant switches are a type of electromechanical components for demanding applications. They are designed for automation controllers in public spaces (elevators, ticket machines, dispatchers) – however, they can also be successfully used in industry. Their design provides protection of the electrical system, not only against attempted intentional damage, but also against environmental factors, accidental impacts, and above all – the effects of many years of operation.
Additionally, vandal-resistant switches are among the ONPOW's specialties. In the TME catalogue, you can find over thousand models of these products, straight from the manufacturer's current offer. Please, note that the following description is only a brief overview of the manufacturer's portfolio. If you want to learn more about it, please visit the following link for product details.
Pushbutton vandal-resistant switches
When building durable electromechanical components, simple pushbuttons are not an ideal solution – they have moving parts and gaps, i.e. potential weak spots and places lacking tightness. Nevertheless, in return, they offer simple operation and tactile feedback that intuitively assures the user of switch actuation. To eliminate the risk of damage (whether caused intentionally or not), the design of a vandal-resistant switch must ensure precise fit of components, suitable structure and high-quality materials. Of course, all these features can be found in ONPOW products.
The supplier prepared products that are adapted to a range of technical requirements and design solutions. In the ONPOW portfolio, you can find mono- and bistable buttons for DC voltages of up to 250V. The components are designed to operate in extreme temperatures (for most products: -25…55°C). You can choose between concave, convex, mushroom-shaped, round, flat-face, and protruding buttons. The components are adapted for 12mm to 30mm holes (the button surface is slightly smaller). Button terminals can be adapted for soldering, made as 2.8mm or 4.8mm connectors, but also be brought out with factory installed 1.2m wires. Alternatively, you can use the elements that have screw terminals – to streamline the replacement and servicing work, e.g. when an ONPOW switch is installed as a replacement. Most products have built-in illumination, in the form of a central point or a ring surrounding the key. Mostly, the LEDs installed in the switches are adapted to 12V or 24V AC/DC power supply, but you can also buy models operating with voltages from 6V AC/DC to 230V AC from the TME catalogue.
Flat, protruding key face is among the most common solutions.
The contact block reduces installation time and makes it easier to replace the switch.
The manufacturer assures high durability of the presented products, reaching 500000 electrical cycles and 5000000 mechanical cycles. Switch bodies and buttons are made from stainless steel, polished aluminium, or nickel-plated brass – materials characterised by low chemical reactivity and therefore low corrosivity. Vandal resistant switches are IP67 rated.
There is a noteworthy accessory the use of which translates into facilitating the work of installers and service technicians, namely contact blocks. They come in several variants that are compatible with the terminals of different versions of ONPOW switches. Products lead out all switch contacts to colour-coded wires.
Piezoelectric switches
Switches that use the piezoelectric phenomenon eliminate the only weakness of the above described solutions, i.e. moving parts. As a result, they can provide durability of 50 million cycles, 100 times more than extremely durable vandal-resistant switches. Additional advantages of such products are their compact size and the availability of low-profile versions. The disadvantage is that the switched voltage is limited to 24V AC/DC (and the current up to 0.2A), however, in most applications it will not matter since such switches are used as interface elements in complex controllers, and in practice they are not connected directly to high-voltage circuits.
Installation of cables in the factory guarantees that the switch is ingress protected.
Switches are available with flat or concave face shape, in various colour options (black, red, blue, silver, green, yellow). Most models are equipped with LED illumination. The bodies of switches are made of aluminium, and they are placed in holes with a diameter of 16mm, 19mm or 22mm. All products have wire leads.
Importantly, piezoelectric switches are completely waterproof (IP67), demonstrate high mechanical resistance and have a thermal tolerance of -40…75°C.