Bangalore, India – element14 is now stocking the new Rohde & Schwarz (R&S) MXO 4 Series, the first in the next generation of oscilloscopes. This new-to-market instrument provides the world's fastest real-time update rate of more than 4.5 million acquisitions per second. This rate enables development engineers to see more signal detail and infrequent events than any other oscilloscope, providing an unparalleled understanding of physical layer signals and faster testing.
The integrated, industry leading 12-bit ADC in the R&S MXO 4 Series has 16 times the resolution of traditional 8-bit oscilloscopes at all sample rates without any trade-offs, providing the most precise measurements. A standard acquisition memory of 400 Mpts on all four channels gives the instrument up to 100 times the standard memory of comparable instruments. The MXO 4 Series also features a unique 200 Gbps processing ASIC, a notable breakthrough for accelerated signal insights.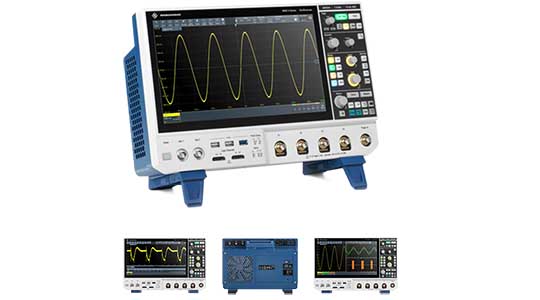 The R&S MXO 4 Series features a 13.3" full-HD capacitive touchscreen and an intuitive user interface. The instrument's small footprint, very low audible noise, VESA mounting and rackmount kit for installation makes it an ideal oscilloscope for any engineering workspace.
Other market-leading features of the R&S MXO 4 Series include:
industry-leading 18-bit architecture
fastest and most accurate spectrum analysis in its class
industry's deepest standard memory of 400 Mpoints per channel
industry's fastest trigger rearm time of 21 ns
first in class to incorporate newer digital triggering technology
industry's most sensitive trigger of 1/10 000 div
best in class trigger jitter of < 1 ps
first oscilloscope with dual-path protocol analysis
first-in-class to feature the R&S®SmartGrid user interface
Dr. Andreas Werner, Vice President Oscilloscopes at Rohde & Schwarz, explains: "New hardware, software technology blocks and architecture enabled our development team to achieve a once-in-a-decade engineering breakthrough with the R&S MXO 4 Series. Our customers will experience a whole new level of performance, and all at a price more affordable than has ever been seen on the market."
James McGregor, Global Head of Test, Tools and Production Supplies at element14 says: "Rohde & Schwarz is a leading provider of high-quality test equipment, and we are pleased to add this next generation oscilloscope to our comprehensive test and measurement portfolio. By offering the latest, cutting-edge products as soon as they enter the market, element14 can continue to meet the evolving needs of our customers."
The new R&S MXO 4 oscilloscope series is available from stock at Farnell in EMEA, Newark in North America and element14 in APAC.