The focus on EVs was accelerated from 2013 with the announcement of the National Electric Mobility Mission Plan 2020 (NEMMP), followed by FAME – I and II subsequently. India has now gained good momentum on the EV deployment with a focus on all segments 2W, 3W, commercial vehicles, and of course passenger vehicles (PVs) all included in the subsidies being offered to buyers, manufacturers, and also to charging network developers.
In April 2018, EV charging was excluded from the license requirement, giving a boost to the setting up of charging infrastructure. Latest developments on EV policies at the state level in addition to the central one are very encouraging as many states have come up with incentives and also mandates pushing for faster adoption of EVs across the vehicle segments. The following has been offered in different states to promote EV deployment and manufacturing :
· Fixed subsidised Electricity tariff for EV charging
· Waiver of road tax for registration of EVs in the state
· Direct monetary incentives per KWHr for EV vehicles (different across categories)
· Land and other support from the government for building manufacturing plants and assembly lines, not only to OEMs but also to ancillaries to encourage mega-integrated setups and create the ecosystem for EV manufacturing.
· Upto 100% of stamp duty waiver for land purchased for EV Manufacturing. Even for leasing land / Shed etc, a 100% stamp duty waiver is being offered.
· SGST refund to the extent of 100% by some of the states or initial years.
· Marketing incentive for MSMEs where a 50% rebate is offered for trade fair participation.
· End of life for hazardous substances in EVs is also being addressed by some states in a proactive manner offering recycling and processing units for Li-Ion batteries, for example.
· R&D grants are also being offered for companies/start-ups to build local technology solutions rather than importing expansive systems and also bringing new innovations in the sector.
· Charging infrastructure is being promoted with waivers on electricity tariffs, the land being offered for setting charging stations, and subsidies being offered for different capacity DC or AC charging stations.
· Capital subsidy is also being offered on fixed capital investments for charging infrastructure in many states.
These measures and initiatives have been gaining momentum at the execution level in the last few years and as a result, the total number of electric vehicle sales across categories autorickshaws, passenger vehicles, and CVs –– two, three, crossed the one million mark in India in 2022. In fact, as per Vahan data, an average of 83,585 electric vehicles were registered every month in the country.
Agriculture and rural last mile for construction and food production are heavily dependent on tractors. Though the FAME programs focus on the reduction of dependence on fossil fuels and reducing air pollution in cities and urban areas. Agriculture and construction equipment have a sizeable contribution to air pollution and the deployment of pollution control norms is on the back seat compared to passenger and commercial vehicles. Government should tighten the belt for these vehicle and equipment pollution norms also and offer similar or more incentives in these sectors also. The deployment of EVs in agriculture and construction can gain faster acceptance due to the limited range usage of these equipment having less range anxiety and higher cost benefit for saving of fuel vs electricity.
While 5% GST is levied industry for the vehicle; for spare parts, there is no clarity, and they ends up paying 28% (except for batteries). The request, therefore, is for Imposing a uniform 5% GST for all EV spare parts.
About The Author :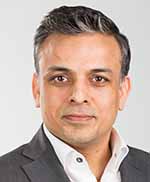 Pankaj Goyal
The author is the Co-Founder & COO of AutoNxt Automation (https://autonxt.in ) India's First electric tractor venture and an automation technology startup.