"Hikvision India is leading with 'Make-in-India' 2.0 Roadmap and Innovative Product Offerings"
Electronics Era : How is the Indian security market is heading towards maturity and consolidation process? How Hikvision India is positioned in the market?
Ashish : The Indian security market is expanding due to a big surge in demand. The competition is on the rise due to various new players joining the fray. The Indian security market is poised for an unprecedented growth due to various factors related to Indian economy, infrastructure development and ongoing projects. We are grateful to our channel partners and end-users for showing extraordinary resilience and impeccable trust. We are also thankful to the security professional community comprising of dealers, distributors, installers, system integrators and consultants.
Hikvision India is consistently leading the Indian security market with the largest market share in the segment. We are happy to share the good news that Hikvision India is leading from the front with a long term commitment to 'Make-in-India'2.0 roadmap. We promise our ecosystem partners and end-users of consistent customer centric approach, product innovation, excellent quality and agile service support. We are a pure play business to business channel driven company based on growth, mutual trust and long term relationship. We work through partners to empower the network and invest resources to spur growth. Our channel partner network is going through a robust growth and expansion cycle. The channel partners are the real heroes of our success story.
The year 2022 saw marked growth in the market for the majority of the Security 50 companies in video surveillance and access control. Hikvision has topped the global security rankings for the seventh year in a row since 2016. The revenue reported by Hikvision for the financial year 2021 exceeded the US$10 billion mark, standing at US $ 10.1 billion, growing 16.9 percent from 2020's $8.64 billion.
Electronics Era : What are the products that Hikvision offers in advanced Security Solutions segment?
Ashish : Hikvision India has introduced a slew of new products in the Video Security, Access Control, Video Door Phone, Inspection and Alarm segments. The significant product launches, included eDVR, ColorVu Pro series PTZ Cameras, 8-K NVRs, MinMoe Iris Recognition Terminal and Hikvision Solar-Powered Security Camera Setup apart from the high-end project oriented product offerings. Hikvision India has introduced the Deepinview Series camera for high –end project marked. These latest product offerings are adding value.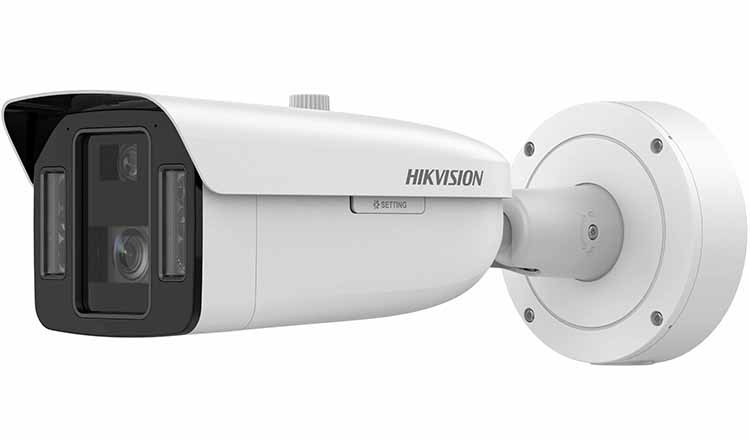 Hikvision India offers comprehensive products across the segments of Video Security, Access Control, Intrusion Alarm, Inspection and Perimeter Security. The end customers' reaffirmed their faith in our innovative Video Security (ColorVu and AcuSense Range of video security cameras) and Access Control (MinMoe Face Recognition Terminals and Video Door Phones). Our Intrusion Alarm (AX Hub, Emergency Call Box and Smart Pole) and Inspection products (Door Frame Metal detectors (DFMD), Hand Held Metal Detectors (HHMD), X-ray Baggage Scanners have generated lots of interest among end-users.
Electronics Era : Explore some features of Hikvision AcuSense series?
Ashish : Hikvision's AcuSense technology embeds deep-learning algorithms into security cameras and video recorders to equip businesses and homeowners with smart tools to take security to the next level, both indoors and outdoors.
Faster: Video security Cameras equipped with AcuSense technology detects intrusion threats in real time and triggers alerts to users' mobile phones for faster response.
More Accurate: AcuSense technology differentiates people and vehicles from other moving objects, allowing security teams to focus on real threats.
More efficient: AcuSense technology applies labels to recorded video footage with people and vehicles, speeding up video searches, minimizing manual effort, and reducing overall security costs.
Easy to use: AcuSense-enabled smart cameras are installed quickly and are as easy to configure as conventional security cameras. The technology puts AI security at everyone's disposal.
Electronics Era : What is cybersecurity best practices suggested by Hikvision India?
Ashish : Several landmark ransomware attacks on enterprises in energy and food industries last year reminded us that we are living in a world with constant cyber threats. Every industry has now been prompted to reinforce their network security and strengthen their online protections. The security industry is no exception, as cybersecurity is also an on-going challenge for us, too. Here, we would like to offer some basic tips and practices to harden your network and keep your security devices protected.
Create strong passwords and change them regularly: Creating strong passwords is a very important first step in the process of hardening the security of your network and devices.
Set only the firewall rules you actually need: A firewall intercepts all communications between you and the Internet, and decides if the information is allowed to pass through to your devices. As you create rules to allow traffic in and out, you are creating tiny holes in your firewall for the traffic to flow through. The more rules you create in your firewall, the less secure your network becomes. You should only create minimum rules that you need, which can reduce risks of cyber threats through the firewall system.
Update your firmware in a timely manner: Firmware is the component that enables and controls the functionality of your network devices. Firmware updates are not just for bringing additional new features, but also often provide important security patches. It is recommended that you always use the latest firmware so that you get the best possible security updates and most recent bug fixes.
Encrypt your data: Another key way to safeguard your network and data includes using encryptions. This is the process of encoding your data in a way that can only be accessed through a corresponding decryption process. Data encryption is encouraged, as it keeps your data privacy safe from unauthorized hands – especially in the event of a data breach.
Define clear access permission policies for all users: The right users need to have access to the right applications and data for organizations to function. It's necessary to make clear access permission policies for all users.
Electronics Era : What are the new emerging trends in security industry that is shaping the future?
Ashish : The security industry has continued to shift, adapt, and develop in spite of challenges. Several trends have even accelerated. Beyond traditional 'physical security', a host of frontiers like AI, cloud computing, IoT, and cybersecurity are being rapidly pioneered by entities big and small in our industry. By all appearances, the security industry is in a stage of redefining itself. It is moving from mere security and safety protections to encompass a wider scope of activity that will expand safety while also bringing new levels of intelligence and sustainability to communities, companies and societies. Here, Hikvision would like to share some of our ideas and expectations about the key trends that will likely shape the security industry in the future.
AI will be everywhere: Nowadays, Artificial Intelligence is quite common in the security industry. More customers in the industry have recognized the value of AI, and have found new uses for AI applications in various scenarios. Along with ANPR, automated event alerts, and false alarm reduction, AI technologies are being used for wider applications, like personal protective equipment (PPE) detection, fall detection for the elderly, mine surface detection, and much more.
AIoT will digitize and pervade industry verticals: With more security cameras and other security devices being connected to the network, the security industry is becoming an important part of an IoT world, enriching its visual capabilities. It's apparent that the boundaries of the security industry are blurring, going well beyond the physical security arena. Meanwhile the popularization of AI technology enables the connected devices to become intelligent "things" in the IoT world. The combination of AI and IoT, or as we call it, AIoT, is taking the security industry to a higher plain, automating the workflows and procedures of enterprises and aiding in the digital transformation of various industry verticals such as energy, logistics, manufacturing, retail, education, healthcare, etc.
Converged systems will break down data silos: Workers throughout private enterprises and public service sectors alike would jump at the chance to get rid of obstructive "data silos." Data and information scattered and isolated in disparate systems or groups create barriers to information sharing and collaboration, preventing managers from getting a holistic view of their operations. Here, the convergence of various information systems has been proven to be an effective approach – hopefully enough to break down those silos.
Cloud-based solutions and services will be essential: Like AI, the cloud is not a new trend in our industry, but it is an expanding one. From small business markets to enterprise levels, we can see the momentum push more and more businesses to leverage cloud-based security solutions and services. And as we are witnessing even now, the pandemic has accelerated the movement to cloud-based operations for people and businesses around the world.
Crystal clear security imaging will be standard: It is always vital for video security cameras, as a core function to maintain image clarity and capture details 24 hours a day, in any weather and under any condition. Cameras with low light imaging technology that renders high-definition and full-color images at night and in nearly completely dark environments have been very welcome in the market. We are taking note of the impressive technology applied to more camera models, including 4K, Varifocal and PTZ cameras. Moreover, for clearer video security imaging in poor visibility – especially in severe weather – high-performance imaging sensors, ISP technology, and AI algorithms are being employed, enabling cameras to maintain clarity and details of the view.
Biometric access control will bring higher security and efficiency: In the past decades, authorized access control has moved a long way away from the keys, pin codes and ID cards. We now find ourselves stepping into the next phase of biometrics era. The access control market is rapidly becoming occupied by biometric authentications, from fingerprint and palm print recognition to facial and iris recognition.
The Zero Trust approach will take the cybersecurity spotlight : With more security devices connecting over the Internet than anyone ever imagined, cybersecurity has become an immense challenge in the industry. A strategic initiative that developed to prevent data breaches by eliminating the concept of trust from an organization's network architecture, Zero Trust is rooted in a philosophy of "never trust, always verify." The concept has been roundly accepted within the IT industry and it is now also slowly but steadily moving into the physical security realm, as it gradually becomes an important part of the IoT world.
Green manufacturing and low-carbon initiatives will take big strides The consensus is in: low-carbon initiatives are valued by societies around the world. In the security market, we have seen products featuring low-power-consumption becomes the preferred options for customers, and demands for solar-powered cameras are increasing.
Electronics Era : 5G technology has been launched in India. How does this development will impact the security industry?
Ashish : The newly launched 5G technology in India is expected to bring many positive changes to the security industry in terms of faster data transfer capabilities. 5G offers enormous potential to advanced robotics, automation and security solutions. 5G's greater bandwidth and lower latency makes the regular transmission of high-quality images possible, and, with the widespread adoption of ultra-high-definition (UHD) cameras, could bring new opportunities for video security.5G also enhances digital experiences through machine-learning enabled automation. Demand for high level network response such as video live streaming, Recording and Monitoring require 5G networks enlist automation with machine-learning and, eventually, deep learning and artificial intelligence. Automated provisioning and proactive management of data/network traffic and services will reduce infrastructure cost and enhance the connected experience.
5G technology is here to enhance security with greater bandwidth and lower latency. 5G can boost the safety of your network devices by tailoring security updates and improving encryption.
Enhanced Security: 5G wireless technology is one the best solution for security surveillance due to its higher bandwidth and unlicensed spectrum. It will enhance better coordination among various agencies. Smart appliances which can be configured and accessed from remote locations, closed circuit cameras will provide high-quality real-time video for security purposes.
Electronics Era : As there are many Security products are available in market. What makes Hikvision products different?
Ashish : Hikvision Security products are best known for unmatched quality, latest technologies, technology innovation. and agile service support. The product differentiation comes by research and development initiatives, Make-in-India 2.0 and sustained efforts for quality.
We believe that technological innovation is the key element for successful development of a tech company. Our innovative technologies, products and solutions are creating values for customers, and helping many different people and types of organizations increase safety, operational efficiency and sustainability. We are glad to see that customers demonstrate long-term trust in us in return, which supports growth of the company.
Electronics Era : What are the new products and technologies that Hikvision India is introducing to the market?
Ashish : While focusing on the core technology of robots, we provide customers with safe and reliable intelligent mobile robot products and systems, and build smart internal logistics solutions in industrial factories. The major product portfolio includes, Latent Mobile Robot (LMR), FMR (Forklift Mobile Robot), CMR & HMR (Conveyor/Heavy-duty Mobile Robot), CTU (Carton Transfer Unit) Robot, Accessory and Platform. We provide a fully integrated suite of AMR vehicles, including Latent Mobile Robots (LMR), Forklift Mobile Robots (FMR), Conveyor Mobile Robots (CMR) applicable across a broad range of applications in the Manufacturing and Intralogistics related industries. Machine Vision is another key area of focus for us. We provide the latest machine vision products, including industrial cameras and tools for deep learning for optical character recognition and precision pattern matching algorithms.