India is one of the fastest-growing economies in the world, with a transportation sector that has been responsible for a significant portion of the country's greenhouse gas emissions. In recent years, there has been a growing awareness of the need to reduce pollution and transition to more sustainable forms of transportation. Electric and hybrid vehicles (EVs and HEVs) have emerged as a promising solution to the problem of pollution in India. This article explores the current state of EVs and HEVs in India, the challenges that must be overcome, and the opportunities that lie ahead. Additionally, it will discuss the skills required for a successful transition to EVs and HEVs in India.
Current State of EVs and HEVs in India
Over the past 12 months (April 2022 to March 23), EV sales have surpassed one million units, as reported by Vahan data. The cumulative sales on March 31, 2023, were 11,71,944 units, reaching the million milestone for the first time in a fiscal year. The robust sales of FY2023 represent a 155% year-on-year increase from FY2022, which saw sales of 458,746 units. March 2023 set a new record with sales of 131,175 units, beating the previous high of 121,389 units in November 2022. This indicates a significant surge in consumer demand for EVs, despite high petrol and diesel prices, as well as compressed natural gas.
According to Vahan-sourced data on 10-year EV retail sales, a total of 2.26 million units have been sold in India since FY2014, with 72% or 16,23,709 units sold in the past two fiscal years alone. This indicates a rapid acceleration in demand for EVs in the country. India has outlined EVs to account for 30% of its mobility requirements by 2030, and the shift from IC engine vehicles to EVs is already underway. This domestic industry momentum is being driven by the FAME scheme, state subsidies, and a growing portfolio of EV products across vehicle sub-segments. Growing consumer awareness of the importance of eco-friendly transport and the cost-effectiveness of EV ownership over the long term are also major catalysts for EV adoption.
Hybrid cars are becoming increasingly popular in India as people look for more sustainable transportation options. Hybrid cars combine an internal combustion engine with one or more electric motors, which improves fuel efficiency and reduces emissions. While the market share of hybrid cars in India is still relatively low, the availability of these vehicles and the government's policies to promote the adoption of EVs and HEVs are likely to increase their popularity in the coming years. Some of the best hybrid cars in India include the Toyota Urban Cruiser Hyryder, Volvo XC90, Toyota Vellfire, Lexus RX, Honda City Hybrid eHEV, and Maruti Suzuki Grand Vitara
Challenges Facing the Adoption of EVs and HEVs in India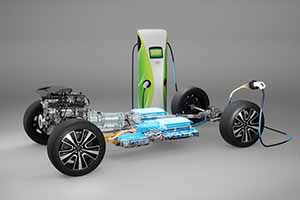 The high cost of EVs and HEVs is a major challenge to their adoption in India. At present, EVs are significantly more expensive than traditional gasoline-powered cars due to the high cost of batteries. The cost of batteries accounts for a significant proportion of the total cost of an EV, and prices are not expected to fall significantly in the near future. This makes EVs and HEVs less accessible to the average Indian consumer, who is typically price-sensitive.
Another challenge is the lack of charging infrastructure. Charging stations are still few and far between in India, which makes it difficult for EV and HEV owners to recharge their vehicles. This is particularly problematic for people who live in apartments or don't have access to private parking spaces, as they may not have a place to charge their vehicles overnight. Furthermore, charging stations often require significant investments, which could be a deterrent for private players looking to enter the market.
The range anxiety associated with EVs is another challenge to their adoption in India. Many consumers are concerned about the limited range of EVs, particularly in a country as vast as India. Most EVs available in the market today have a range of around 100-150 kilometers, which is not sufficient for long journeys. Although manufacturers are working on increasing the range of EVs, this remains a significant challenge.
Opportunities for the Adoption of EVs and HEVs in India
Despite the challenges facing the adoption of EVs and HEVs in India, there are also significant opportunities for growth in this sector. One of the biggest opportunities is the Indian government's commitment to the adoption of EVs and HEVs. The government has set ambitious targets for the adoption of these vehicles, and is offering incentives and subsidies to manufacturers and consumers to encourage adoption. This creates a favorable regulatory environment for EV and HEV manufacturers and investors.
Another advantage of EVs and HEVs is their potential to lower the overall cost of transportation. While these vehicles are currently more expensive than traditional gasoline-powered cars, the cost of batteries is expected to decline in the coming years. This will make EVs and HEVs more affordable for consumers. Additionally, EVs and HEVs require less maintenance than traditional cars, which could further reduce the overall cost of ownership.
EVs & HEVs: Creating Jobs
The transition to EVs and HEVs could also create new job opportunities in India. As the market for these vehicles grows, there will be a need for skilled workers in areas such as manufacturing, installation, and maintenance of charging infrastructure, research and development, and other related fields. This could help to boost the Indian economy and create new employment opportunities for workers across the country.
According to a report by the Council on Energy, Environment, and Water (CEEW), the transition to electric mobility in India could create up to 10 million new jobs by 2030, with the majority of these jobs being in the production and assembly of EVs, as well as in the manufacturing of batteries and other key components. In addition to direct employment opportunities, the shift towards electric mobility is also expected to create new jobs in related industries, such as the renewable energy sector, where the increased demand for electricity to power EVs will drive the need for new infrastructure and increased investment in clean energy sources.
ASDC preparing youth for the future:
To successfully transition to EVs and HEVs, India will need a skilled workforce in a number of areas. For example, there will be a need for workers with expertise in battery technology, charging infrastructure, and vehicle maintenance. Additionally, there will be a need for workers with skills in data analytics and digital technologies, as these technologies will play an increasingly important role in the management of EV and HEV fleets.
Automotive Skills Development Council (ASDC) is the first Sector Skill Council of India, incorporated to make the Indian automotive industry globally competitive through providing skilled workforce. ASDC's training programs are designed to meet the needs of the Indian automotive industry, which is rapidly growing and evolving. The courses cover a variety of topics, including automotive engineering, manufacturing, maintenance, and repair. The council's strategy involves creating qualifications and curricula using National Occupation Standards (NOS), which are formally approved by the National Skill Qualifications Committee under NCVET.
ASDC has initiated various programs and collaborations with industry manufacturers, training partners, and academic institutions to upgrade the skills of the workforce. ASDC's initiatives include the Electric Mobility Nanodegree Programme, a six-month program in collaboration with DIYguru, for individuals with an engineering or diploma background, and the Dakshta training program, in partnership with Autobot India and MG Motor, focusing on artificial intelligence and EVs. Autobot Academy has also introduced a program called 'EV Engineering: Architecture and Components,' future-proofing job seekers in the EV technology sector. ASDC's commitment to staying current with industry advancements ensures their curriculum remains relevant and equips workers with the latest skills. In addition, Toyota Kirloskar Motor launches 'xEV SHIKSHA' to create awareness about electrified vehicle technologies, benefits to customers, and the environment.
ASDC has identified new areas of work such as EVs, sustainability, safety, and diagnostics and provides both entry-level and upskilling and reskilling opportunities for existing industry professionals. During the pandemic, ASDC revised its Qualification Packs/curriculum with valuable input from 300+ industry experts.
Conclusion: The transition to electric and hybrid vehicles is not only a necessary step for the environment and energy security but also has the potential to create new economic opportunities and improve the lives of Indians. With the right policies and incentives in place, India has the potential to become a leader in the adoption of EVs and HEVs. However, it is important to address the challenges that come with this transition, such as the cost of batteries and the lack of charging infrastructure. By doing so, India can create a greener, smarter, and more inclusive transportation system that benefits all its citizens.