TME offers a premium series from the well-known German manufacturer Goobay. It is called Goobay Plus, and it aims to meet the expectations of not only consumers and professionals, but also the so-called "prosumers", i.e. users expecting home multimedia systems of the highest quality. Goobay Plus cables feature metal housing and gold-plated connectors with minimized resistance and corrosion-resistant contacts. The additional features of these cables include  bend protection and flexible cable sleeving to ensure long-lasting product quality.
GOOBAY-PLUS-72072
Audio-video cables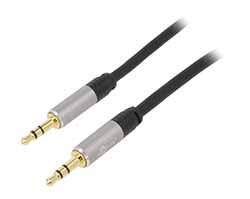 GOOBAY-PLUS-79122
Audio cables
GOOBAY-PLUS-69867
Antenna cables
The links above will direct you to our catalogue, where you will find different models of Goobay cables. These are HDMI, DisplayPort, and DVI-D (24+1) audio-video cables. All models support UHD video transmission, i.e. 4K 2160p for 50Hz and 60Hz frame rates. We also offer a selection of 3.5mm jack to RCA audio cables. Toslink optical cables are also available. One of the most interesting products in the Goobay Plus series are 75Ω antenna cables with coaxial connectors or F-type connectors. The high quality of these products ensures a stable signal even in complex home installations, where terrestrial (DVB-T/DVB-T2), cable (DVB-C) and satellite (DVB-S/DVB-S2) signals often run side by side.
All products are available directly from our warehouses, so the shipping time is minimized and the products reach our customers in the shortest possible time!