Ensuring the safety of both equipment and users is critical for designers, and capacitors play a key role. Also critical are component size, weight, and reliability in systems such as electric vehicle (EV) chargers, electromagnetic interference (EMI) filters in variable frequency drives (VFDs), LED drivers, and high-energy-density applications such as capacitive power supplies and power converters.
A common challenge in all these applications is sourcing compact and robust high-voltage X1 and X2 safety capacitors for line-to-line, and Y2 capacitors for line-to-ground EMI filtering that are rated for temperature/humidity/bias (THB) Grade IIIB for operation from −40°C to +125°C, and that meet the requirements of international electrotechnical commission (IEC) 60384-14 and automotive electronics council (AEC) Q200.
To meet these requirements, designers can use miniature polypropylene film X1, X2, and Y2 EMI suppression safety capacitors. These meet the requirements of IEC 60384-14, are AEC-Q200 qualified, and have the highest IEC robustness classification for applications requiring high reliability and extended life under harsh environmental conditions. These miniature self-healing capacitors are significantly smaller than conventional X1, X2, and Y2 safety capacitors, enabling a smaller printed circuit board (pc board) area, reduced weight, and lower cost.
This article reviews the circuit applications for safety capacitors along with the IEC 60384-14 and AEC-Q200 testing and environmental requirements. It then compares parallel and series construction for X2 polypropylene film capacitors and presents examples of miniature capacitors suited for Y2, X1, and X2 safety applications from KEMET that meet the requirements of IEC 60384-14 and are AEC-Q200 qualified. Recommendations for soldering these capacitors are also provided.
The role of safety capacitors
Safety capacitors serve two safety-related functions. They filter and suppress noise arriving on the power distribution network, and protect equipment against potential damage from voltage spikes caused by lightning, motor commutation, and other sources. They also protect equipment users from potential injury. They are classified and specified according to both functions.
Differential-mode EMI from line to neutral is handled by X capacitors. Y capacitors handle common-mode interference (Figure 1). If an X capacitor fails, there is a possibility of fire. If a Y capacitor fails, there is a risk of electric shock to users. X capacitors are designed to fail in a short-circuit condition to trigger a fuse or circuit breaker and shut down the supply voltage to eliminate a fire hazard. Fire hazard from Y capacitor failures is very low, as these capacitors are designed to fail in an open condition and protect users from electric shocks.

In addition to being classified as 'X' or 'Y', EMI filter capacitors are specified by their rated operating voltage and by the peak impulse voltage they can handle. In the case of Y capacitors, they are further classified by whether they have basic or reinforced insulation. Numerous standards have been developed that apply to these capacitors, including IEC 60384-14, Underwriters Laboratories (UL) 1414, UL 1283, Canadian standards association (CSA) C22.2 No.1, and CSA 384-14. IEC 60384-14 defines sub-classes of X capacitors by their peak impulse voltage and Y capacitors by their rated voltages and insulation category. In addition, different forms of endurance tests are defined for the different classes. X1, X2, and Y2 are among the most used safety capacitors (Table 1):
X capacitor sub-classes
X3 capacitors have a peak voltage pulse rating of less than or equal to 1.2 kilovolts (kV)
X2 capacitors have a peak voltage pulse rating of less than or equal to 2.5 kV
X1 capacitors have a peak voltage pulse rating over 2.5 and less than or equal to 4.0 kV
Y capacitor sub-classes
Y4 capacitors have a rated voltage under 150 volts of alternating current (VAC)
Y3 capacitors have a rated voltage from 150 up to 250 VAC
Y2 capacitors have a rated voltage from 150 up to 500 VAC and basic insulation
Y1 capacitors have a rated voltage of up to 500 VAC and double insulation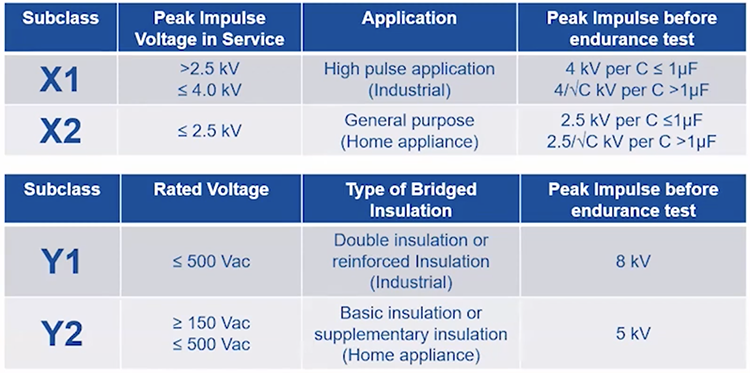 Safety capacitor substitutions
As a result of their different voltage ratings and different performance capabilities, only certain types of X and Y capacitors can be used as substitutes for other types with the same or higher voltage ratings. For example, Y1 capacitors have the same voltage rating with a higher insulation rating and can be used as substitutes for Y2 capacitors. Y capacitors are designed to fail open and can be used in place of X capacitors. But an X capacitor is designed to fail shorted and cannot substitute for a Y capacitor (Table 2). While an X capacitor could adequately filter EMI, it would not support the line-to-ground safety criteria of a Y capacitor.
Self-healing
Self-healing refers to the ability of a metalized capacitor to recover from exposure to a momentary short due to dielectric breakdown and quickly regenerate. Polypropylene is considered the best material in terms of self-healing. The high surface oxygen content of polypropylene burns off (clears) the electrode material around the fault area. Once the fault is cleared, there is an insignificant loss of capacitance, and the other electrical properties of the capacitor are restored to nominal values. In addition to the use of polypropylene film, the metallization material and its thickness are important factors for self-healing. If the capacitors are not carefully designed, optimization for self-healing can make them more susceptible to extreme environmental conditions. As such, they benefit from higher levels of qualification testing, like THB.
THB qualification
THB qualification testing is commonly used for automotive, energy and industrial applications to gauge the long-term reliability of components. THB testing accelerates component degradation and measures electrical parameters after a defined period under specified AC or DC bias conditions. IEC 60384-14, AMD1:2016, defines three THB grades I (A and B), II (A and B), and III (A and B) (Table 3). Requirements to meet the highest grade, IIIB, include exposure to 85°C and 85% RH for 1,000 hours. To pass the test, a film capacitor must demonstrate:
Capacitance change of ≤ 10%
Dissipation factor change (∆tan δ) of ≤ 150 * 10−4 (at 1 kilohertz (kHz) for capacitors rated for > 1 microfarad (µF))
Dissipation factor change (∆tan δ) of ≤ 240 * 10−4 (at 10 kHz for capacitors rated for ≤1 µF)
Insulation resistance ≥ 50% of initial limit or a minimum of 200 megaohms (MΩ)
Miniature X2 capacitors
When the need is for an X2 capacitor, designers can turn to KEMET's R53B series of radial polypropylene film capacitors that includes capacitance values from 0.1 to 22 µF, and which are encapsulated with self-extinguishing resin in a molded plastic case that meets the flammability requirements of UL 94 V-0 (Figure 2). These miniature capacitors have lead spacings from 15 to 37.5 millimeters (mm), and on average they have 60% less volume than standard X2 capacitors, enabling smaller and lighter solutions. These capacitors have AEC-Q200 qualification and a Class IIIB rating for IEC 60384-14 THB testing.
For example, the model R53BI31505000K is rated for 800 volts direct current (VDC) and 0.15 µF ±10%, and the model R53BI322050S0M is rated for 800 VDC and 0.22 µF ±20%.
Class X1/Y2 safety capacitors
The R41B series of X1/Y2 safety capacitors from KEMET are available with capacitances from 0.0022 to 1.2 µF, voltage ratings up to 1,500 VDC, and tolerances of ±20% or ±10%. Packaged similarly to the R53B devices, R41B capacitors have lead spacings from 10 to 37.5 mm, small volumes, and grade IIIB THB performance. R41B capacitors like the R41BF122050T0K (2200 picofarads (pF) and 1,500 VDC) are rated for 2,000 hours of operation at 125°C.
Both the R53B and R41B safety capacitors are suited for use in EV onboard chargers, wind and solar energy power converters, VFDs, and other industrial applications, and in SiC and GaN-based power converter designs.
Soldering requirements
Metalized polypropylene film safety capacitors are electrically and environmentally rugged and provide high levels of operator protection, but they require special attention when being soldered to a pc board. Polypropylene has a melting point between 160°C and 170°C. When used with traditional tin lead (SnPb) solders that have a liquidus temperature of 183°C, there are simple techniques to use for reliably attaching these capacitors to a pc board.
The RoHS directive and component miniaturization have combined to make it more complex to solder polypropylene film capacitors. The directive calls for the use of tin silver copper (SnAgCu) or tin copper (SnCu) alloys. Common soldering temperatures for the new alloys are 217°C to 221°C, causing increased thermal stress on the components that can degrade or permanently damage them. Higher pre-heat and wave soldering temperatures can create damaging thermal conditions for small components like miniature polypropylene film capacitors. KEMET recommends that users implement the wave soldering curve from IEC 61760-1 Edition 2 when using polypropylene film safety capacitors (Figure 3).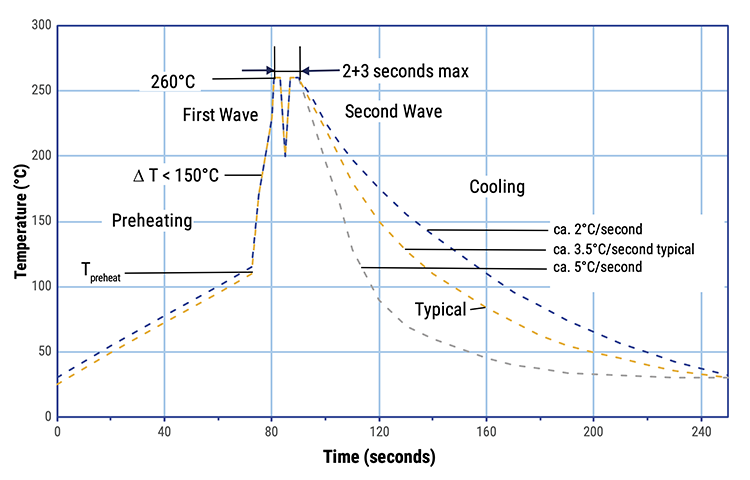 When manual soldering is required, KEMET recommends the temperature at the tip of the soldering iron be set for 350°C (+10°C maximum). Manual soldering should be limited to 3 seconds or less to avoid component damage.
Typical reflow soldering is not recommended for through-hole polypropylene film capacitors. KEMET also advises that those capacitors should not be sent through an adhesive curing oven used for attaching surface mount components. The capacitors should be added to the pc board after curing the adhesive for the surface mount parts. If it's necessary for through-hole components to pass through an adhesive curing process or if reflow soldering is required, consult the factory for details on the allowable oven temperature profile.
Conclusion
Designers need to ensure both equipment and user safety, while also meeting key design requirements. X and Y safety capacitors are used to protect equipment from excessive EMI and protect users from harm. Using rugged and reliable miniaturized polypropylene metalized film safety capacitors from KEMET, designers can meet IEC 60384-14 grade IIIB HTB requirements and qualify to AEC-Q200. These capacitors support compact, lightweight, and low-cost solutions in a range of industrial, EV, and WBG power converter applications.