With data centers becoming saturated with information, the need to offload the tasks from the host server's CPU becomes more crucial. Devices that can help accelerate intense workloads to avoid overload and increase data and signal processing capabilities become paramount.
SmartNIC cards help in improving connectivity and communication between a computer and a network while enhancing the networking and processing power of the computer. They consist of multiple connected and configurable units that decide how to process and route data as they flow through the data center.
SmartNIC Storage Accelerator Card designed by iWave provides high-speed networking extension with Dual front panel QSFP DD Cages-2x 200GbE/4x 100Gbe Ethernet and high-performance storage extension with triple NVMe slots.
The main components of the Network Interface Card include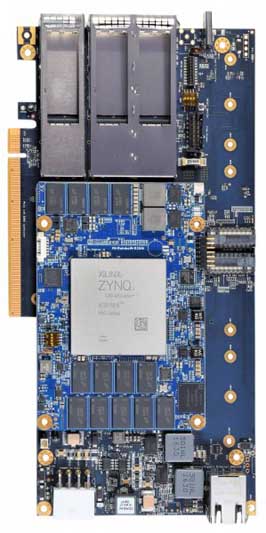 The iWave NIC card includes a dual front panel QSFP-DD cage (200GbE/100GbE) and a single front panel QSFP-DD cage (40GbE/10GbE) to support high-performance I/O connectivity and lossless ethernet support.
High-performance storage:
It has onboard 8GB 72bit DDR4 RAM with an error correction code for the processing system and 16GB 128bit RAM for programmable logic. two M.2 NVMe slots on the Smart NIC Carrier board allow for extended storage.
Heterogeneous ARM+FPGA architecture:
The SmartNIC card is powered by ZU19/ZU17/ZU11 Zynq UltraScale+ MPSoC System on Module, offering up to 1143K programmable logic cells.
At the core, it has a Quad-core ARM Cortex A53 with a CPU running at 1.5GHz, a Dual Cortex R5 Real-Time processor running at 600MHz, and an ARM Mali 400MP2 Graphical Processing Unit, presenting a highly adaptive platform with high performance.
The 3/4 Length PCIe Gen3 x16 Host Interface on the board connects the SmartNIC to the computer/server.
Advantages of using an FPGA-based Network Interface Card
Reprogrammable FPGAs offer communication service providers unparalleled scalability, allowing them to manage large volumes of subscribers and devices without adding latency or power.
In SmartNICs, ARM and FPGA computing resources combine to deliver more energy-efficient performance.
FPGA SmartNICs provide a perfect balance for networking applications, with high performance on one hand and power efficiency on the other. Furthermore, they are very effective in reducing latency and can achieve latency of around one millisecond (ms).
Additionally, the FPGA can handle security functions such as encryption, ACL, and firewalls, which protect the CPU from malicious attacks.