An innovative device connector solution ensures a seamless integration for evolving technologies like EV charging stations, smart homes and industry 4.0.
This advanced connector adaptability enables compatibility with emerging EV charging solutions, smart home devices, ensuring the system remains relevant and effective in the long run. Incorporation of advanced device connectors ultimately leading to enhanced efficiency and cost savings.
PRC series installation connectors
Reliable power distribution even under extreme conditions
No matter whether for indoor or outdoor use, whether it is hot or cold, dry or wet: With high degrees of protection and an impact strength up to IK08, PRC ensures reliable current distribution up to 35 A. The locking can be released either manually or by using tools and ensures greater flexibility during installation and maintenance of your system. PRC series circular connectors enable reliable connections in building, industrial, and outdoor applications. Thanks to weatherproof materials, a high degree of protection, and impact strength, the connectors transmit high currents, even in harsh ambient conditions.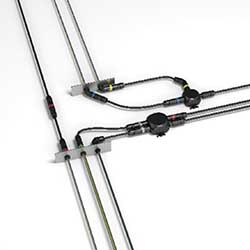 SPT Modular: Customer-specific configurable spring-based PCB terminal blocks
SPT modular offers a solution for manufacturers who require tailored connection solutions. With the PCB terminal block, digitalization ensures the rapid availability of products, easy handling, and an almost unlimited number of possible combinations. In order to achieve this, Phoenix Contact implemented its first end-to-end digital process chain from the configurator through to production. The configurator serves as a control element for the downstream processes. It features intuitive operation via drag and drop and guides the user through the various options as part of the configuration logic, so no software installation is required. The configurator is available online on the Phoenix Contact website, so users can start designing their tailored terminal block straight away.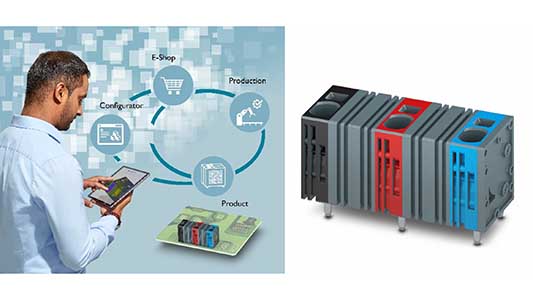 BC modular electronics housings system for smart buildings
Phoenix Contact is extending the BC modular housing series with new products for versatile applications in building automation.
Every housing chamber can be configured individually to meet every device requirement. In addition, device developers save valuable time since the design of the configurable upper parts has already been matched perfectly to the Push-in PCB terminal blocks of the SPT-THR 1,5 and 2,5 series. The Push-in connection on the front enables convenient and tool-free wiring and ensures permanent and vibration-resistant contacting.
Housing covers with integrated 2.4-inch touch display and membrane keypad allow easy implementation of display and operating solutions. The shape, color, and printing of the membrane keypads can be selected freely via an online configurator. Moreover, the new HBUS8 DIN rail connectors extend the comprehensive BC housing series portfolio. Seven parallel and one serial contact provide secure module-to-module communication.
For further details
Please Contact
Phoenix Contact India Pvt. Ltd.
F-26/2, Okhla Industrial Area
Phase – 2, New Delhi – 110020
E-mail- adverts@phoenixcontact.co.in