Intertek Laboratories is pleased to announce the hiring of Michael R. Rosen as Business Development Manager. Mr. Rosen brings more than 40 years of experience in electronics, manufacturing, and related industries to the Intertek team.
In his new role, Mr. Rosen will be responsible for driving revenue growth by identifying new business opportunities, developing, and nurturing customer relationships, and delivering innovative solutions to meet customer needs. He will work closely with Intertek's management team to develop and implement strategies that align with the company's overall growth objectives.
"We are excited to welcome Michael to our team," said Mary LaBella, President of Intertek Laboratories. "His proven track record of success in business development, coupled with his deep industry knowledge, make him an excellent addition to our team."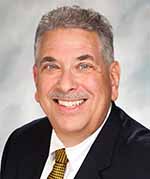 Mr. Rosen has extensive experience in the manufacturing, engineering, design and testing, and inspection of military and commercial assemblies. Prior to joining Intertek, he held multiple roles as a manufacturers' representative for electronic, mechanical, and electro-mechanical equipment, and served as President & CEO of a build-to-print contract manufacturer. He has a bachelor's degree in business administration from Fairleigh Dickinson University. "I am thrilled to join Intertek Laboratories and to have the opportunity to contribute to the company's growth," said Mr. Rosen. "I look forward to working with the team to identify new opportunities and to deliver value to our customers."

Intertek manufactures military, aerospace, automotive, and commercial parts and equipment to ISO9001 and AS9100 standards. For more information, visit www.interteklabsinc.com.