Over the last few years, we have discussed our perspective on the Industry 4.0 transformation and how Interface clients want more data from their T&M tools to provide precision in accuracy and comprehensive performance data at the earliest stages of product creation. This will not only continue but also quickly spread. Trends such as the Internet of Things (IoT), millimeter-wave (mm-wave) frequencies, and 5G predict major changes in requirements for test equipment, hence creating possibilities for suppliers in the electronic test and measurement (T&M) business. The advent of 5G technology, the installation of LTE & LTE-Advanced (4G) Networks, and the fast adoption of IoT Devices are anticipated to provide growth opportunities for the market for test and measurement equipment. 
The global test and measurement equipment market is predicted to witness a moderate CAGR of 5.6% from 2022 to 2032. The market share of test and measurement equipment is projected to be approximately US$ 32 Billion in 2022, with a potential to reach US$ 54.9 Billion by 2032. Future Market Insights projects that the test and measurement equipment market will rise at a CAGR of 5.6%, from $30.9 billion in 2021 to $54.9 billion in 2032.
"Calibrations are performed on numerous appliances to enhance their accuracy, efficiency, and overall performance, resulting in a reciprocal market growth trend with the electronics manufacturing business."
Test improvements boost device and system dependability while shortening the time to market in everything from space vehicles to new battlefields to the human body.
KEY TAKEAWAYS:
The test and measurement equipment market in the United States is estimated to reach US$ 1.3 Billion by 2032, increasing at a CAGR of 10.7% through 2032.
The test and measurement equipment market in the United Kingdom is expected to be worth US$ 154.2 million by 2032, with a CAGR of 9.8% through 2032.
The test and measurement equipment market's services segment from the component category is predicted to develop at a CAGR of 10.4% through 2032.
Through 2032, Threat Intelligence in the test and measurement equipment market's application sector will grow at a CAGR of 10.1% through 2032.
China's test and measurement equipment market is expected to reach US$ 275.2 million by 2032, with a CAGR of 10.2% through 2032.
Japan's test and measurement equipment market is expected to be valued at US$ 221.9 million by 2032, expanding at a 9.2% annual rate through 2032.
South Korea is expected to reach a market size of US$ 136.7 million in test and measurement equipment by 2032, with a CAGR of 8.6% through 2032.
All electronic devices must be authenticated before release. Growing demand for electronic and electrical devices will increase demand for test and measurement equipment in electronic production operations. Developing new healthcare equipment, patient monitoring, and personal emergency reporting systems may boost the test and measurement equipment industry.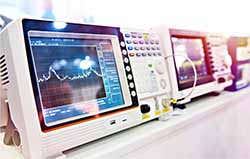 Testing and measurement equipment help identify damage that might occur over the life of a physical commodity, boosting product quality and brand value. The test and measurement equipment market potential will expand in the future years.
With advances in IoT, AI, ML, etc., automated testing is in great demand.
According to MarketsandMarkets, "The Automation testing market size is expected to grow to USD 49.9 billion by 2026, at a Compound Annual Growth Rate (CAGR) of 19.2% during the forecast period."
The manufacturing industry's test & measurement sector is extremely fragmented and concentrates on equipment manufacture and development. This sector detects, measures, and controls production parameters, including flow, temperature, power, vibration, and component inspection. The industry has grown rapidly over the last decade, and estimates predict it will continue to do so.
Test & measurement helps producers guarantee product dimensions and performance. If the equipment doesn't perform as expected, the crew must repair it. The process requires sophisticated technology solutions, such as digitalization, application-based solutions, Additive Production, IoT, and new sensor applications that drive manufacturing excellence.
Despite the COVID-19 dilemma, the worldwide market for General Purpose Electronic Test and Measurement Instruments is expected to reach US$9.4 billion by 2025, growing at a compound annual growth rate (CAGR) of 5.2% throughout the study period. With an estimated 31.6% share of the worldwide total, the United States is the biggest regional market for General Purpose Electronic Test and Measurement Instruments. By the end of the study period, the market is expected to be worth US$2.8 billion. With an 8.5% CAGR during the research period, China is predicted to lead the expansion and emerge as the fastest-expanding regional market.
The top five trends that will influence the test and measurement industry are as follows:
Digitization
Digital outputs have replaced analog ones. Excellent transmission reliability, high transfer rates, self-diagnostic tools, etc., are digital sensor advantages. Plugging in or replacing digital devices doesn't disrupt the system. Digital outputs simplify wiring. Using the same wire to link digital sensors reduces wiring expenditures. Digitization allows wireless communications and shows the user cables and measurements.
Solutions by application
Can a user develop one application to measure different components and features? The user wishes to compare similar components. One program to write or maintain minimizes test and measurement time. Meteorology software 4.0 streamlines manufacturers' processes when the design is the same, but the lengths vary.
Additive Manufacturing
Additive Manufacturing will advance manufacturing. The optical meteorological device has wide-diameter lenses and a 200-mm measurement range. The instrument delivers a clear image of the equipment. Therefore the additional study is unnecessary. This device is efficient in R&D and floor situations. This manufacturing tool saves firms money. This device is the future of optics and manufacturing.
Internet of Things (IoT)
IoT will transform tests and measurements. IoT-enabled gadgets may speed up an industry, making instruments more responsive and checking wireless latency. Manufacturers should verify or replace old technology when data-transfer speed increases by 20 GB/s. It might be a powerful application or tool.
Modern sensing apps
In 2019 and beyond, test and measurement professionals should anticipate new sensing applications. These applications will apply to all sectors, including agriculture, optics, medical equipment, and renewable energy technology. The user will need to analyze their product kind and the nature of the firm. Based on the findings, the user may rapidly choose which form of sensing app would be most beneficial or consult with experts in the area to recommend the best technology for developing test and measurement operations in the user's business.
Asia-Pacific is the largest market, with a share of about 47%, followed by North America and Europe.
North America (United States, Canada, and Mexico)
Europe (Germany, UK, France, Italy, Russia, Turkey, etc.)
Asia-Pacific (China, Japan, Korea, India, Australia, Indonesia, Thailand, Philippines, Malaysia, and Vietnam)
South America (Brazil etc.)
Middle East and Africa (Egypt and GCC Countries)
The Future of the Global Test and Measurement Equipment Market:
"Demand from the healthcare and pharmaceutical sectors has boosted test and measurement equipment sales in the previous two to three years."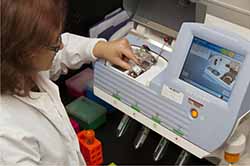 Testing and measuring devices verify any device's performance. This device helps find prematurely deteriorating units by tracking shocks, vibration, and temperature. Electronic device makers are keen to implement these technologies to boost their brand value by reducing faulty items, generating a tremendous need for test and measurement equipment.
The development and use of 5G wave technologies will boost the test and measurement equipment market, along with a rush of new devices with increased bandwidth compatibility. Developing cutting-edge gear like robots, space technology, and others leaves little tolerance for errors and will drive future test and measurement equipment adoption trends.
In several locations, semiconductor device output has risen due to the adoption of current digital technologies such as IoT, ML, and data analytics. Further improvement in this sector will be a significant component in deciding the test and measurement equipment market's key trends and opportunities in the next year.
Which challenges do test and measurement equipment market players face?
The vast range of equipment needed to test and assess different devices and appliances is a key sales limitation in regional and local markets. Small and medium-sized enterprises can't afford to build testing facilities, restricting their need for test and measurement equipment.
A qualified authority to operate equipment and conduct testing and measurement operations in several verticals is also a barrier to current test and measurement equipment adoption trends. Price sensitivity among end-users, who are cautious about product quality, has also hurt the test and measurement equipment industry.
The rising importance of electronics in today's society necessitates guaranteeing their reliability and operation via test and measurement (T&M). Ryan Chen, Global Product Manager, Board to Board at TE Connectivity, was contacted by Connected World for updates and thoughts on the newest developments in the T&M business.
Electronics must be adequately developed and verified by test and measurement equipment before they reach end consumers. Development and manufacture of any of these electronic gadgets are impossible without tests and measurements.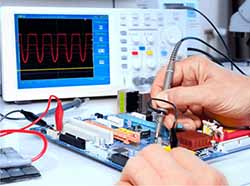 Digitalization is one of the most important developments in the T&M business. "Technological advancements such as 5G, IoT, cloud computing, and others are rapidly driving this rapidly rising trend." "For example, 5G plays a major role in virtualization and automation, which we feel are two long-term trends in the test and measurement business."
Every new business trend presents engineers with a fresh problem to solve. Electronic gadgets are becoming more sophisticated as a result of increased digitalization. This indicates that additional functionalities need testing. However, the client is requesting ever-shorter test durations to reduce test expenses. Therefore, the task for engineers is to create testing equipment that can execute an increasing number of operations in a shorter amount of time, which will eventually result in lower prices.
Wrapping Up
The complexity of electronic devices has increased as they have shrunk in size and gained improved wireless capabilities. Consequently, testing has become a very complex production process, giving significant potential for testing manufacturers.
Most manufacturers think that testing should be done only at the end. However, this is not the correct strategy; testing and measurement are required at all manufacturing stages, lowering the likelihood of product failure and testing costs. We may argue that testing and measurement must be part of an integrated strategy to ensure that any product or equipment only works as expected. It is feasible to acquire a competitive advantage over others with the appropriate strategy and new technology.
As the T&M industry grew, so did the demand for engineers and manufacturers across all industries to have proven solutions from their test and measurement equipment, expand capabilities from sensor technologies, and explore new ways of optimizing products with real-time, accurate measurement.
As we move forward to 2022, we are also investing in new and current trends and investigating how they will affect the broader market in the next year and beyond. Here are our predictions for the new year and what is hot and trending in force measurement to assist our clients in preparing. It's obvious that without test and measurement equipment, it cannot be correctly and reliably proven that mechanical devices are working as needed. The manufacturing industry is working towards creating and utilizing more modern technologies to reduce the overall costs and time associated with test and measurement while maintaining a high quality of yield supported by optimum performance. Incorporating automation in the test and measurement process could offer more features and capabilities to the user, eventually leading to improved and faster outcomes.
That's all, Folks!
Automation testing enables businesses to cut product delivery time and expedite development dramatically. It also helps development and testing teams enhance software quality by generating detailed error reports. Automation testing services may help large organizations and fast-growing start-ups assure the seamless running of their company processes, save operational costs, and enhance customer experience.
Automation testing is unquestionably the future of testing. Adopting the most recent trends will be an excellent method for firms to acquire a competitive advantage in their market. Numerous technologies, ranging from additive manufacturing to the Internet of Things, have found their way into the test & measurement industry, ushering in massive shifts. In an ideal world, we would be able to release a product immediately to the market without any testing and at a lower cost overall. Errors are frequent when we build or manufacture a new technology, and testing and measurements are essential to guaranteeing that end-users get a faultless product. Consequently, testing and measuring are integral aspects of the production process.