As the Wi-Fi 7 era dawns, Qualcomm Technologies is again poised as the world's leading wireless technology innovator; working with our global ecosystem of partners and driving the transition to the next generation of Wi-Fi. With 25 years of Wi-Fi technology expertise and counting, we are the No. 1 semiconductor company in Wi-Fi1 (based on units), with more than 6.5 billion Wi-Fi products shipped2.
To date, we have secured more than 175 Wi-Fi 7 design wins across all product categories, including nearly every announced or in-development device based on our flagship Snapdragon 8 Gen 2 Mobile platform.
Building on strong Wi-Fi 6/6E leadership
Our success in Wi-Fi is no accident. The Wi-Fi 6 and 6E transition paved the way for what's next. Today, our innovation leadership and manufacturer collaborations have enabled more than 1,600 Wi-Fi 6 and 6E-enabled products launched or in-development. This includes a full device ecosystem — access point, router, gateway, smartphone, PC, XR and more.
Of note, the recently announced Samsung Galaxy S23 family features Qualcomm FastConnect Wi-Fi/Bluetooth systems across all variants. In fact, our FastConnect product line is now powering more than 900 Wi-Fi 6 and 6E devices launched or in-development. 
Our networking platforms, as well, are the benchmark for Wi-Fi 6 and 6E enterprise-grade and home networks, with more than 650 designs launched or in-development. Recent mesh Wi-Fi flagship system launches reinforce the global adoption of a category we pioneered and in which our technology is utilized broadly. Demand for top-of-the-line Wi-Fi performance has propelled Qualcomm to achieve success, as well, in the enterprise networking space — attesting to the value delivered through our innovations.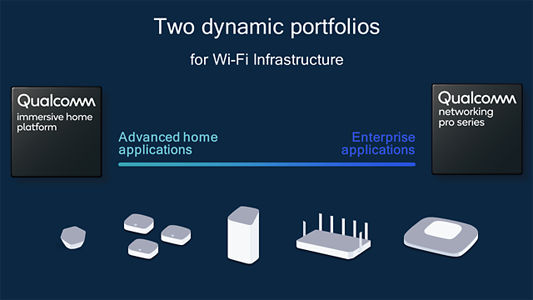 Wi-Fi 7 end-to-end momentum
Following the successful adoption of our Wi-Fi 6 and 6E offerings, we sparked the next generation transition in 2022 with the launch of our complete Wi-Fi 7 portfolio.
First, we introduced the Qualcomm FastConnect 7800 Wi-Fi/Bluetooth system for smartphones, PCs, VR/AR/XR devices, offering a unique baseband-to-antenna system approach. By integrating new RF Front-end modules (Qualcomm QXM1086 and QXM1083 for 5–7 GHz and 2.4GHz, respectively), the full system leverages breakthrough Qualcomm ultraBAW filter technology and Qualcomm Diplexer to boost overall wireless performance and power efficiency, with peak power consumption savings of up to one watt during Wi-Fi Transmit. With such benefits, it's no surprise that most device designs launched or in-development using FastConnect 7800 include Qualcomm RF Front-end technology.
FastConnect 7800 brings signature performance-enhancing Wi-Fi 7 features only available, to date, from Qualcomm, including High-Band Simultaneous (HBS) Multi-Link. 
HBS Multi-Link can aggregate two channels in 5GHz and/or 6GHz bands to achieve up to 5.8 Gbps peak speed and deliver significantly improved latency compared to previous generations. This technique also benefits from the groundbreaking Qualcomm ultraBAW filtering technology which allows for exceptional concurrent operation in the higher Wi-Fi bands.
HBS Multi-Link is key for regions where the 6GHz band is not yet available for Wi-Fi. For users in those countries, HBS Multi-Link is the only feasible method to obtain a meaningful performance, up to 4.3 Gbps peak speed, beyond what is possible with the prior Wi-Fi generation.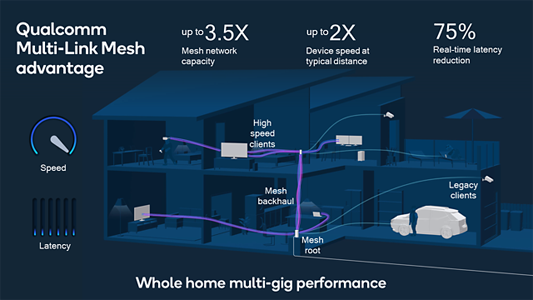 For access points and routers, we offer our professional-grade Networking Pro Series Wi-Fi 7 platforms, which set new Wi-Fi 7 performance benchmarks for premium-tier networking for stadium, large enterprise, and premium home mesh systems. Our Immersive Home Wi-Fi 7 platforms are purpose-built for the home and designed to blanket every corner of the home with multi-gigabit connectivity and wire-like stability. 
Qualcomm innovations like Qualcomm Multi-Link Mesh redefine home networking through a novel model of dynamically managed client-facing and mesh-backhaul wireless links.
Find your next Wi-Fi 7 product
The Wi-Fi 7 era has begun. Device manufacturers are now delivering products based on our systems and platforms. Leading up to and during Mobile World Congress Barcelona, announcements featuring FastConnect 7800 have been plentiful, including the Xiaomi 13 and 13 Pro, vivo X90 Pro+ and iQOO 11 Pro, Motorola Moto X40, Nubia RedMagic 8 Pro, OnePlus 11 Pro, Nubia Z50, and HONOR Magic 5.
Just as important are the networking products to which these devices will connect. Wi-Fi 7 access points and routers are on the way, such as the Xiaomi Router 10000, TP-Link Deco BE95 Whole Home Mesh System, TP-Link Omada enterprise access points, ARRIS SURFboard G54, and the ADB Cheetah Home Gateway. 
"The extreme throughput and ultra-low latency provided by next-generation Wi-Fi 7 will become essential for both work and play on the PC," said James Lin, General Manager, Notebooks, IT Products Business, Acer. "We are excited to continue our collaboration with Qualcomm Technologies on delivering premium experiences with superior connectivity and robust capabilities."
"Wi-Fi 7 will considerably improve the quality of home and enterprise wireless connectivity, this will benefit both service providers and their customers," said Malgorzata Ott, CEO of ADB. "We already see a strong demand from our service provider and enterprise customers for Wi-Fi 7, and we anticipate a rapid adoption of this technology. Working closely with Qualcomm Technologies ensured fast integration and premium capabilities, that are on full display in our flagship tri-band Wi-Fi 7 broadband access gateway."
"Our long collaboration with Qualcomm Technologies spans numerous Wi-Fi generations and includes innovative features like 4-Stream DBS for exceptional PC experiences across enterprise, gaming, and consumer. We can't wait for our users to get their hands on next-generation Wi-Fi 7 PCs," said Jason Banta, Corporate VP, Client, AMD.
"A key experience and demand from our consumers is seamless connectivity. With Qualcomm Technologies' FastConnect 7800 connectivity system, best-in-class networking and wireless connectivity experience will be achieved on Honor Magic5 and Magic5 Pro, we believe that Wi-Fi 7 is here in 2023, and it was an obvious choice to be leading this revolution for HONOR's consumers," said Li Kun, General Manager, Magic Series Business, HONOR Device Co., Ltd.
"WiFi 7 is the cornerstone technology of our upcoming portfolio of products, which marks our 35th anniversary as a mainstay in wireless networking. Wi-Fi Mesh is rapidly becoming the primary deployment of choice in the Home and Micro-Office and Qualcomm Technologies' implementation of Multi-Link Operation (MLO) delivers the resiliency and capacity demanded by our customers in these segments," said Linksys CEO Jonathan Bettino.
"As we build toward the metaverse, fast connectivity is an essential building block to enable the best possible immersive experiences," said Bruno Cendon Martin, Sr. Director of Wireless Technologies, Reality Labs at Meta. "We're excited about the possibilities the Wi-Fi 7 standard will help unlock and appreciate the role of Qualcomm Technologies in driving progress to make this a reality."
"Motorola has always been at the forefront of our industry when it comes to new ways to connect, especially concerning wireless technology. Following offerings with Wi-Fi 6 and 6E across our portfolio, we are committed to make our new smartphones Wi-Fi 7 ready," said Francois La Flamme, Motorola Chief of Marketing and Head of Strategy. "Our mission is always to deliver seamless experiences and smarter technology to our consumers, everywhere."
"Wi-Fi 7 enables a new era of multi-gigabit Wi-Fi throughout the home. With faster speeds, lower latency, and significant capacity increases, we see this technology as the foundation for true future-proof home networking infrastructure," said David Henry, president & GM of Connected Home Products and Services at NETGEAR. "We're delighted to combine Qualcomm Technologies' high performance platforms with our market-leading wireless RF and product design expertise to bring powerful routers and mesh systems to market later this year that will enable premium Wi-Fi 7 experiences for our customers."
"Advocating for our consumers to get the very best was an easy decision. Through our work with Qualcomm Technologies, customers can experience the premium wireless connectivity with Qualcomm FastConnect 7800, which brings the High Band Simultaneous Multi-Link to provide ultra-low latency and fastest speeds for entirely new connected experiences," said Yu Hang, Executive VP, Nubia Technology Co., Ltd.
"OPPO is dedicated to creating intelligent connected lives for its users. Drawing on our expertise in connectivity, we launched the OPPO Wi-Fi 6 Router AX5400 with the Qualcomm Immersive Home Platform during MWC23. The minimalist router delivers super-fast Wi-Fi 6 network connectivity covering both home and office environments, and also helps to extend the Wi-Fi coverage with easy mesh. We will continue to focus on developing the next generation of connectivity, including Wi-Fi 7. Together with Qualcomm Technologies, we will bring enhanced connectivity to users around the world through a rich range of products that includes smartphones and routers," says Jensen Jie, Head of Wireless Product R&D Center at OPPO.
"Our long-standing collaboration with Qualcomm Technologies has spanned many generations of Wi-Fi product innovation. With Wi-Fi 7, we are pleased once again to leverage Qualcomm Technologies' high-performance and modular platforms in our Deco Mesh Wi-Fi 7 systems and Omada Wi-Fi 7 APs, bringing a new era of connectivity to our customers," said Pingji Li, VP, TP-Link Corporation Limited.
"It is important for us to be at the forefront of implementing Wi-Fi 7, we believe that Wi-Fi 7 will ultimately bring a new level of user experiences and empower more use cases for our customers. By leveraging the Qualcomm FastConnect connectivity system and leading Wi-Fi 7 features, we are confident that the product and its end-user experience can deliver satisfaction for our customers," said Dian Zhao, Product Manager at vivo.
"2023 makes it the first year of Wi-Fi 7. Based on our long-standing collaboration with Qualcomm Technologies in both smartphone and router spaces, we can leverage the proven unique features like High Band Simultaneous Multi-Link, Tri-band Wi-Fi 7, 4K QAM with its latest Wi-Fi 7 offerings, which will provide practical benefits and eventually redefine the best-in-class network experience that our customers demanded," said Shuxiao Zhang, Smartphone Connectivity Technology Department, Xiaomi.
Quite simply, this incredible momentum is only just beginning. We cannot be more excited to enable our customers as they thrill users with all that our Wi-Fi 7 products and platforms have to offer.