The TME catalogue is never short of the newest solutions from the leading manufacturers. This applies especially to products intended for ever-growing fields, such as automation. A good example here is the range of cables by HELUKABEL. Fitters, technicians, repair and maintenance workers are all familiar with the invaluable worth of durable and universal cabling from this brand. This worth stems from a wide choice of products for numerous branches of industry and applications. The focus here is on long-standing product life, reducing the costs caused by periods of downtime and modernisation – as well as adjusting them to the widest possible range of applications.
Below, we present the three series of products which have recently arrived at TME warehouses. They are a new addition to the vast range of HELUKABEL control and installation cables. These products will be a great choice for automation power supply systems, machine control, as well in certain electric and electronic devices.
HELUTHERM® 145 series
The HELUTHERM® 145 cables are intended for control and power supply systems. As the name suggests, they are characterised mostly by their wide thermal endurance. They can work in temperatures ranging from -55°C to 145°C for fixed applications and from -35°C to 120°C for movable (flexing) applications. They are most commonly applied in luminaires, heaters, machine power supply systems. They can also be successfully used in switchgears and as connection cabling inside devices. The outer jacket in this series of cables is made of polyolefin (a kind of synthetic polymer), which is flame-retardant, and does not produce toxic gases during combustion. Thanks to the application of this material, the cables are free of halogen compounds – but they remain resistant to a number of environmental factors, such as jak precipitation, UV radiation, most of oils, as well as ozone, which is commonly used for disinfection.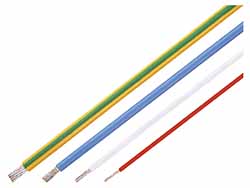 HTERM145-0.5BK
HELUTHERM® cables come in many profiles and colours.
Their chemical composition does not disturb the varnishing process. The HELUTHERM® 145 series also demonstrates mechanical resistance, so these cables will not get faulty during a brief contact with a hot soldering iron. The minimal bending radius is 4 times the cable diameter (for fixed applications). Available product colours include white, brown, navy blue, black, red, purple, blue, orange, grey, green, yellow and yellow-green (for a protective conductor).
In terms of electrical parameter, the cables are designed to handle voltages of 300/500V. Cables placed in protection pipes and with a cross-section exceeding 1.5mm2 may handle even 1000V. Among the products offered by TME, there are cables with conductors sized from 0.25mm2 to 240mm2, which translates to outer diameters ranging from 1.6mm to 24.5mm. The conductors themselves are made of tinned copper and have the form of a fine-wire.
| | |
| --- | --- |
| | Parameters |
| Cable type | connection cable |
| Cable model | HELUTHERM® 145 |
| Conductor structure | fine-wire |
| Conductor type | tinned copper |
| Conductor cross-section* | 0.25…240mm2 |
| Shield structure | unshielded |
| Rated voltage | 300/500V |
| Cable insulation material | polyolefin |
| Material type | flame-retardant |
| Operating temperature | -55…145°C |
| Outer cable diameter* | 1.6…24.5mm |
| Flexibility class | 5 |
* depending on the model
HELUCONTROL® series
JZ520-HMH-C-3G0.75
Shielded control cable with a colour-coded conductor.
The HELUCONTROL® cables have been designed as typical control cabling. They come in two types: unshielded variants are a part of the JZ-520 HMH series, while the variants with a braid made of tinned copper wire are referred to as JZ-520 HMH-C. All products are made of LSZH materials (i.e. Low Smoke, Zero Halogen), which means that they do not produce significant amounts of smoke during a fire, and do not contain halogen compounds, which are highly detrimental for health. These products are well-adjusted to a number of applications in buildings with a high fire protection standard in place, such as office buildings, multi-family houses, medical centres, theatres, cinemas, as well as public buildings, stations, airports etc.
In accordance with the EN 50575 standard, which regulates the classification of products used in the construction industry (CPR,Construction Products Regulation) they are compliant with the B2ca class. At the same time, the cabling may have numerous functions in the industry, machine parks, warehouses, as parts of HVAC systems – its construction allows for it to be installed both in fixed (surface mounted), and movable/flexing systems (provided that heavy tensile stress does not occur), as well as in rail vehicles.
Inside cable jacket, there are from 3 to 12 conductors of 0.75mm2 to 2.5mm2. They are made of bare copper wire and are suitable for voltages up to 300/500V. Respective lines are marked by colour or by printed identification numbers – in both cases, the protective conductor is marked with a typical, yellow-green insulation. These Class 5 cables may operate in temperatures from -40°C to 70°C, which additionally extends their range of intended applications.
| | |
| --- | --- |
| | Parameters |
| Cable type | control cable |
| Conductor model | HELUCONTROL® |
| Conductor structure | cord |
| Conductor type | copper |
| Conductor cross-section* | 0.75…2.5mm2 |
| Shield structure* | unshielded or braid (extension C) |
| Rated voltage | 300/500V |
| Cable insulation material | LSZH |
| Cable insulation colour | grey |
| Material type | flame-retardant |
| Operating temperature | -40…70°C |
| Outer cable diameter * | 5.9…10.4mm |
| Flexibility class | 5 |
* depending on the model
PURö series
The PURö series control cables (which are referred to in the TME catalogue as PURO) are intended for systems exposed to the most adverse conditions. They are distinguished by chemical, mechanical and thermal durability. Due to the fact that their insulation is made of polyurethane (PUR), they demonstrate resistance to most oils, ozone, coolants, hydrolysis, as well as UV radiation (sunlight will not cause degradation of the outer jacket, so the cable may be installed outdoors). Under certain conditions, insulation also protects the cable from microorganisms. In terms of mechanics, PUR demonstrates durability against tearing and abrasion, and is also an elastic material – that is why HELUKABEL recommends PURO series for use in movable/flexing systems, such as guide chains. Because of the fact they may operate in temperatures up to 80°C, they are a good choice for cabling automated rolling mills, steel plants, ironworks and other metal processing plants. 

JZ500-HMH-3G0.5
Polyurethane and PVC protect the cables from mechanical and chemical factors.
Due to the fact that the properties described above are desirable traits in many branches of industry, the cables are available in a wide spectrum of versions, featuring from 2 to 50 conductors (copper fine-wire operating at 300/500V) with a cross-section from 0.5mm2 to 35 mm2. Each line is sheathed with oil-resistant PVC, thanks to which the minimal electrical breakdown voltage for these products is 8000V. In variants equipped with more than two conductors, cables have a separate protective conductor.
| | |
| --- | --- |
| | Characteristics |
| Cable type | control cable |
| Cable model | PURO-JZ/OZ |
| Conductor structure | cord |
| Conductor type | copper |
| Conductor cross-section* | 0.5…35mm2 |
| Shield structure | unshielded |
| Rated voltage | 300/500V |
| Cable insulation material | PUR |
| Cable insulation colour | grey |
| Operating temperature | -40…80°C |
| Outer cable diameter * | 4.8…28.7mm |
| Flexibility class | 5 |
* depending on the model