Hsinchu, Taiwan – As the rapid development and evolution of industrial technology has led to an increasing demand for microprocessor applications and specifications, the leading microcontroller platform manufacturer, Nuvoton Technology is proud to launch the NuMicro® MA35D1 series – a heterogeneous multi-core microprocessor series which offers high performance, real time control, and advanced security features, making it an ideal solution for various applications such as smart factories, smart buildings, new energy, and Tiny AI/ML. The NuMicro® MA35D1 series not only meet the high-computational requirements needed for industrial IoT edge applications and can process data at edge and respond in real time, it also provides advanced security mechanisms to prevent malicious software attacks, confidential data theft, or tampering with confidential data. In addition, it integrates rich and high-speed transmission interfaces and can support multiple communication protocols to provide superior performance when communicating and collecting data with different devices. The NuMicro® MA35D1 series microprocessor is suitable for developers, system integrators, and those who require high-performance, secure, and real-time microprocessor applications.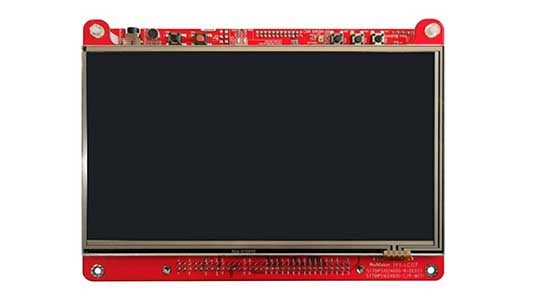 NuMicro® MA35D1 Series heterogeneous multi-core microcontrollers offer high performance, real-time processing capabilities, advanced security features, high-speed communication interfaces, and a reduced development time, among other advantages. This series of microcontrollers utilizes dual-core 64-bit Arm® Cortex®-A35 cores, with a maximum clock speed of 800 MHz, providing Tiny AI/ML edge computing capabilities, and is equipped with a 180 MHz Arm® Cortex®-M4 core for real-time control. Additionally, the NuMicro® MA35D1 Series supports secure booting from USB, SD/eMMC, NAND, and SPI Flash (SPI NOR/SPI NAND) modes. To simplify system design, facilitate production, and reduce development costs, the NuMicro® MA35D1 Series is available in LQFP and BGA packages and can operate within an industrial-grade temperature range of -40°C to 105°C (Tj). It also stacks DDR3L SDRAM with a maximum capacity of 512 MB, significantly reducing PCB layers, area, and electromagnetic interference.
NuMicro® MA35D1 series is a trusted system that meets IoT products' security, data confidentiality, reliability, and edge computing requirements. This series of microprocessors has advanced security mechanisms, including a Trusted Secure Island (TSI) – an independent security hardware unit developed by Nuvoton, Arm TrustZone® technology, Secure Boot, tamper detection, built-in AES, SHA, ECC, RSA, and SM2/3/4 encryption and decryption accelerators, and a true random number generator (TRNG), as well as key storage and one-time programmable (OTP) memory. All security-related operations are executed in the TSI to protect sensitive and high-value data. These security features can also satisfy requirements for IEC 62443 certification.
To meet the demands of high-frequency, low-latency, and high-volume data transmission for industrial IoT edge devices, the NuMicro® MA35D1 series provides high-speed communication interfaces, including two sets of Gigabit Ethernet, two sets of SDIO, two sets of high-speed USB 2.0, four sets of CAN FD, seventeen sets of UART, as well as various communication, analog, and digital input/output peripheral interfaces. These peripheral interfaces can be allocated for the real-time processing core Cortex-M4 to achieve real-time data acquisition and control.
To provide better graphics display effects, the NuMicro® MA35D1 series integrates a TFT LCD controller, which can support a resolution of up to 1,920 x 1,080, 60 frames per second, and supports hardware 2D graphics accelerator, JPEG and H.264 decoders, and 1080P video playback. Based on the rich functionality of the NuMicro® MA35D1 series, it is suitable for applications such as smart factories, smart buildings, new energy, and tiny AI/ML.
The NuMicro® MA35D1 platform provides Linux, RTOS, and OpenWrt operating systems and complete and easy-to-use software and hardware development tools, significantly reducing and shortening customer development time. For HMI graphic libraries, the NuMicro® MA35D1 supports emWin, LVGL, and Qt, letting users easily create smooth and beautiful graphical user interfaces (GUIs).