Arranging power cords and control and signal cables in distribution boxes can be a serious challenge, not only when it comes to industrial automation systems or lighting systems for large facilities. Safe, functional and clear organisation of cabling may be difficult to achieve even in households. What proves to be helpful in all these cases are electrical accessories designed for mounting on TS35 rails (called DIN rails). These include contact connectors and distribution blocks. Below, we present such products from TE Connectivity – one of the world leaders in the field of power connectors and related electromechanical solutions. These are multi-format components and can be used in a range of applications and installations.
SNK Entrelec series
The SNK Entrelec series consists of products which make it possible to execute complex distribution of power and signal connections. They are designed for mounting on a TS35 rail. They come in many formats differing from one another, mostly in terms of the connection method, number of terminals and colour.
Wires can be installed with screw terminals or spring clamps. The former are made with the use of patented mounting technology, thanks to which the technician can be sure that the core of the wire will not get damaged, and the connection will be characterised by minimal resistance. Spring clamps, on the other hand, operate automatically and can be released by inserting a flat tip into a dedicated slot. That way, they contribute to a shorter time of installation, dismantling, maintenance and scaling up of the system.
The bodies of the connectors are made of polyamide which is resistant to a wide range of temperatures (-55…110°C), with a UL94V-0 flammability rating.
Entrelec series supports a very wide range of cable core cross-sections.
Contact connectors for DIN rail
Connectors with spring clamps speed up both mounting and dismantling.
The Entrelec connectors can be purchased from the TME catalogue in variants with 1, 2, 3, 4 or 6 terminals. They are all short-circuited to each other by metal connectors with a large cross-sectional area, guaranteeing minimal resistance. These products are available in dark grey, black, red, blue, orange, grey, green/yellow and yellow, so the customers have the choice of the most popular colour codes used in electrical and automation systems. The connectors can be used with wires of cross-sections from 0.2mm2 to 120mm2 (depending on the model). They come in widths ranging from 2mm to 31mm. A great advantage of these connectors is their adaptation to a wide range of rated voltages that can reach up to 1kV.
Special variants of the connectors are equipped with attachments operated with a lever located on the front of the body, signalling LEDs and fuses.
Entrelec electrical accessories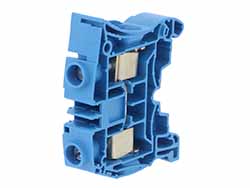 TME offers two basic types of accessories for the Entrelec series – electrical and mechanical accessories (discussed below). The first type includes test sockets. By screwing them in place of a screw block, the technicians get safe and convenient access to the line – in the form of an insulated round connector. This allows to, for example, monitor the status of the connection or take measurements. The test sockets are available in multiple colours.
The other type of accessories, essential in the case of complex installations, are comb bridges. They can be used when connecting a row of connectors thanks to which a single line can be simultaneously connected to multiple segments. The bridges come in variants that are able to support from 2 to 50 segments, they are made of copper and their edges are insulated to guarantee the safety of use while maintaining good electrical properties.
Test sockets provide easy access for maintenance and service purposes.
Entrelec mechanical accessories
The firm design of the holder ensures secure mounting of a row of connectors.
When mounting many connectors next to one another, it is often needed to terminate the row, separate it or fix it (to prevent horizontal movements). TE Connectivity has prepared components for that purpose. These include separating plates, end pieces and holders. They are made with the same materials as connectors, with the profile matched to the products described above. This makes it possible to achieve clearly separated connection blocks while using the minimum number of components – simultaneously eliminating the possibility of accidentally touching live tracks (inside the connectors).
DBL distribution blocks
Distribution blocks designed for DIN (TS35) rail mounting improve the arrangement of wires in fuse, installation and control boxes. They are used to separate the main power line into individual cores. TME offers single-track and three-track variants which can be used to safely separate the mains cable into individual cores. The main cable is fed through round holes located in the upper part of the body. Access to the inside of the block is provided by a tilting door exposing the entire front of the housing. Connections inside are made using screw terminals. That way, without the intentional opening of the block, all the live elements remain completely unreachable. These products have dedicated slots for placing the label and are delivered in a set with a few of the most typical labels (L1, L2, L3, N, PE, +, –).
The mounting hole makes it possible to place the block directly on the wall.