At the end of May 2023, the students of the ThaiGerRacing team drove away from all the others: During the ShellEco-marathon in Nogaro/France, they won the European champion title in the hydrogen racing league – for the fifth time in a row.
A success the team can be particularly proud of, as Andreas Sklarow, the team's scientific supervisor, points out: "After we invested many hours in improving the car once again, this title is a special reward for the students. After the summer break, we will be motivated again for the next season."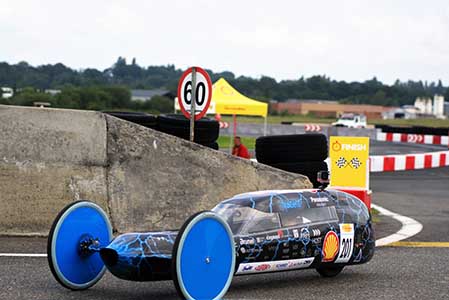 The Shell Eco-marathon is an engineering competition for students focusing on energy optimisation. Since the first edition, launched 35 years ago, teams of students worldwide have been competing with self-developed in various disciplines such as hydrogen or electric cars.
Panasonic Industry is pleased to support the racing team with, among other things, a pressure sensor for the hydrogen pressure reducer. The DP100 sensor ensures that the hydrogen is always available at the right pressure in this important component.
In addition to success on the racetrack, the ThaiGer team is also concerned with making hydrogen technology suitable for everyday use. To this end, the students also presented a prototype for a hydrogen city car in France, which was rated very positively by the jury present. "We are thrilled to be able to support such an innovative team in an important mobility topic," comments Christian Oblinger, Sales Manager Automation Products Germany, on the European Championship title. "Hopefully next year we can celebrate the 6th title to which one of our sensors has contributed."