PcVue releases the PcVue 16 platform, engineered to enhance remote operations with digital assistance, provide new innovative features in areas like smart power systems and buildings while ensuring the highest level of cybersecurity and connectivity.
The PcVue platform is a monitoring and control software platform enabling its users to develop applications in supervisory control and data acquisition (SCADA), the Internet of Things, and human-machine interface (HMI). Drawing on more than 40 years of experience, PcVue is used in over 80,000 applications around the globe.
With it's new features, PcVue 16 presents a robust, reliable, and secure platform which contains the complete innovation and power of PcVue to stay ahead of the curve.
Digital assistance for a better efficiency
PcVue 16 supports control room and mobile field operators with digital assistance which includes smart bots for interactive instructions, automated reports and access to subject matter experts. This full set of digital services allows operators to access their organization's resources, leading to better results and smarter decisions. Operators can consult experts, access necessary documents, and submit their work in real-time, providing vital information for analysis and future planning.
Innovative solutions for smart buildings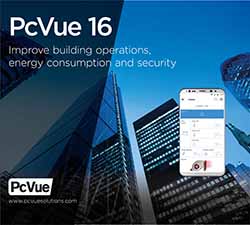 This latest PcVue release enables improved operations of buildings to optimize energy consumption and ensure comfort and security of occupants with features for video protection, access control, and intrusion detection. The technology utilizes state of the art building information modeling (BIM) for 3-D rendering of facilities and campuses.
PcVue 16 is able to integrate smoothly with OnVif cameras or RTSP stream for seamless video integration in the mimics. For BIM operation, it is compliant with IFC files and includes a full featured built-in BIM viewer animated with real-time field values offering a first path for digital twin.
Our ready-to-use solutions for Photovoltaic and Electric Charging Stations
PcVue 16 also supports applications that monitor and control EV charge stations giving access to a wide range of services for all EV stakeholders. It includes the open standard protocol OCPP (Open Charge Point Protocol) for monitoring any charging station. In addition, an EV-smart assist mobile app is there to help drivers along the EV charge process and a Smart Charging feature is available for global power optimization.
As the electrical power industry is expanding into renewable energy sources, PcVue 16 offers a ready-to-use application set for the monitoring of Solar PV plant system in order to reduce solar fleet operators time-to- deployment for monitoring and control.
Cybersecurity and advanced connectivity
The variety of systems, the convergence of operations technology (OT) and Information Technology (IT) and the multiplication of cyber-attacks are potential risks for critical sites under supervision. That's why PcVue 16 reinforces the cybersecurity features such as PKI integration and built-in OPC UA Client driver for a secure system architecture.
Thanks to its PcVue DataHub, PcVue 16 platform offers new ADO.net connectors that allow dynamic data exchange with third-party solutions of the digital ecosystem. Connections are possible with ERP, databases, CMMS, online weather forecasting services or social networks. For more information on the benefits of PcVue 16, visit our What's New webpage.