One of the most important elements of machine parks, regardless of the industry, are components protecting operators, workers and the machinery itself. Such solutions must be characterised by high reliability and durability. Therefore, in this respect, you should always choose products from manufacturers who offer top-class components – especially those provided by highly specialised suppliers.
One of such manufacturers is the Italian brand Pizzato Elettrica, a leading European supplier of industrial switches. The company pays great attention to every stage of the manufacturing process, which is carried out entirely – from the design phase to the final quality control – at manufacturer's site in the Italian town of Marostica. Thanks to this strict supervision, Pizzato Elettrica's safety switches and relays comply with the most stringent international industrial standards.
As the TME catalogue features a large number of products from this Italian brand, mainly including safety devices for automated plants and warehouses, below we present an overview of our offer – divided into types of available solutions.
Limit switches
Limit switches are essential components in automation systems, as elements that provide both protection and control over the course of mechanised processes. They perform their function by detecting the extreme position of moving parts. Pizzato Elettrica limit switches offer excellent electrical parameters, many of them are capable of operating at voltages as high as 500V AC (250V DC), while the contacts are rated for currents reaching even 10A. Most of these components also offer a high ingress protection rating of IP67, ensuring full dust and splash resistance. Another noteworthy aspect is the choice of mechanical solutions that the switches are equipped with, thanks to which they can be used in almost any application – the products may feature shafts and rollers of different diameters, mounted on shock-absorbing rods, plungers (some of them exceeding 100mm in length) and levers. For some components, the manufacturer guarantees mechanical durability of up to 20 million switching cycles. It should also be noted that the switches come in a variety of contact configurations.
Selected models of switches come with a pre-installed cable.
Safety switches with separate actuators
Modular design of the switches facilitates installation and maintenance
Limit switches with separate actuators help restrict access to dangerous areas. They allow emergency stoppage of machines when a guard is removed or a door or a hatch is opened, which would expose moving parts and thus pose a health risk to operators and bystanders. The universal Pizzato Elettrica actuators are available in many spatial orientations and mounting methods, satisfying the needs of most applications. The switches themselves, as with the products described above, offer excellent current and voltage performance, a high ingress protection rating, as well as a wide thermal tolerance.
Safety interlock switches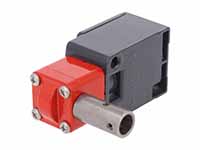 Pizzato interlock switches use the same actuators as those mentioned above, but in addition they offer the possibility of activating an interlocking mechanism with a holding force of 900N to 2500N. The products are made of metal or plastic and can be controlled by voltage ranging from 12V DC to 230V AC (depending on the model), which makes them suitable for most common voltages present in industrial automation systems. The products offered by TME come from the FG and FS series, with various contact configurations (including auxiliary contacts) and a mechanical life of up to 1000000 switching cycles.
The interlock switches are available in versions with a master key lock.
Rope safety switches
A rope safety switch with a factory-fitted thimble.
Rope safety switches are used as a simple yet effective method of switching off machinery and conveyor lines. The circuit is opened by pulling on a rope attached to the switch shaft (the same happens when the rope breaks) – usually equipped with a thimble, eyelet or other type of safety catch. According to the standards maintained by the manufacturer, the switches of the FC, FD, FL and FP series are characterised by a high degree of protection against environmental factors as well as a remarkably long service life. They can be successfully used in all businesses, even in the harsh conditions of the wood or metal industry. The ratchet pin mechanism prevents accidental resetting of the device, as well as its deliberate, unauthorised locking. Pizzato Elettrica also supplies accessories for switches, thimbles, fasteners and spring tensioners for trip ropes.
Hinge safety switches
Hinge safety switches are often used in situations where it is impossible or simply inconvenient to implement key/actuator switches. However, they perform the same function, i.e. control access to dangerous, moving parts of machinery. They are very sensitive devices, reacting to tilts of only a few degrees. To suit their intended application, hinge safety switches can be adapted during installation, all thanks to the removable head, which can be fixed in one of four positions. With their tight and resistant construction, they can be used in places where plastics, metals, etc. are processed – wherever there is a risk of dust or splashing of the switch.
The hinge safety switch head can be installed in one of 4 positions.
Safety relays
DIN rail-mounted safety relay features LED indicators mounted on the front panel.
Safety relays allow the use of low-voltage signals fed from sensors to set device operating conditions. They make it possible to extend safety systems applied in machine parks, also in situations where traditional safety switches cannot be used (e.g. opening a circuit when the liquid level in the tank is exceeded, or in the case of device overheating, etc.). Pizzato Elettrica products are enclosed in compact DIN rail-mounted modules. They are equipped with screw terminals, making it easy to make electrical connections, as well as with signalling LEDs. They can operate in automatic, manual or supervised start mode. The relay contacts are protected against voltage spikes that may occur when monitoring inductive components. The product inputs offer wide electrical tolerance, so they can also be used for retrofitting less precise machines.
Foot switches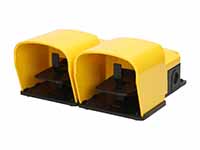 Foot switches are used at workplaces requiring human supervision, and also in places where the operator must be positioned at a precise location (behind a safety guard, at a certain distance from the machine, etc.) to ensure the safety of workers. Additional protection is provided by the foot guard available with most foot switches – this minimises the risk of accidental pedal actuation. These switches can also be used as control elements, all thanks to their excellent electrical parameters: the contact rating is up to 6A at 250V AC. The foot switches are available in both single and double versions.
The housing of the foot switch prevents accidental activation of the circuit.
Microswitches
A microswitch fitted with a roller.
Obviously, the use of switches in automation systems is not limited to safety systems. Pizzato Elettrica product range also includes universal SNAP-ACTION switches, mostly adapted to lower voltages (24V DC), used as position sensors, to generate pulses in cycle counters and similar applications. They feature a simple SPDT contact configuration, so they can be easily implemented in different types of machines. Depending on their needs, customers can choose models with switching forces ranging from 0.06N to 6N, with a roller mechanism, threaded (adjustable) shaft, and also with levers of different lengths. The products offer a mechanical life of 10 million switching cycles, which makes it possible to apply them even in heavy-duty conditions, while reducing the costs associated with plant maintenance.