Ethernet networks have become a widely used method of communication. In industrial conditions, controllers supporting such communication allow for the centralisation of automation systems and even remote management of industrial processes. The same is true in households, where "smart" devices (TV sets, refrigerators etc.) use the home internet connection. And although wireless transfer methods (WLAN) are very popular, wires remain the most reliable method of transmitting information – especially the wires of higher categories, properly shielded, separating symmetrical signals in individual pairs of wires and additionally protected against mechanical damage. Cabling alone, however, will not provide stable access to network communication. The plugs used at the ends of cables and the sockets installed in the devices play an equally important role. Their structure and characteristics are defined by international standards governing communication via Ethernet and industrial Ethernet (e.g. in the PROFINET industrial standard).
Below, we present an overview of RJ45 connectors (dominant standard of Ethernet plugs and sockets) from German supplier Phoenix Contact. This world-famous brand specialises in innovative and durable solutions in the field of signal components – relays, connectors as well as connection cables, power supplies, enclosures and other products used in the construction of industrial equipment.
RJ45 sockets
RJ45 connectors are most commonly found in computers and LAN network elements (routers, hubs etc.). Due to costs, these are often plastic-body sockets. Phoenix Contact offers connections with higher resistance to electromagnetic interference, which guarantee faster data transfer.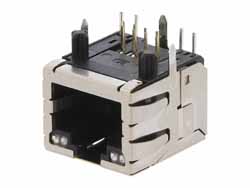 Industrial sockets
In industrial conditions, RJ45 connectors must be protected against several factors. In the case of Phoenix Contact sockets, the products have been made resistant to vibration and shock, and also adapted to work in a wide temperature range (from -40°C to 105°C). The contacts are made of gold-plated copper alloy, which reduces the possibility of corrosion. Their current capacity reaches 3A, making them compatible with PoE applications  (Power over Ethernet). In terms of data transmission, the products comply with the  Cat6A standard, i.e. they enable transmission at a speed of 10GB/s at a maximum frequency of 500MHz. The nickel-plated housing surrounds the entire body providing protection against electromagnetic interference (EMI).
CUCINDJ1STAR4LSLED
Fully shielded industrial connector with LEDs.
The offer includes models with built-in LEDs (standard pair to signal connection and transmission), in straight and angled variants (the axis of the connector is perpendicular or parallel to the PCB). The solutions are adapted to reflow soldering processes , so they can be used in mass production.
RJ45 sockets for SMD and THT mounting
Apart from products dedicated to industrial applications, Phoenix Contact offers sockets for less demanding projects, too. These are products intended for both THT and SMD applications. They are also available in compact variants – shallow and without LED indicators. Their contacts are made of gold-plated phosphor bronze (highly durable alloy of copper and tin with the addition of red phosphorus). As in the case of the solutions described above, they offer insulation at the level of 1kV (between the windings of the signal transformer) and 1.5kV (between the data bus and the casing), and they are closed in a metal housing. However, their thermal tolerance is lower (up to 85°C).
CUCSPJ1STSR4LTSMD
An example of a compact RJ45 socket for surface mounting.
RJ45 plugs
Good quality Ethernet cables are equipped with a braided or metalized foil screen and an additional earthing conductor. In the cabling of higher categories (above 6A), it is also recommended to shield pairs of wires.To fully use the transmission capabilities of expensive Ethernet cables, one should use the plugs in line with the global standards.
Crimped plugs
The most popular method of mounting RJ45 plugs is by crimping the connectors on the cable ends. During installation, the individual wires are inserted into the separating grooves, and then the elongated blades of each of the contacts are pierced into the wires, thus ensuring proper fastening of the cable and a connection with a very low resistance. Phoenix Contact products are designed for cables with conductors with a cross-section from 0.1mm2to 0.2mm2. They have a metal clamp connected to the body, which ensures proper shielding of the connection. Additionally, the connector is placed in a nylon housing. The products are available with category 6 (green) and 6A (yellow) Ethernet connectors.
CUCSTDC1PGYSR4EA1
Shielded CAT6a connector with a plastic housing.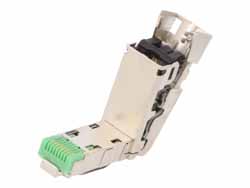 Plugs mounted without tools
Except for connectors installed on the cable in the traditional way, Phoenix Contact offers a group of plugs that do not require any special tools when it comes to installation. Those are connectors with a metal body (made of zinc cast), the two parts of which create a lever – when closing the housing, the conductor wires are installed in the IDC contacts The cable itself is locked in place with the help of conical bulges, which make the connection resistant not only to yanking but also to bumping and vibrations. Such a construction speed up the process of mounting, which can be especially important during repair works, minimizing downtime. Plugs are available in straight and angled versions, they are fully shielded and compatible with the 5 or 6A category standards (depending on the model).
CUCINDC1ZNITR4IE8
Angled plug made of cast metal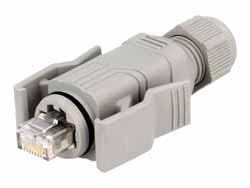 Variosub – a series of seal-tight RJ45 connectors
All the solutions described above are characterised by the ingress protection at the basic level of IP20. However, Ethernet networks are also used in harsh environmental conditions – outdoors, in processing plants, in metalworking, wood or plastic workshops, and in many other situations, where resistance to dust, moisture or even flooding is required. The Variosub series was developed for such applications. Products from this series are plugs mounted in tight housings equipped with cable glands, seals and, in selected models, double-sided locking latches. They will work well with sockets mounted on the panel by means of four mounting holes or a clamping screw.
VS08-QRJ45_IP67
RJ45 plug embedded in an IP67 housing.
Ethernet connections made using Variosub connectors reach the IP65/IP67 rating (depending on the variant) – they are therefore completely resistant to dust and water jets. Their seals are made of nitrile i.e. oil-resistant rubber. The socket is connected to the plug by means of the QUICKON (push-in) technology. Phoenix Contact guarantees the durability of 1000 mating cycles – the Variosub series will therefore be an ideal solution for temporary installations on construction sites or for outdoor applications.