Introduction:
Autonomous Vehicles (AVs) industry is rapidly growing around the world, and India is no exception. With the development of advanced technologies, the market for AVs in India is projected to grow exponentially in the coming years. This growth presents a significant career opportunity for individuals with the right skills and qualifications. In this article, we will explore the different types of AVs in India, the market size of the industry, the skill gap requirement, the role of Automotive Skills Development Council, AVs startups in India, and the way forward for AVs in India.
Understanding of Autonomous Vehicles:
AVs, also known as self-driving cars, are vehicles that can operate without the need for a human driver. Driverless vehicles rely on advanced technology and sensors to ensure safe operation on the road. Equipped with video cameras, sensors, and AI, these vehicles are able to interpret road signs, locate the edges of the road, and detect other vehicles and traffic signals. The data collected by these sensors is then sent to a central control system which uses it to navigate the vehicles and avoid collisions. The goal of AVs is to improve safety, reduce traffic congestion, and increase mobility for people who may not be able to drive, such as the elderly or disabled.
There are several levels of autonomy when it comes to self-driving vehicles. The Society of Automotive Engineers (SAE) has defined five levels of autonomy. Level 1 and Level 2 AVs have features such as adaptive cruise control, lane departure warning, and automatic emergency braking. Level 3 AVs can operate autonomously in certain conditions, but still require a human driver to take control when necessary. Level 4 and Level 5 AVs are designed to operate in all conditions, with Level 5 being fully autonomous with no human input required.
Currently, there is significant research and development being conducted worldwide in this field. Leading companies such as Google, Tesla, Mercedes, Ford, Nissan, Volkswagen, Hyundai, and many others are utilizing cutting-edge technologies like AI, machine learning, and robotics engineering to advance AVs technology. Additionally, a growing number of startups in India are also exploring self-driving technology.
In India, there are different types of AVs, including passenger cars, trucks, buses, and delivery vehicles. These vehicles use a combination of technologies such as artificial intelligence, machine learning, and computer vision to navigate roads and make decisions based on real-time data.
Growing Market Size of the Autonomous Vehicle Industry:
AVs industry is still in its nascent stage and has not yet reached significant commercialization. However, the union government has been taking steps to promote the development of autonomous vehicles, including creating a regulatory framework for testing and deployment. According to a report by NITI Aayog, a policy think tank, AVs industry in India has the potential to be worth $60 billion by 2030. However, it's important to note that this figure is only an estimate and that the actual market size will depend on a variety of factors, including the pace of technological development, the regulatory environment, and consumer adoption.
Challenges for Autonomous Vehicles in India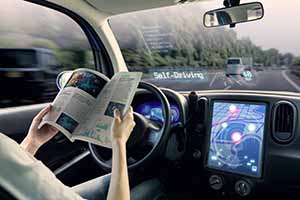 While the development of AVs is progressing rapidly around the world, there are unique challenges that need to be addressed before they can become a reality in India. Here are few challenges:
Infrastructure: Major challenge is the country's intracity road infrastructure. Many roads especially state owned are poorly maintained, and there is a lack of proper signage and road markings. This can make it difficult for AVs to navigate and make decisions about how to respond to their environment. Additionally, there may be challenges related to poor lighting and road congestion, which can make it difficult for autonomous vehicles to operate safely and efficiently.
Driving Behaviour: Indian driving culture is known for its unpredictability and the tendency of drivers to ignore traffic laws. This poses a challenge for AVs that rely on consistent and predictable behaviour from other drivers on the road. Furthermore, AVs need to be programmed to understand the driving behaviours of Indian motorists, which can be difficult to do given the wide range of behaviours that can be observed on Indian roads.
Technology: The development of AVs requires advanced technology, such as sensors, cameras, and computer systems, which can be expensive and difficult to maintain. This may limit the adoption of AVs, particularly among low-income populations.
Rule-Regulation: Implementation of AVs in India is the need for a comprehensive legal and regulatory framework. India's current laws and regulations are not designed to handle the complexities of autonomous vehicles, and there is a need for new policies that can govern the use of this technology on Indian roads.
Accident Liability: The key consideration with AVs is determining accident liability. Who should be held accountable for accidents caused by self-driving vehicles? With the software driving the vehicle and making all critical decisions, liability becomes complicated. While early AVs design had a person behind the steering wheel, newer models like those developed by Google lack any physical controls, such as a dashboard or steering wheel. In these designs, passengers have no means of controlling the vehicle in the event of an emergency. Moreover, because passengers are likely to be in a relaxed state and not paying close attention to the road, they may not be prepared to take action if needed. By the time they do realize the need to act, it may already be too late to prevent a collision.
Key areas that need to be addressed
One of the significant challenges facing the AVs industry in India is the skill gap. The development and deployment of AVs require professionals with expertise in robotics, artificial intelligence, and machine learning. To bridge this gap, the government of India has established Automotive Skills Development Council (ASDC).
India, with its rapidly growing economy and increasing urbanization, has the potential to become a major market for AVs. However, to realize this potential, it is essential to identify the skill gaps that currently exist in the Indian workforce to ensure that they are adequately trained and prepared for the changes that AVs will bring. A skill gap analysis can help identify the key areas that need to be addressed.
Technical Skills: AVs require a complex set of technical skills, including knowledge of robotics, computer science, electrical engineering, and mechanical engineering. In India, there is a shortage of skilled workers in these areas, especially those with experience in AV technology.
Data Analysis and Management: AVs generate vast amounts of data that need to be analysed and managed effectively. This requires a workforce with expertise in data science, artificial intelligence (AI), and machine learning (ML).
Cybersecurity: AVs rely heavily on software and communication systems, which are vulnerable to cyber-attacks. India lacks skilled cybersecurity professionals who can ensure the security of AV systems.
Customer Service and Experience: AVs will require a workforce that can provide excellent customer service and support. This includes skilled technicians who can maintain and repair AVs and trained drivers who can ensure passenger safety and comfort.
Future outlook for Autonomous Vehicles in India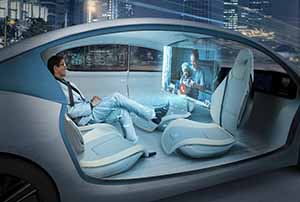 One area where we are likely to see driverless AVs is in golf carts and in-campus vehicles. These vehicles are commonly used for transportation in areas such as college campuses, and theme parks. With autonomous technology, these vehicles could provide a more efficient and convenient way to move people around these areas. For example, an autonomous golf cart could pick up a passenger at one location and drop them off at another without the need for a driver. This could be especially useful for those with mobility issues, as it could provide a convenient and accessible mode of transportation.
Another area where autonomous technology could be used is in aircraft push back vehicles. These vehicles are used to push aircraft away from the gate and onto the runway. Autonomous push back vehicles could provide a safer and more efficient way to move aircraft, reducing the risk of accidents and improving the overall efficiency of airports. With the use of autonomous technology, push back vehicles could be programmed to move aircraft safely and accurately without the need for a human driver.
Similarly, driverless tractors could help automate farming and other agricultural processes. With autonomous technology, tractors could be programmed to perform tasks such as planting, harvesting, and ploughing without the need for a human driver. This could save farmers time and money, while also improving the accuracy and efficiency of their operations.
India Drives Towards an Autonomous Future
Despite these challenges, the outlook for autonomous vehicles in India is positive. The Indian government has shown a keen interest in promoting the development and adoption of autonomous vehicles, and several initiatives such as the National Electric Mobility Mission Plan and the Faster Adoption and Manufacturing of Hybrid and Electric Vehicles (FAME) scheme have been launched to support the development of electric and autonomous vehicles.
Several Indian automakers such as Mahindra & Mahindra, Tata Motors, and Ashok Leyland, have invested in developing autonomous driving technologies, including advanced driver assistance systems (ADAS), lane departure warning systems, and collision avoidance systems. These technologies are currently being tested on public roads and are expected to be available in production vehicles in the next few years.
Several technology companies such as Tata Elxsi, Wipro, and Infosys, are also involved in the development of autonomous vehicle technologies. These companies are working on developing software platforms, sensors, and communication systems that enable vehicles to operate autonomously in complex urban environments.
Moreover, several Indian states such as Telangana, Maharashtra, and Karnataka have already begun testing autonomous vehicles on public roads and are actively working to create the necessary infrastructure and regulatory frameworks to support their widespread adoption.In conclusion, while there are still several challenges to be addressed before autonomous vehicles become mainstream in India, the progress made in autonomous vehicle technology, combined with the Indian government's support for the sector, suggests that autonomous vehicles are likely to become an increasingly common sight on Indian roads in the coming years.