For decades, thick-film technologies have proven to be dependable, cost-efficient, and highly reliable for forming electronic circuitry and components. The main drivers in today's electronics are miniaturization, higher circuit density, higher communication frequencies, adaptation to new forms such as 3D, flexible and stretchable substrates, and ecological factors driven by RoHS and REACH. Thick-film technology is equipped to address these as well as future challenges. It continuously evolves to facilitate advancements in telecommunications, aerospace, automotive, displays, consumer electronics, and the medical space. Heraeus Electronics' extensive and evolving portfolio of thick-film pastes and matched systems can support these technological advancements.
Thick Film Advantages
Thick film is an additive process where conductor, resistor, and dielectric pastes are screen-printed and fired (or cured) in succession to form the circuit. This results in cost-efficient, easily scalable processing for the circuit manufacturer as well as reducing waste associated with subtractive methods. Patterned screens are easy to manufacture, allowing flexibility in circuit design, and screen printing allows for flexibility in feature sizes from hundreds of microns down to 30 µm or less. Screen and emulsion technologies, in combination with thick film advancements, have facilitated miniaturization via line width reductions as well as lower costs. In Figure 1, Fraunhofer ISE has demonstrated screen printed 19 µm silver conductor contact lines for a PERC photovoltaic cell. 
Thick film paste technology may be adapted to many application methods besides screen printing. Spraying, dipping, syringing, and pad printing are common printing technologies. Printed electronics may use gravure, flexographic, and offset printing.
Proper paste formulation and process optimization ensure matched conductor-resistor-dielectric systems that permit the substrate or device manufacturer to use the same equipment to deposit sequential layers of materials to produce their circuits. Thick film is versatile as demonstrated by its application on various substrates. High-temperature ceramics such as aluminum oxide and aluminum nitride are most common, but matched systems on steel and aluminum are available, allowing for newer thick-film heaters. Figure 2 shows a hybrid microelectronic circuit, which typically uses conductors, resistors, dielectric, and an overglaze. Figure 3 shows a comparison between the various conductor metallizations. Each metallization has its advantages and disadvantages. Gold is used in the highest reliability applications where the high cost is more than justified with low resistivity and exceptional chemical resistance; however, it exhibits poor solderability and solder leach resistance. Silver is much less expensive, is solderable, and has the highest conductivity of all the metals; yet it suffers from silver migration, resulting in a short circuit. Copper is the lowest cost conductor and is nearly as conductive as silver, but due to it being easily oxidized at elevated temperatures, must be processed and cured or fired in a nitrogen or reducing atmosphere. Copper is also prone to oxidation and environmental corrosion, requiring an overglaze that prevents air and moisture exposure.
Fired thick-film resistors are available in a range depending on the resistive filler and application. Dielectric pastes are based on the substrate, the metallization being used, firing or curing temperature, and other key application parameters such as break-down voltage and leakage current. This extensive portfolio of pastes gives circuit designers the flexibility required to build the required circuit.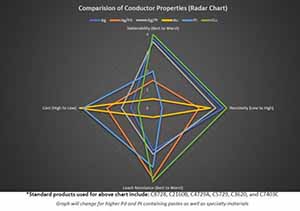 Polymer thick-film pastes are not fired, but cured at low temperatures, allowing application onto temperature-sensitive substrates such as polyethylene terephthalate (PET), polyethylene napthalate (PEN), polyimide, and FR4. Polymer thick-film conductors largely based on silver with copper are starting to emerge as a metallization, resistors based on carbon, and dielectrics allow the circuit designer to build a complete thick-film system for their application.
Thick Film in Current and Future Electronics
Automotive
Vehicle electronics must be reliable over an extended temperature range. Depending on the application, this may range from -40° to 80oC to -55° to 150oC. Also, the thick film must survive harsh conditions. Therefore, the devices and raw materials used must be reliable up to thousands of temperature cycles and 85°C 85% relative humidity aging as well as other severe electrical testing. Thick-film technology has demonstrated proven reliability over the years to perform under these conditions.
Historically, automobiles have used thick-film technology in fuel/air sensors, air bag deployment sensors, exhaust sensors, ECUs, and fuel-level senders. For fuel-level senders, gasoline is particularly corrosive because it contains sulfur compounds, organic acids, water, and alcohols. This requires thick-film conductor metallizations that are highly resistant to these compounds. As vehicles become fully electric, materials for fuel-level senders will be phased out and replaced by thick-film materials supporting the electric vehicle (EV) market, especially thick film-based heaters and sensors as well as displays and touch screens.
Non-fired and, in some cases, fired thick film pastes are also used for heaters for cabin temperature control, rear window defogging, and seat heaters. New and near-future applications for thick-film heater pastes are heaters required for warming sensors in cold environments, heaters to warm batteries in EVs, side mirror deicers, LED headlamp deicers, steering wheel warmers, and more. Positive temperature of coefficient (PTC) carbon resistor pastes are most appropriate for these types of heaters as they self-regulate to a specific temperature without additional controls.
Communications
5G communications support the Internet of Things (IoT) through increased connectivity and higher data transmission rates. 5G signal filters use highly conductive silver coatings for low losses. These are typically fired thick-film silver conductor pastes expected to be used well into the future as frequencies increase. IoT applications are forecasted to increasingly use flexible hybrid electronics because they are light weight and may replace printed circuit boards.
The ceramics used in LTCC are dielectric powders specifically designed for low losses in high-frequency applications and cast into tapes. Emerging in the LTCC space is the use of photoimageable pastes where etching may be used to build structures finer than screen printing with high edge resolution. These finer features are especially relevant for high-frequency communications up to 100-300 Ghz, the vision for 6G communications. Embedded thick-film conductors are already used in LTCC with resistors being actively researched.
Communications devices such as smart phones all have passive components as well as other circuitry that requires thick-film materials. A common theme in components is as the electronics miniaturize, the components also have to miniaturize, increasing the demands on the thick film pastes used. Case sizes as small as 006003 (150 x 75 µm) are now available. Thick-film technology continues to rise to the challenge faced in component miniaturization through pastes designed for thinner lines and defect-free end terminations.
Power Electronics and Renewable Energy
For decades, thick-film silver conductors have been used as the front side contact fingers for solar cells and are considered the largest market for conductive inks and pastes. Aluminum thick-film pastes are used for the rear metallization.
Thick film has also found its way into power electronics, where both high electrical conductivity and thermal conductivity are required. Heraeus has developed a thick-print copper system for bonding copper sheets to alumina and aluminum nitride substrates as a replacement to direct copper bonded substrates (DCB). Newer thick-film technologies for bonding copper foil to silicon nitride and aluminum nitride are under development and targeted to replace active metal brazed substrates as the most advanced, cost savings solutions for power electronic substrates.
Another use of thick film in power electronics is sintered silver and copper pastes for die attach. These metallizations, typically grouped with assembly materials, are syringe or stencil printed, then sintered at 200°-250oC, resulting in a metallization approaching the bulk properties of silver or copper while providing excellent die shear adhesion to the substrate. Sinter pastes provide a lead-free alternative to the lead-containing solders commonly used in die attachment.
Thick-film in Medical Applications
A common thick-film application is glucose testing strips where silver-silver chloride paste for the counter/reference electrode and carbon-graphite paste for the working electrode are printed onto a polymer substrate. Silver-silver chloride and carbon pastes are also used in continuous glucose sensors.
One of the future growth areas projected for the near and intermediate term are flexible/stretchable electronics for wearable skin patches as well as smart clothing. The printed electronics must be flexible and somewhat stretchable over numerous cycles without losing electrical performance. Existing patches and clothing will find more widespread application for medical monitoring and performance monitoring for athletics and exercise. Polymer thick film pastes are already used in different types of diagnostic equipment to detect illnesses and will find more widespread adoption in the medical space.
Printed Electronics – New Form Factors
In-mold electronics (IME) is a technology that has been around for several years; however, it is finding increased application in automotive, white goods, and consumer electronics. Integrating electronics into molded plastic panels reduces weight and provides a simpler assembly process with lower manufacturing cost while providing excellent in-cabin aesthetics. The thick-film pastes used are developed to withstand the thermal-forming process, which uses pressure as well as temperatures above the softening point of the polymer.
In addition to facilitating medical and athletic monitoring, flexible electronics allow for foldable/bendable displays and flexible touch screens. Curved displays have already hit the market and are a feature of IME. Foldable and rollable touch screens will become more readily available, further illustrating that the efforts on foldable rollable displays are now on industrializing the manufacture of the displays.
Smart packaging
Printed electronics enable smart packaging technologies, including prescription reminders, freshness indicators, temperature indicators, and other product information. Temperature-controlled films are used to coordinate shipping logistics for temperature-sensitive products.
Heaters
More demanding performance and new, unique form factors are expanding the use of thick-film materials into new heater applications. The latest thick-film heaters are thinner, designed in any shape, and provide higher reliability that opens new markets for customers to be competitive. Thick-film technology provides outstanding heating uniformity for devices with matched material systems on a variety of substrates, giving heater manufacturers the flexibility to design heaters over a wider temperature range. In addition to the fired thick-film heaters, Heraeus has polymer thick-film curable materials for heaters printed on PET, PEN, nitrile, and FR4 designed with operating temperatures ranging from below 100° to 250°C. These types of heaters are used in automotive and may be used in other applications such as clothing warmers.
Passive Components
Resistors, capacitors, inductors, and other components are needed for each electronic circuit. Thick-film pastes are widely used in passives, with different printing methods such as screen printed inner electrodes and spraying. Miniaturization and cost down pressure requires manufacturers to have large volume, efficient manufacturing processes to compete as well as the ability to print and apply smaller electrodes and handle smaller parts. This requires pastes that have sufficient green strength to handle customers' manufacturing processes. The Heraeus offering of termination and metallization pastes, with the exception of PZT pastes, are fully RoHS and REACH compliant and have excellent green strength following deposition and drying.
Conclusion
Thick-film technology has continued to keep up with current megatrends as well as anticipate the future evolution of electronics. From fully connected transportation to the infancy of 6G telecommunications and required connectivity in IoT, thick film is the go-to technology for high reliability and ease of incorporation into the manufacturing process. Medical sensors and monitoring will continue to be a robust market for thick-film materials as will aerospace, displays, and various thick-film heaters serving numerous heating applications. Heraeus will continue to serve these markets through cutting-edge products that are RoHS – REACH compliant and show exceptional reliability regardless of the application. For more information, contact Gregory M. Berube, Heraeus Precious Metal North America Conshohocken LLC, 24 Union Hill Rd., West Conshohocken, PA; 610-825-6050 x338; E-mail: gregory.berube@heraeus.com; Web site: www.heraeus.com