Weller is one of the leading manufacturers of soldering equipment, with a tradition of nearly 80 years, enjoying the trust of numerous customers from around the world. The brand's devices are designed with frequent use and long service life in mind. These products will surely meet the expectations of schools, students and hobbyists. They facilitate precise work with electronic circuits and components of electromechanical systems, e.g. in repair services and workshops.
Recently, new Weller products have been added to the TME's offer. These include soldering irons of various types, as well as soldering stations, tools and accessories. Read below for an overview of this range of products – the items presented here are available directly from our warehouses, thanks to which our customers can get the fastest delivery possible.
Soldering irons
Depending on the work and the conditions in which it is performed, technicians working with soldering irons have specific requirements for the tools used. That is why Weller supplies a wide selection of soldering irons that differ not only in terms of characteristics, but also in terms of operation.
Gas soldering irons
Soldering irons that use butane to heat the tip have several advantages: independence from the power source, compact design, relatively short heating time and a wide range of operating temperatures. Additionally, they can usea standard tip or hot air stream (mixtures), but also can heat the components with the generated flame (for example, to tighten heat-shrinkable tubes). Apart from the gas container, these devices are self-sufficient – the spark is generated by the piezoelectric igniter, and the device gets automatically blocked after the protective cap is put onto the device. As a result, the gas soldering iron can be stored successfully for a long time in a tool bag: it is always ready for use. These are important features both for technicians operating "in the field" and occasionally carrying out soldering work, and for those working under time pressure, who need a multifunctional, effective tool.
WEL.WLBUK75
Gas soldering irons are compact, portable and multifunctional tools.
Soldering guns
WEL.WLG9400K23C
The 140W soldering iron heats up in 6 seconds.
Soldering guns are mainly used for electrical works – connecting wires, installing power connectors, repairing cable harnesses etc. They are rarely used for electronic work, due to high temperatures and the high voltage of the current flowing to the tip. It is worth highlighting here that the newest Weller models have tips that are very precise, durable and can be used for very precise work. The undoubted advantage of transformer soldering irons is the fact that they heat up in 6 seconds in the case of the WEL.WLG9400K23C model. What's more, this product comes with interchangeable, specialised soldering tips: blade, flat and point. The work is facilitated by the light source built into the body.
Soldering irons with a heating element (soldering pencils)
The most popular type of soldering irons used by electronic engineers around the world is represented in the Weller range by light (from 172g),compact tools with an ergonomic grip. The soldering irons are powered by an electrical current ranging from 25W to 80W and are compatible with dozens of manufacturer's tips, which is why they can be used for various jobs with PCB circuits (THT and SMD), cables, connectors, etc. Selected models are dedicated to making inscriptions and drawings on cork and wood.
Included in the set are a stand and soldering tips that facilitate the engraving of signs, calligraphy and patterns, as well as a holder for precision blades – after heating the blades, you can cut plastics easily and precisely. In the case of products that are intended for work with the solder, the advantage of Weller products is a ring of LED diodes placed in the front of the device, which perfectly illuminates the working area, even when operating at an unusual angle (e.g. when repairing household appliances or car electrics). As in the case of soldering guns, all presented devices are equipped with the European mains plugs and are intended to be supplied with 230V AC.
WEL.WLIR3023C
Built-in light source makes work outside a workstation easy.
Cordless soldering irons with a heating element
With the development of technology of efficient alkaline cells, more and more cordless, battery-powered soldering irons are available on the market. However, it should be noted that making an effective, compact soldering iron with a power of several watts is not an easy task. Therefore, in this group of products a tested and proven manufacturer is very important, as it will ensure that the device will work well in practice, in frequent use, and will not break soon.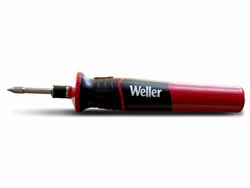 WEL.WLBRK12
Cordless soldering iron charged with a standard USB cable.
Weller products are designed for mobile work with electronic and electric projects, such as circuit repairs made away from an electrical outlet. For 4.5W and 6 / 8W models, AA batteries are the power source (3 or 4 pieces respectively). For WEL.WLBRK12, the tool has a built-in, rechargeable battery. It is charged using a cable with a USB-C connector, which takes up to 2 hours. The energy reserve is enough to solder approx. 180 points. Indicators located in the buttstock show the heating status of the tip (up to 580°C), and the battery charge level. In addition, the model is equipped with a LED to illuminate the work spot and a protective cap, for the replaceable tip, when it needs to be transported.
Analogue soldering stations
Analogue soldering stations have joined the group of Weller products available in the TME catalogue. Their main advantage is that they are excellent value for money. They are a great choice for equipping electrotechnical workshops at home, and above all, for equipping an amateur workstation. New products that are available from TME include two models: a 30W and an 80W station. The base is equipped with a switch, a temperature control knob, an iron holder and a place for a tip cleaner (a sponge). The thermal range reaches up to 485°C, which enables comfortable work with both classic binders and lead-free mixtures. A light, non-slip stock is attached to a flexible, 120cm cord.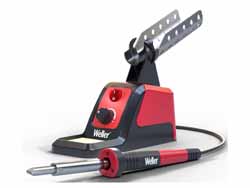 WEL.WLSK8023C
The compact, analogue station will be perfect for hobbyist work.
Tools and accessories
In addition to soldering irons, Weller has a wide range of tools, accessories and parts for working with electronic systems, connectors and electrical circuits. The TME catalogue includes many of these, and some new products have been added recently – learn more about them below. If you're looking for specific products or want to browse through the full range from this brand, visit our catalogue.
Soldering accessories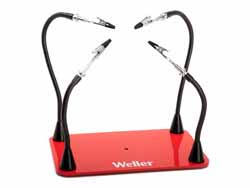 WEL.WLACCHHM-02
Stable, universal PCB holder facilitates and speeds up the assembly of components.
Among the accessories that should be available at every workstation where soldering work is performed, mats and tip cleaners are a necessity. The cleaners are made of soft metal that does not require wetting and will be used for years. With a dedicated handle, they can be applied without lifting. Use them to get rid of dirt and sediment from the surface of the soldering tip, which directly influences the quality of connections and the service life of the tip.
Silicone mats protect the worktop on which work with a heated binder is performed – they also serve as a secure, non-slip, insulating work surface. Thanks to the profiled shape, they also allow you to keep the workplace clean whilst working with small electronic components (e.g. they reduce the risk of making a mistake when replacing damaged components).
Beside these two necessary accessories, you might want to add to your list tools for fixing the PCB in place during assembly works. Two convenient Weller solutions to this problem have just appeared in the TME catalogue. The first is a handle with a magnifying glass, or a so-called "third hand" – two adjustable pairs of pliers and a movable magnifier placed on a sturdy base. The second solution is a stand equipped with four arms (fixed with neodymium magnets), each terminated with insulated grippers. Such a device facilitates connecting wires, installing larger components on the PCB, as well as the assembly and disassembly of individual components while working with dense circuits.
Tools
Weller also offers a range of tools for PCB circuit assembly, maintenance and processing. The new products in this category include scrapers, available in sets – indispensable when testing connections on the PCB, cleaning and regenerating it (for example, when removing corrosion or binder fragments that could cause a short-circuit), as well as brushes available in sets of 25 pieces that can be used in similar situations. Among other practical accessories, you will find a branded 300x140x60mm case, which will be a perfect protective case for small tools and delicate equipment stored in a tool bag .
WEL.WLACCSAK-02
Scrapers are small but indispensable pieces of equipment for the soldering station.
Tips
WEL.WLTC04LBA12
Universal, conical tip for battery-powered soldering irons.
The new Weller tips are the essential components for the soldering irons and soldering stations presented above, both gas-powered and those equipped with a heating element. These are blade tips, flat ("screwdriver"), cut, conical and also bent (facilitating assembly in hard-to-reach places). The offer also includes a set of tips for artistic work, e.g. wood burning. These components can be easily replaced, adapting the device to work with a specific type of components, from large earthing fields, fixing points for connectors or connecting wires, to small SMD components requiring precise terminals.